| Top 200 Rich List (2020) | No. of Dark Companies: 7 | Political Donations since FY 1998-99 |
| --- | --- | --- |
| Rank: N/A | Ramsay Health Care Limited | Labor Party: $295,925 |
| Wealth: | Paul Ramsay Holdings Pty. Limited | Coalition: $3,248,466 |
| Wealth (2019): | Ramsay Health Care Australia Pty Limited | Independent: $0 |
| YoY wealth change: | Ramsay Health Care (Victoria) Pty. Limited | Total: $3,544,391 |
| | Phiroan Pty Ltd | |
| | Adelaide Clinic Holdings Pty. Ltd. | |
| | New Farm Hospitals Pty. Ltd. | |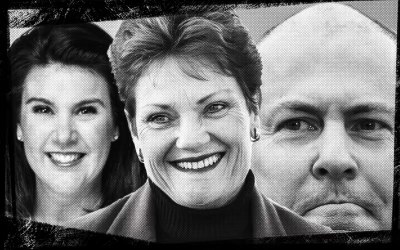 It has been 26 years, 26 years of the wealthiest Australians, the billionaires, subverting Australia's Parliament, ...
Founded by one of Australia's largest Liberal Party donors, the late Paul Ramsay, Ramsay Health Care is the largest private hospital group in Australia with 72 hospitals. Seven Dark Companies underpin the Ramsay family healthcare empire.
Paul Ramsay founded Ramsay Health Care in 1964 after purchasing a guest house in Sydney's North Shore and converting it into a psychiatric hospital. Ramsay Healthcare has since become a global healthcare provider with 212 hospitals around the world.
While Ramsay kept a low public profile, he was no stranger to political access and influence. When the Howard government came to power in 1996, Ramsay and other private healthcare providers benefitted greatly from Howard's Private Health Insurance Incentives Scheme, which saw the government introduce a 30% rebate on private health insurance. In 2012, the Gillard government sought to introduce a means test on Howard's rebate scheme. Ramsay's donations to the Coalition peaked around the time the bill was proposed and ultimately passed.
Ramsay was the largest individual donor to the Liberal Party in the 2011-12 and 2013-14 financial years. In 2011-12, Ramsay donated $615,000 to the Liberal Party – $515,000 from Paul Ramsay Holdings and $100,000 from Ramsay Healthcare. In 2013-14 Paul Ramsay Holdings donated $600,000 to the Liberal Party and $25,000 to the Nationals through The Free Enterprise Foundation, a Coalition fundraising body.
Although Ramsay made his fortune in the healthcare business, he was significantly involved in the media industry through his company, Prime Media Group. Prime is the regional affiliate of Seven West Media, owned by fellow Secret Rich Lister Kerry Stokes. Ramsay served as chairman of Prime Media Group for almost 30 years before relinquishing the role in April 2014, a month before his death.
Upon Ramsay's death, Michael Siddle was appointed chairman of Ramsay Health Care after being deputy chair of the company for 17 years. Siddle and his family also received $200 million worth of assets as part of Ramsay's will.
According to tax transparency data, Ramsay Health Care Limited made $26.73 billion in revenue between the 2013-14 and 2018-19 financial years. Over this period, taxable income was $3.46 billion, and they paid $1.03 billion of tax.
Tax transparency data is only available for Paul Ramsay Holdings for the 2014-15 financial year. It shows that despite making a total income of $481.6 million and having a taxable income of $78.6 million, Paul Ramsay Holdings paid zero tax.