It was a tale of two elections: a miracle for Scott Morrison in 2019 and a win for Labor on a weak primary vote amid a wave of support for Greens and Independents in 2022. Harry Chemay contrasts the atmosphere from the aftermath of both contests.
The election has made Victoria a wasteland for the Coalition, which may end up holding only 11 of the state's 39 seats. A far cry from the glory days when the state's Liberal MPs provided Australia with a run of prime ministers, including Liberal Party founder Robert Menzies.
One of the seats that remains too close to call is named for him. It is a leafy eastern Melbourne electorate that I visited on the morning after the 2019 election. To get a sense of the zeitgeist I saddled up for yet another post-election ride, this time through the epicentre of the mood shift that played out across inner Melbourne.   https://michaelwest.com.au/how-frankingcredits-delivered-victory-to-boomers-over-own-kids/
Staying Green and turning Teal
My route took me into Melbourne, not the CBD but the electorate that covers much of the city's bohemian soul north of the Yarra. This is Adam Bandt's heartland, and the Greens leader easily held his seat with a 2.8% swing. Cruising through the ultra-hip Brunswick Street and onto Gertrude Street the cafes were lined with Fitzroy's young, educated residents basking in the result, doubtlessly energised by a further two Queensland Greens candidates joining Bandt in the lower house.
A short ride east saw me approach the iconic Kew Junction, where all available advertising space appeared to have incumbent MP for Kooyong, Josh Frydenberg, smiling down at me. Unfortunately for the man once touted as the prime ministerial heir-apparent, those plans now lie in tatters. Scarcely conceivable a year ago, if this election turns out to be a seismic shift in Australia's relationship with the two party system, Kooyong may go down in history as its epicentre. Nothing can now be taken for granted; the concept of a 'safe seat' consigned to the scrapheap. Labor learnt this the hard way when a parachuted Kristina Keneally failed to retain the stronghold of Fowler against local independent Dai Le in the ethnically diverse seat. Turning down Glenferrie Road into the community heart of Kooyong, it wasn't long before I caught sight of news crews setting up to broadcast.
Following that action saw me at the campaign office of independent Dr Monique Ryan, a few short strides away from Glenferrie Oval, the spiritual home of the Hawthorn Football Club. Her supporters presented a very different energy to the people of Menzies in my post-election ride three years earlier. Here were gathered together people of all ages, from grey-haired seniors through to awkward Gen Z teenagers, young couples with strollers to Gen X moleskin and RM Williams booted fifty-somethings, all seemingly at peace with backing an independent to a win in the bluest of Melbourne's blue-ribbon electorates. The mood was by turns convivial and jovial, undoubtedly a mix of relief and slight disbelief at what they had just achieved. The count was certainly heading their way, but with no definitive outcome, and the incumbent not willing to concede, the media waiting for a Sunday victory speech from Ryan were to be disappointed.
End of empire
It would take until Monday afternoon for the former Treasurer to concede the seat to his independent challenger.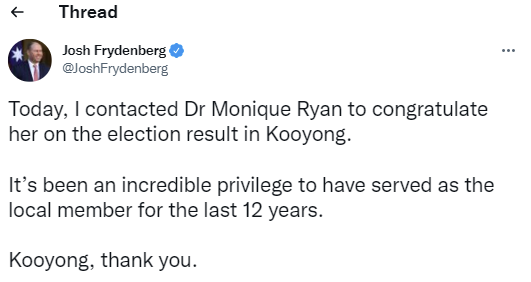 And with that the seat of Kooyong, first won by a young Robert Menzies in 1934, and continuously held by him between his ascent to the prime ministership in 1949 and his retirement in 1966, passed from Liberal Party hands. The loss of such a cherished seat will undoubtedly bring forth much soul-searching. But Frydenberg was certainly not alone, with several Liberal moderates losing to independents, including Trent Zimmerman to Kylea Tink in North Sydney, Dave Sharma to Allegra Spender in Wentworth, Jason Falinski to Sophie Scamps in Mackellar, and Celia Hammond to Kate Chaney in Curtin.
Add to that another independent, former ABC journalist Zoe Daniels, unseating Tim Wilson from the wealthy Melbourne bayside seat of Goldstein; his 'Home First, Super Second' hobby horse injected into the campaign at the 11th hour as the Coalition's answer to cratering first-home affordability.
Snakes and Ladders: stimulus schemes and debt skew economy as property prices rocket
In hindsight, perhaps it was Treasurer Frydenberg's seeming willingness to politicise the Commonwealth's response to his own state's COVID lockdowns during 2020 and 2021 that was his undoing. It certainly does appear that PM Morrison's decision to attack the popular WA Premier Mark McGowan over his stringent lockdown approach, and to support Clive Palmer's legal attempt to break it, came back to haunt the Liberals at the West Australian polls.
New day dawning
COVID only explains so much. Three issues appear to have had an outsized impact on the traditional Liberal heartlands; the treatment of women and a dismissal of their legitimate concerns, the lethargy on meaningful climate action and the apparent desire to never see a federal anti-corruption body with serious teeth come to fruition.
It is no surprise, given the above, that females led the charge on the Community Independents movement, with a host of accomplished women taking to the two-party system with a teal-coloured cricket bat. Theirs was a movement borne out of frustration. Of not being valued for their economic contribution.
Of not being heard. Of being marginalised while the 'big boys' made decisions directly impacting their lives and those of their loved ones.
The Nouveau Poor – gender pay gap, super inequality stretched in pandemic
Or non-decisions, in the case of the deliberately ineffectual non-plan for achieving net zero emissions by 2050. Or the prime minister likening anti-corruption bodies with real investigatory powers to a 'kangaroo court', thereby denigrating the legal-judicial system in one fell swoop. Yes, this cohort of independents predominantly targeted Liberal seats. Many are likely to the right of centre. But they stood up to be counted because it was a Coalition government in power, not Labor. The Community Independents movement, in many ways following in the trailblazing footsteps of former independent member for Indi, Cathy McGowan, is making a bold statement to both major parties:
The sun is setting on your cosy two-party duopoly. Disregard the voices and concerns of your local constituents at your peril.
One can't help but think the faceless men in suits of both political stripes are even right now huddled together, trying desperately to understand how their cosy world turned upside down so unexpectedly, and what it might mean for the future. A much overdue wake-up call.
The change that refreshes: independents ring the changes in quest to renew Australian democracy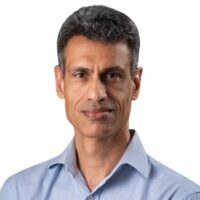 Harry Chemay has more than two decades of experience across both wealth management and institutional asset consulting. An active participant within the wealth and superannuation space, Harry is a regular contributor to investment websites in Australia and overseas, writing on investing and financial planning.
He has also been appointed an Australian ambassador to the Transparency Task Force, a UK-led initiative to bring greater transparency and accountability to financial services.