With road tolls about to hike with inflation, Victorian and NSW governments face motorist anger heading into their respective state elections. Michael West reports on the upshot of privatisations which have left one company, Transurban, with a monopoly of monopolies.
Over in the UK, they are calling it the "Poonami". Rivers polluted beyond legal limits, holiday-makers told they can't swim at beaches because of the sewage. And they are pointing the bone at the privatisation of Britain's water companies. The profits are going to shareholders rather than things like fixing leaking pipes.
The water bosses are making out like bandits, enjoying a 20% surge in pay last year while companies are busy charging as much as they can and slotting the excess cash to their shareholders rather than stopping human effluent draining into the waterways.
Our very own Macquarie Bank was at the vanguard of the privatisation of water in the UK. They took over the biggest utility of them all, Thames Water, ripped out the cash and plonked in debt in its place. This writer was interviewed a few years back by the BBC for a program on Thames and the producers were marvelling, and not in a good way, that our very own Antipodean asset jugglers from Martin Place had actually paid for Britain's largest water utility with its own money.
It's a good thing, despite the siren calls of investment bankers and assorted fee-takers, that the states have not privatised water in Australia. A thought to the other attainments of privatisation is instructive; take energy prices for instance, Qantas, the aged care sector, JobActive and the employment services sector, Sydney Airport, the ports.
Transurban: a 'screwnami'
And then there is the monopoly of monopolies, Transurban group, where Australian motorists face a "screwnami" as many of the concessions are linked to CPI and CPI has shot to 6%. The Transurban model too was the brainchild of the Macbankers. Indeed Transurban bought Macquarie's toll-road assets and its "stapled security" financial model too, where the cash goes into the trust and the costs go into a company and, presto, little or no corporate income tax is paid year upon year.
It is hardly the fault of the bankers and toll-road tsars. When public assets are privatised, management acts in the interests of shareholders and executives, not customers and workers. Qantas is the quintessential example from 2022, shining ever more darkly than others at the moment because services collapsed after Alan Joyce and his KPI-driven management sacked 9000 workers – despite raking in billions in JobKeeper as well as a raft of other public subsidies.
In tollroads however, a far sleeker operation is in play -.yet one with impending political consequences, as voters in Victoria and NSW head to the polls this November and next year respectively, and tolls are shooting up.
If you check out the chart below, buried deeply in the appendix to an ASX investor presentation, you will find your nearest friendly toll road and its "escalation" clause – that is, the deal Transurban struck with particular state governments.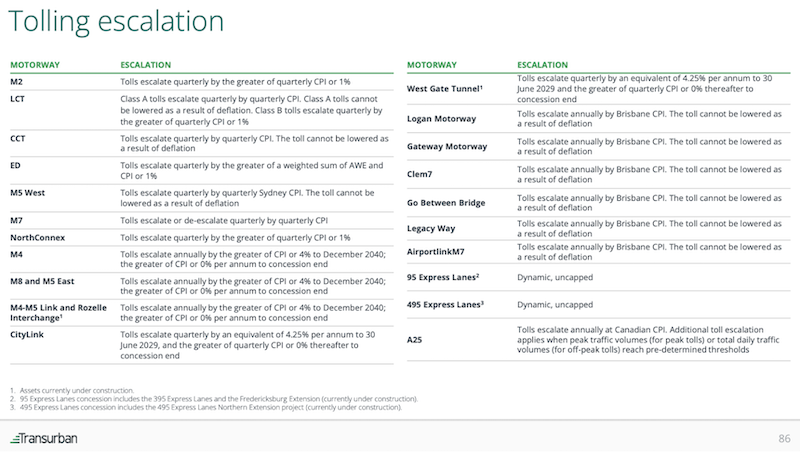 Many are linked to CPI, that is they march up with inflation, and inflation just marched through 6%. Ergo, we can look forward to 6% toll rises or more on some roads. 
Others in their suite of assets, like Westgate, CityLink and the M4 were struck at a 4-4.25% escalation, which represents a terrific boon to Transurban in recent years as, when inflation was 1% they had a 4% escalation and now it's gone through 4% some of the roads will pick up 6% plus.
None of this is the fault of Transurban, whose management has the flair to play the corporate rules to the limit, structure its taxes away and make large political donations to both major parties. It is a succession of governments which have failed and now we have a situation where the public will be asked to step in to subsidise workers who simply can't afford to pay Transurban's tolls.
Subsidy cities
There is something afoot, a Treasury sponsored investigation into future road pricing, so transport boffins have something to talk about, though there is little in the way of detail at this point, albeit this NSW "Steering Committee into Toll Road Pricing, which they claim to be "a detailed review into toll road pricing and relief", but it seems to stop short of fully exploring Sydney wide road pricing, because it has these vague objectives: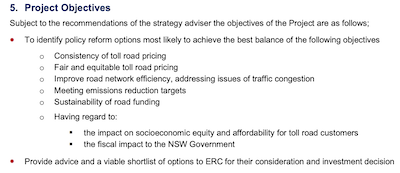 So maybe they think they can adopt some local Sydney version of the Singapore's Electronic Road Pricing system, as explained here:
Yet they would still need the Feds to help if a comprehensive solution to network wide road pricing is ever to be adopted.
Governments have got themselves into a pickle with EV adoption closing in and difficulties with affordability of petrol post the looming re-addition of 22c a litre fuel excise.
Had they had their time again, authorities would surely not have adopted a transport solution for Australia's cities which envisaged the major toll road concessions being all sold to the same large player which paid no tax (or as Transurban puts it, loads the tax obligation into the back end of the concessions) – only to find they had to get the public to subsidise motorists anyway because tolls were too expensive.
Perusing the latest Transurban accounts we see $17.6bn worth of debt for 2022. Stable income like this allows for extremely high leverage to fuel high returns for the operators.
Following Covid, the group enjoyed an 18% rise in revenue to $3.4bn, eked out a small profit and paid $1b+ in dividends and distributions. During the year they raised $4.1bn in new equity. Although, the cash flow statement showed $29m paid in tax, it doesn't show which jurisdiction (perhaps North America) and the income statement shows tax benefits over the past two years of $276m and $193m.
It is incumbent on the members of the Transurban trust to pay tax on their income at the marginal rate but the question should be asked, how was Transurban allowed to get away with its "stapled security" racket in the first place, given the average marginal rate is probably more like 10% than the 30% which is the corporate tax rate?
The Transurban Group comprises two corporate entities (THL and TIL) and a trust (THT). THT operates as a flow-through trust, and is not liable to pay tax itself. Instead, security holders pay tax on the distributions they receive from the trust at their individual marginal tax rates. The Group is structured in this way because the initial heavy capital investment and associated debt funding required for infrastructure investments results in accounting losses being generated in the initial years which would otherwise prevent a company from paying dividends. The trust enables distributions to be made to security holders throughout the life of the asset.
The combination of "accounting losses" and "paying dividends" does have a touch of the Ponzis about it and what happens if Transurban goes belly up before it begins paying tax? Or, as is more likely, simply keeps buying new things and booking more "accounting losses"? Faithful PwC is there for $4.5m in fees – up from $3.8m in the prior year – to help with advice on these things, and do a spot of audit work too.
In any case the boys at the top are doing just fine with KPI up from $15m to $18m during the year and no doubt all set to lobby for governments to fork out public money to keep their toll revenue pumped.
It has been a masterclass in politics and financial engineering which is now here for the long haul, and the short haul, any haul. As actuary and road pricing expert Ian Bell put it: "It will require a politician the likes of a Keating or a Kennett, somebody with the will to bulldoze vested interests, to override the power of Transurban now that Transurban is entrenched". 
It always struck this observer that the bankers who made millions concocting these schemes drive into the CBD with the sun at their backs, paying no tolls, while the tradies who drive across the city to work on their mansions, pay most of the tolls while they are squinting in the morning sun on the way to work.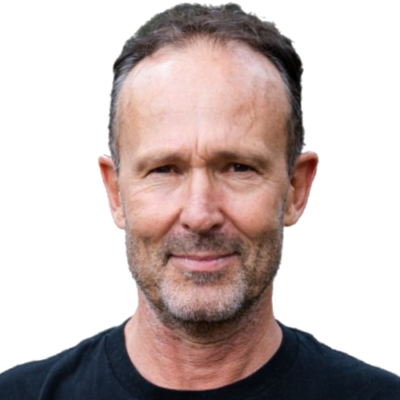 Michael West established Michael West Media in 2016 to focus on journalism of high public interest, particularly the rising power of corporations over democracy. West was formerly a journalist and editor with Fairfax newspapers, a columnist for News Corp and even, once, a stockbroker.