Barack Obama's opposite number in the crisis talks over America's debt is John Boehner, the Republican leader in Congress.
Boehner has "perfected the art of disagreeing without being disagreeable", as one observer put it, which is a valuable trait to have in politics, particularly now amid the stand-off between Republicans and Democrats over an August 2 deadline for either extending the nation's $US14.3 trillion ($13.4 trillion) debt ceiling, or else.
That he plays, by his own admission, 100 rounds of golf a year no doubt contributes to Boehner's sanguine demeanour.
The Ohio Republican took it in good humour when President Obama, at the White House Correspondents' Association dinner in Washington last month, remarked that, as an African-American, he had "a lot in common" with the House Leader since Boehner was "a person of colour" too.
"Yeah, I enjoy being outside," said Boehner later, in reference to the jibe about his tan. Boehner is leery about any direct mention of golf. The sport of rich old men is a sensitive subject in Washington. It smacks of elitism, long periods away from work, potential exposure to lobbyists.
Boehner's political foes like to draw attention to his disclosures, which include $US83,000 in golf expenses, $US75,000 for membership at an all-male club and "special interest travel including golf junkets: $US159,000". Not to mention connections with Wall Street banks and the Big Tobacco lobby.
Indeed Obama himself has come under scrutiny of late for skulking off to the golf course too often. And so it was that many were startled when the House leader recently invited the President to a game. Boehner, who plays off a handicap of eight, had to give a few strokes to Obama who, according to Golf Digest magazine, plays off 17.
Only the first hole was televised. Boehner partnered the President against the Vice-President, Joe Biden, and the Republican Governor of Ohio, John Kasich. Obama drained a short putt for par after missing a 12-footer. Boehner too made par on the first, and the two won the game on the 18th, fending off the challenge from Kasich and Biden, who's no hack either – excuse the pun – playing off 6.3.
Notwithstanding a terrific day on the fairways and greens at Obama's local course, Andrews Air Force Base in Maryland, the golf buddies are still no closer to settling another pressing engagement, the contretemps over the debt ceiling.
The sticking point is, as usual, that Republicans want to cut government spending while Democrats want to lift taxes. That is the crux of it. And a mighty game of brinksmanship this is. Accused by Republicans of storming out of a meeting on Wednesday, a frustrated President is said to have warned the other side: "Don't make me call your bluff."
Republicans, who control the House, are threatening not to raise the debt ceiling from $US14.3 trillion unless Obama agrees to $US2 trillion in spending cuts. Obama is willing to concede spending cuts but wants them matched by rising tax revenues.
If a deal is not struck by deadline on August 2, the US government will not be able to meet its payments.
This is no countdown to imminent disaster, though; just another step in a tortuous long-term decline of empire. If Washington has to decide to axe a few Medicare payments – it will still meet the interest on its debt to stave off default – then it will. More likely, Boehner and co will lift the ceiling at the eleventh hour.
Ironically it was Obama, then a senator from Illinois, who said in 2005: "I vote no, no, no to raising the debt ceiling from six to seven trillion. We must get our house in order and pay our bills." Sadly, Obama missed his chance to overturn the infamous Bush tax cuts when he had the numbers in the House. Such would have saved him his present dilemma.
Under Dubya's high-octane and patently "misunderestimated" act of supply-side economics, US households in the top 1 per cent of earnings, which had an average income of $US1.25 million, had their effective individual tax rates drop to 19.6 per cent in 2004 from 24.2 per cent in 2000. The rate cut was twice as deep as for middle-income families, and it translated to an average tax cut of almost $58,000.
Too late now. Just another debt ceiling.
Of more import is – despite the latest rhetoric by the chairman of the Fed, Ben Bernanke – the parade towards another round of "quantitative easing" (QE). For not only is the country incapable of keeping to its 10th debt ceiling but it will continue to be by far the biggest buyer of its own debt as it issues it, month-in month-out. That's now $US2 trillion and counting in easy money (Treasury issues $US30 billion in bonds a month, and the Fed then buys them, thereby expanding the money supply).
Things are so poor on the employment and growth front that few are decrying the reckless stimulus but it has more than a touch of the Weimar Republic about it. QE2 managed to leave the sharemarket 30 per cent higher, and likewise kept treasury prices rising and yields falling. But how does this monetary methadone end?
His latest trials show Obama is utterly powerless, even if he had the political will, to make any meaningful reforms to this decaying plutocracy. Instead he can only hope, alongside Wall Street's consensus economists, that things pick up in the second half.
And once again in Australia – the economic love child of big resources and high Asian demand – things look brighter than elsewhere. Helped by strong growth figures out of China this week, the Australian dollar hung above $US1.07.
It increasingly defies its historic vulnerability as a risk currency. As long as China holds – and despite our two-tier economy, tax wrangles, minority government and every other complaint – we remain, by comparison at least, the Lucky Country.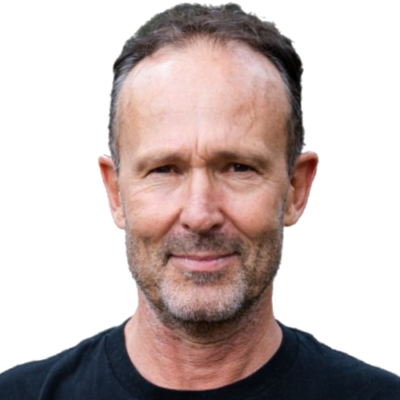 Michael West established michaelwest.com.au to focus on journalism of high public interest, particularly the rising power of corporations over democracy. Formerly a journalist and editor at Fairfax newspapers and a columnist at News Corp, West was appointed Adjunct Associate Professor at the University of Sydney's School of Social and Political Sciences.