Independent MP Rebekha Sharkie has just dropped a bombshell in Federal Parliament. The Labor Government has been caught in a blatant pork barrelling. Rex Patrick explains the corruption that is "Solar Rorts".
Pork barrelling is defined by the NSW Independent Commission Against Corruption as "the allocation of public funds and resources to targeted electors for partisan political purposes". It's corruption. It's taking taxpayers' money and directing it at projects that are intended to 'buy' votes to allow people to stay in power. That is, using taxpayers' money for personal benefit.
Solar Rorts
And that's exactly what's happened in relation to the Albanese Government's 'Community Batteries for Household Solar Program'. The program provides grants for the installation, connection and operation of community batteries.
But Labor couldn't resist turning it into a shameless rort.
In a rather unusual project design, the Community Batteries program only allowed for applications to install and operate batteries in certain, predetermined locations, and in two instances by specific companies.
In response to a Freedom of information request for details on how the Department of Climate Change, Energy, the Environment and Energy had determined the grant locations and organisation eligibility criteria, the Assistant Secretary in charge of the program advised that the locations were selected by the Australian Labor Party while in opposition.

This is an extraordinary statement from a senior public servant distancing the Department from any involvement. The grant-eligible suburbs were not departmentally selected, and not even Government-selected, rather they were Labor Party selected.
Rebekha Sharkie, Federal Member for Mayo, said "It's clear that politics was the key factor, most likely the only factor, in site selection. This is worse than 'sports rorts', this is under the guise of a 'grants round', where MPs and staff were invited to information sessions, only to now find out that the relevant Department had no involvement and the grant locations were decided by a political party, not even a government!"
Nineteen (32%) of the "eligible locations" for the award of solar battery grants were suburbs in safe or fairly safe Labor seats, and 25 (42%) of them were in marginal seats.
All together 74% of all of the suburbs anointed a grant eligible by the Labor Party were seats the Labor party hoped to hold or gain.
Labor's sport or carpark rorts
The aims of the Community Batteries for Household Solar Program are noble; it seeks to provide community batteries to support lower electricity bills and emissions, support storage of excess solar energy, and reduce pressure on the grid. It could well be of particular benefit to lower income communities, especially in regional and remote Australia.
But it has a rotten stink about it. There's been no analysis as to which suburbs across Australia are most in need of what is a taxpayer funded subsidy; no analysis of which locations would deliver the best bang for buck.
The program was announced in October 2022, five months after Albanese was sworn in as Prime Minister – but the sites were already chosen, perhaps on a colour coded spreadsheet …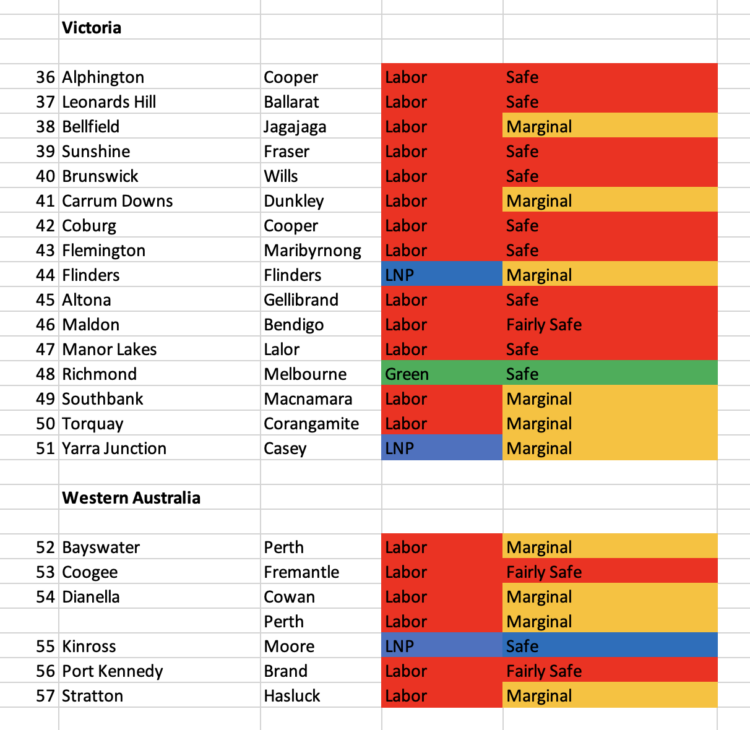 Prior to the election some council areas promised grant funding started electioneering for the Labor Party, along with direct announcements by then Labor Climate Change and Energy spokesperson and, now, the responsible Minister Chris Bowen.
This was done amidst Labor's strident, and justified attacks on the Morrison Government's "Sports Rorts" and "Carpark Rorts".
Prime Minister's department ordered to come clean on Sports Rorts cover-up
At a national level Labor's community batteries scheme program did come under some media pork barrelling scrutiny. But that didn't faze Bowen, who in December 2022 proceeded to release the details of the grants program, including Labor Party picks for the eligible locations.
Thanks to the FOI response, we now know that there was no independent or objective assessment of the relative merit of the locations, only the political input of the Labor Party, presumably communicated to the Department directly by Minister Bowen or through his office.
Corrupt and unlawful to boot
The Commonwealth Grants Rules and Guidelines (CGRGs) are issued under Section 105C(1)of the 'Public Governance, Performance and Accountability (PGPA) Act 2013.' Paragraph 3.3 of the Grant Guidelines require ministers to comply with the relevant legislative requirements in the PGPA Act and PGPA Rules and the CGRGs.
Section 71 of the PGPA Act states that ministers must not approve expenditure unless satisfied, after making reasonable inquiries, that the expenditure would be 'proper' (i.e. 'efficient, effective, economical and ethical').
How could Minister Bowen properly approve the grant program framework and the individual grants awarded without obtaining full advice from his own department?
And how could a department, not availed of the selection criteria for a grant program, assess whether, in the context of national needs and circumstances, that the money will be spent efficiently or effectively? How could a department advise that an expenditure born out of pork barrelling could be ethical?
Putting the PGPA Act to one side, taking a list drawn up by his own political party simply doesn't cut it in terms of his responsibilities under the Ministerial code of conduct. If this had been done by the former Coalition Government, Labor would be screaming blue murder.
Investigation required
A joint parliamentary inquiry into Commonwealth grants administration is currently underway. Whilst standing on a pedestal, the Labor Party is keen to use this inquiry to highlight the former Coalition Government's abuse of process in the "Sports Rorts" and "Carpark Rorts" scandals, This revelation rips away that pedestal.
At the very least the joint inquiry can, and now should, call before it the Labor Party machine operatives that determined the eligible locations. The one issue that shouldn't arise is any Government claim of cabinet confidentiality over whatever documentation and spreadsheets they used to determine the eligibility. It's clear from the Department that this was party political decision making, pure and simple. Cabinet didn't come into it.
Sadly, however, the committee is Labor controlled and there are no minor party or independent MP on the Committee. Don't expect too much on that front.
Hypocrisy
Labor was elected to govern partly on the desire by the electorate to deal with the Morrison government's secrecy and public expenditure corruption. Citizens had had enough – no more colour-coded spreadsheets.
And so the hypocrisy of Labor now stands out. It will disappoint many core supporters.
Things have to change. As distinguished constitutional expert and campaigner for more ethical politics, Professor Anne Twomey, has put it: … we shouldn't be saying that it's doing a good job if you pork barrel your constituency to death. It's not doing a good job.
It's actually a disservice to the people of the country and your electorate because money is being misused.
When Geoffrey Watson SC described a $150 million grant allocation which had been given away as part of the South Australian Labor Party's election promises, he used brevity. It was a short and accurate description, "It's terrible." It has to stop.
The Pork Henchmen: Morrison's ministerial spies give Australian National Audit Office the cold shoulder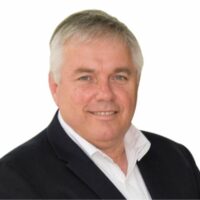 Rex Patrick is a former Senator for South Australia and earlier a submariner in the armed forces. Best known as an anti-corruption and transparency crusader - www.transparencywarrior.com.au.