Beware recycled plastics. They often contain virgin plastics; the antithesis of the recycling promise. Luke Stacey investigates the green vanguard and their recycling claims and finds, while they do good work in raising public awareness, they could certainly be more transparent.
As awareness grows of the global plastics crisis, companies around the world are cashing in on the desire of people to do what they can for the environment and minimise their use of single-use plastics. 
One example in Australia is a startup based in Byron Bay called Zero Co. Established by Mike Smith in 2019, Zero Co has made commendable efforts in raising awareness about the crisis of single-use plastics and exploring carbon offset schemes. 
According to Zero Co, it is fighting single-use plastic by selling dispensers of household goods, called 'Forever Bottles', which "are made from plastic rubbish that we've pulled out of the ocean, beaches and landfill". Also, "By buying this dispenser [customers] are directly funding large-scale ocean and beach clean-ups".
Forever Bottles reduce household consumption of single-use plastic as they are a one-off purchase; and customers can refill them using Zero Co's pouches "made from recycled materials diverted from landfill" and return those pouches to be washed and reused.
But, here's the catch. It also uses virgin plastic in its products – new plastic, that is – as well as recycled plastic.
Zero Co is not alone in marketing recycled products while playing down its use of virgin plastics. Global hair and beauty retailer Kevin.Murphy sold its products for at least two years with a label claiming they were recycled from 100% ocean-waste plastic.
Unfortunately, it turns out customers were misled by this labelling. In December 2020, the chief executive of Kevin.Murphy, Laurent Misischi, issued an apology letter stating that the company could no longer make this claim.
"Our packaging supplier … said they cannot guarantee that our current packaging that has '100% OWP' on the label is [accurate]."
Since then, the company has removed the label from all new packaging.  
Kevin.Murphy is yet to respond to questions.
Production of new plastic continues

Zero Co takes its claims one step further in the opening line of its mission statement: "Here's how we're stopping the production of new plastic". The statement gives the impression that, by buying a Forever Bottle, customers would not be increasing the production of new plastic.  
Yet, the opposite appears to be true. Every Forever Bottle currently sold contains virgin resin, meaning it has relied on the production of new plastic.
What's more, creating new products from recycled plastic waste doesn't stop petrochemical giants like Dow, Shell and Exxon in their plans to double plastics production over the next 20 years. Start-up initiatives, commendable as they are, do not tackle the bigger more urgent issues. Such would require serious government reform.
As the following story reveals, there is little visibility over how much plastic is actually recycled. Best estimates are that up to 90% of plastics end up in landfill or the environment. Zero Co acknowledges this.


PET Project: petrochemical giants exploit recycling to ramp up plastics production

Partial transparency?
While Zero Co's advertisements about its recycled products – either on its website or Facebook page – do not claim 100% recycled plastic from the ocean or landfill, they also are not accompanied by a disclosure about virgin plastic. This has the potential for customers to interpret Zero Co's claims as making 100% recycled products.
According to a blog post on Zero Co's website, every Forever Bottle contains virgin plastic.
This was made clear by Danish packaging manufacturers, PackTech, the former suppliers of Forever Bottles.
Zero Co was informed by PackTech after raising more than $700,000 through Kickstarter. In its Kickstarter campaign, it claimed: "The bodies of our dispensers … are made from 100% recycled plastic removed from our seas."
In the blog post, Zero Co admitted this claim was false. It stated that, at the time of releasing the campaign, this "was true and accurate based on the information we had been given by our supply chain partner PackTech".
According to Zero Co, PackTech was unable to provide them with an independently audited certificate "to prove that [the] first generation bottles contained at least 50% ocean plastic [as the] agreement and invoices to them stipulated".
If the agreement with PackTech was 50% ocean plastic, then how could Zero Co ever claim 100%?
Further, Zero Co says in the same blog post:
"neither PackTech nor Zero Co know the exact percentage of ocean plastic in our first generation Forever Bottles. It could be 50%. It could be 49%. It could be 3%. We do not know".
A source associated with Zero Co told Michael West Media that it was still selling the first generation bottles. Given the original PackTech bottles are still being sold, why is the above disclosure found only in one out of a dozen Zero Co blog posts, and not in the 'shop' section of the website where customers go to buy the products?
After raising money through Kickstarter, Zero Co's first project was to remove 6,000 kilograms of plastic waste from Indonesian waters. It said that this plastic would be reprocessed into the first generation Forever Bottles. 
The project was done in collaboration with Ocean Waste Plastic, a movement established by PackTech. Despite the movement's name – Ocean Waste Plastic – a disclosure on its about page says:
"we underline that there is no plastic from the oceans and rivers in our current packaging". [Emphasis added]
So if PackTech's own initiative states none of its products contains plastic from the ocean or rivers, how could it initially promise Zero Co 100% recycled ocean waste products, or even 50% for that matter?
When asked this question, the source for Zero Co said PackTech's disclosure about its current packaging containing no ocean waste plastic was released after their business relationship had ended.
MWM asked PackTech's office in Denmark to confirm these claims but we have not received a response. PackTech's branch in Australia hung up after this reporter telephoned with questions for comment.
Similar story with Zero Co's pouches?
Zero Co's plastic pouches are made by Australian packaging manufacturers OF Pack. A representative of OF Pack said that due to a non-disclosure agreement with Zero Co, OF Pack could not reveal what percentage of plastic diverted from landfill was contained in the pouches.
The source for Zero Co said:
"Nobody else in our category is anywhere as transparent as we are".
Yet when asked what percentage of recycled landfill plastic is contained in Zero Co's pouches, they declined to comment. "I don't have to [answer] anything which is nitpicking to try and poke holes in our business."

Mixed messages
Apart from the above blog post, MWM found one other disclosure from Zero Co about virgin plastic; a promotional video for its 24-hour underwater clean up of Sydney Harbour to announce it had moved production to Australia.

At what appears to be a Materials Recovery Facility, Mike Smith documents the reprocessing of the ocean and landfill-bound plastic to be repurposed into the Forever Bottles. For these new dispensers made in Australia, he reveals they contain virgin resin and are trialling for them to consist of 50% recycled plastic from oceans, beaches and landfill.
What's particularly interesting about the video though is when Smith says:
"we've taken all the plastic we've collected from oceans and beaches, we've mixed it together with landfill diverted plastic … We then take this to our bottle manufacturing facility to make into our Forever Bottles".
A similar claim was made in an accompanying Facebook post: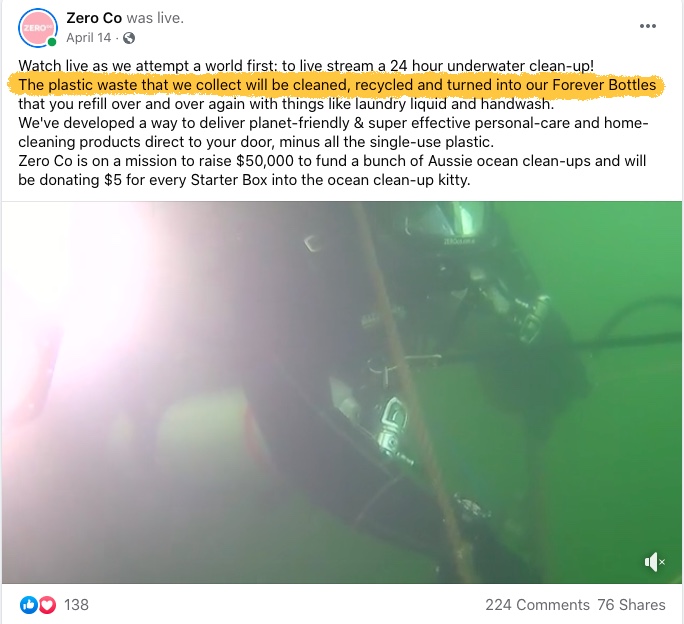 This would have the viewer believe that all of the plastic they picked up was reprocessed into Zero Co's products. Yet, in a different video, Smith acknowledges that not all plastic from the ocean can be recycled. This inconsistent messaging could potentially lead to customers buying these products on a misleading narrative, depending on which claim they hear.

Recycling shortcomings 
Director of Zero Waste Australia and the National Toxics Network Jane Bremmer says Zero Co's reprocessing procedure (as shown in the above video) is no different from any other plastic recycling company.
"According to their video, Zero Co takes mixed plastic waste from the environment and feeds it into a plastic reprocessing facility which has the potential to contaminate the recycling stream … When you shred it into new pellets, you're taking all of that toxicity with you.

The more they push for 100% recycled products from ocean waste, the greater the toxicity risk becomes. This is because plastic in the ocean adsorbs contaminants found in the marine environment," she said.
The reprocessing procedure shown in the video is known as mechanical recycling. It involves separating the collected plastic waste, which is then washed, shredded, melted down and turned into pellets.
A recent report from the International Pollutants Emission Network and International Pellet Watch pointed to the shortcomings of mechanical recycling, such as carbon emissions from reprocessing (unless run entirely from renewables) and its inability to remove toxic chemical additives from virgin plastic.

It added: "no amount of [mechanical recycling] will fundamentally resolve the plastic pollution issue, while petrochemical plastic production rates skyrocket".
Zero Co declined to disclose the new packaging manufacturer for its Forever Bottles.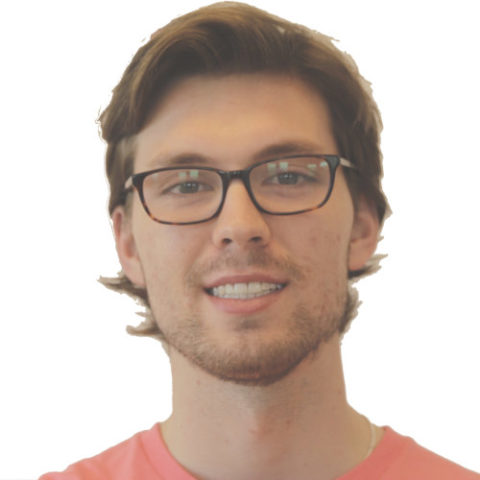 Luke Stacey was a contributing researcher and editor for the Secret Rich List and Revolving Doors series on Michael West Media. Luke studied journalism at University of Technology, Sydney, has worked in the film industry and studied screenwriting at the New York Film Academy in New York. You can follow Luke on Twitter