With the hype removed and the political posturing ignored, was COP26 a success? And what were they all saying about Australia? Sir Maxwell MacLeod, the man in the car, signs off from Glasgow.
I joined Friends of the Earth when I was 20, a year after it was formed. My father was the first member of the Green Party in any legislative body in Britain. In short, I have been obsessed with the environment for a very long time.
And in short, I thought the conference was a terrifying failure. And Australia came out of it very badly indeed.
Of course we can say positive things. It was remarkable to get around 200 nations to gather in one place and agree on anything, amazing for Glasgow to successfully host such a meeting in the middle of a pandemic, and commendable for activists and diplomats to make so many personal sacrifices and work so hard.
But those weren't the objectives. The objective was, at the last second before midnight, to come up with a scheme to prevent untold suffering around the world that will see millions become homeless, wars generated, thousands drown and islands disappear.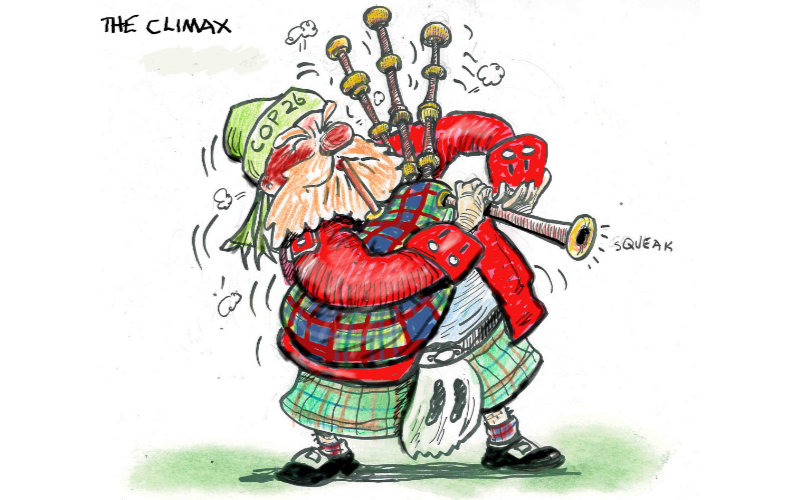 And we didn't do it. We are still on track for that nightmare and the train is picking up speed.
Of yes we can say that we are at least still speaking to each other, now have plans to meet again next year, but as I say there was no radical breakthrough, and the very concept of reducing the world's emissions by the forty odd percent that we need to within the next decade still seems so unlikely as to be ludicrous.
As I was leaving the conference gates, I jumped on a bus with a fellow hack and a senior diplomat who came from a country that is already flooding at an alarming rate. He had nothing to say to us, but then with tear-filled eyes he suddenly couldn't contain himself any more: "Go home and turn on your televisions, there's more to come."
And there was. Even the surely insipid suggestion that we should all aim at getting rid of coal had been watered down, and then we had to endure Boris Johnson coming up with some typical nonsense about a route to salvation having been formed by the conference when no such thing had happened.
There have been many tears shed, some of them from the leading organiser of the conference. The only hope is that at least China, the world's worst producer of emissions from coal, has told America that they are promising to produce a plan within a year.
I was asked to look out for stories about Australia. So I did. I marched awhile with half a dozen Australians on the 100,000 strong protest march, gave free digs to two activists, visited the 12-panel strong exhibition in the Glasgow Library and looked most diligently for any non-government employee who might give me the opposing view.
But every one of those Australians were adamant that the Australian position on supporting coal to the extent it is doing is a disgrace. A disgrace only enhanced by the suggestion that the nation's technology to increase carbon capture was more advanced than it is.
I told Michael West Media that I would spend much of my time simply talking to people in the street about their reaction to the conference, both in the deprived area of Govan and the affluent area of Park. The ignorance of so many in both areas was horrifying.
In Govan, there was more interest in the death of their local football manager than the conference. In Park, the chief concern was whether the interest rate was about to rise.
I desperately tried to garner a conversation with the passers-by by telling them that when I was a kid I remember Paul McCartney coming there when he was having a bit of a fling with Jane Asher. Finally I did manage to turn the conversation with the young professionals to the conference. Their reply was not encouraging; "Ah, we had no interest in the conference, you see we're not from Glasgow, we're from Rutherglen."
Next year. I intend going to COP27 in Egypt. By train. When I get there I'll find a car to sleep in. I'll let you know how I get on.
Sir Maxwell is reporting for MWM as our "Man in the car" at the Glasgow climate summit.
He was educated at Cargilfield, Gordonstoun, Durham and Oxford.