Finally, good news for beleaguered electricity consumers, business and Australia's economy. But can the government seize the momentous opportunities to make this country a renewable energy superpower? Michael West reports. 
It passed without fanfare, missed by our 'fossil media' which remains in the thrall of the coal and gas industries. But this week, regulators chronicled a fall of almost 70% in wholesale prices on the National Electricity Market (the NEM).
Retail prices, the hefty cost we pay on our electricity bills, will follow. Wholesale makes up roughly a third of retail prices, and there is a 12 month lag, but from July 1 next year, power bills are likely to tumble from the lofty heights whipped up by Russia's invasion of Ukraine.
And further to this good news is the rising demand globally for renewable energy, and further deflation in the price of solar and wind power, and enormous demand for batteries; all of which is unequivocally good for consumers *and* the planet.
With the government still forking out billions in public subsidies for foreign fossil fuel companies, still approving new coal and gas projects hand over fist, still fiddling about with distractions such as hydrogen and uncommercial carbon capture and storage projects (CCS) it is easy to be dejected about the faltering progress to save the planet.
Ten and rising: Albanese government new fossil fuel approvals unveiled
Yet, the market is marching forward in giant strides, dragging governments along with it.
Electricity prices to fall
To the RE revolution shortly; but firstly to the projected fall in electricity bills from their present nosebleed levels, prices which are making every day life for Australians so difficult
The OpenNEM this week quoted the third quarter wholesale price of electricity in the NEM was $76/MWh, down 68% year-on-year from $236/MWh in 2022 – and its record peak of $300MWh in second quarter last year. After two years of hyperinflation driven by unprecedented coal and gas prices – and dazzling profits for fossil fuel corporations – it was bizarre that the press barely acknowledged this great news story.
Caught between the cries of the fossil fuel lobby on one side and the climate progressives on the other, it should be said federal Energy Minister Chris Bowen has played a good part in stepping up to put a temporary $125/t domestic coal cap in place to break the stranglehold of the fossil fuel vested interests at a time when they were enjoying record war profits … and with no remorse that they were causing a domestic energy crisis.
In 2023, wholesale NEM prices are now tracking just below $100/MWh, down more than 50% year-on-year, rendering consumer relief now highly likely via a material reduction in the default market offer for retail electricity prices come next July, even with still elevated thermal coal export prices (the coal cap of A$125/t is only temporary, so the default market offer will address the expiry of this intervention in its retail pricing evaluation).
Surging battery demand
Meanwhile, last week saw South Korea's LGES, the world's largest EV battery manufacturer outside of China, announce a staggering 20GWh pa decade-long battery supply contract with Toyota in the US. Korea's LGES is currently building eight new battery manufacturing facilities in the US, with all of these plants due to be operational by 2025 at the latest. 
A profound investment surge in renewables, heat pump, batteries and EV manufacturing capacity globally is underway, with annual global manufacturing capacities of each due to double every 24 months at the current run rate, Tim Buckley of Climate Energy Finance (CEF) told MWM. 
Buckley has been at the vanguard of new energy analysis for the past decade, advising governments and corporations, and coaxing the world's largest investors such as Blackrock to jettison their fossil investments in favour of renewables.
"The evidence is clear," he said this week, "The global climate crisis is well underway, but we are finally seeing a global technology and investment race to the top emerge commensurate with the size of the challenge. 
"The $US1 trillion US IRA (individual retirement account) is the biggest single investment program in world history, and it has had a profound global impact. The opportunities for Australia are huge – if we get the right level of ambition in terms of strategic, policy and financial response from the Albanese Government".
So far, Australia is crawling in the right direction. It is a global race and thanks to the sheer financial muscle and entrenched influence of the fossil lobby, it is a race in which this country is starting from behind.
Gas giants finally comply as Penny Wong confronted in New York on climate action
As Martijn Wilder, newly appointed Chair of the Australian National Reconstruction Fund noted earlier this week at a fossil-heavy AFR energy conference, Australia needs the modern equivalent of a "Marshall Plan".
China the biggest mover
China meanwhile, despite still building new coal plants apace, is leading the renewables charge. For the first eight months of 2023, China has installed a staggering 156GW of new wind and solar, up 120% year-on-year. This is equivalent to doubling the entire installed capacity of the Australian NEM built over the last few decades, yet China pulled this off in renewables alone in just eight months.
CEF China policy analyst Xuyang Dong here:
"In August alone, China added 24.4GW zero emissions capacity, 92% of the total newly installed capacity of 26.4GW. It brings the total added capacity from January to August to 199GW, an 106% year-on-year (y-o-y) increase. Of this, 164GW of new capacity is from zero emissions energy sources, taking up 83% of the total of newly added capacity, a 115% y-o-y increase."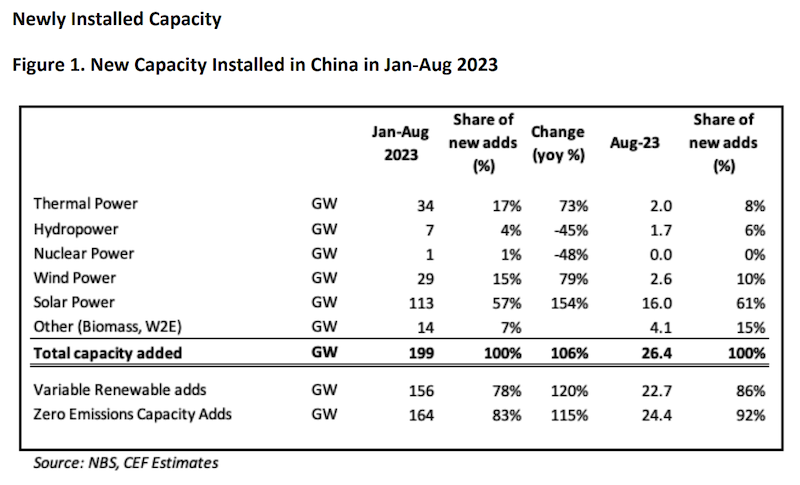 Australia is a bit like China in one respect, certainly not in decisiveness, size or pace of change, but rather in that government keeps approving new fossil projects while pushing renewables. Renewable energy penetration is inexorable and as new supply comes on line, prices go down. Wind and solar are the lowest cost generators. As for batteries, it is really happening in the storage space.
The price of battery cells has dropped by a third year to date.
Thanks to China, solar module prices are down more than 30%. The biggest battery in NSW was commissioned this week by energy minister Penny Sharp. It is under construction now. The world is doubling solar EV and battery capacity every 18 to 24 months.
This is a direct outcome of Vladimir Putin's invasion of Ukraine. The world response, Europe in particular, was "We can't afford this shock again", and so it is that the renewables markets are firing. Deflation in the cost of new RE generation is rampant.
And this deflationary trend will drive lower electricity prices, no matter how inconvenient the narrative for fossil media and the coal and gas lobbies.
Their demands and their influence over government will yet persist until the resources giants can no longer pillage the planet, until it is both politically and commercially untenable. For every step forward there will be half a step back, as evinced this week also when Environment Minister Tanya Plibersek lined up on the same side of the bar table as coal companies to win a case which enables the government to ignore the destruction of fauna in its environmental approval decisions.
The NSW government is even shaping up to splash public money subsidising Australia's oldest coal clunker the Eraring power station. This despite low cost renewable solutions being more realistic, and despite the operator Origin Energy walking away because the thing is too old and does not stack up on commercial grounds.
On the good news front, while Labor federally has dithered on taxing fossil fuel companies, Premier Chris Minns has followed Queensland's lead and upped the state's coal royalties which is forecast to add another $2.7b to NSW revenues.
Thermal coal export prices remain way above averages while in Europe, the gas price hit a 2-year low this week, down an incredible 98% from its peak.
Governments inundated
Governments in Australia are being deluged with renewable energy investment proposals worth collectively some 250gw or $300b. Demand is there; bottlenecks are now the issue.
In NSW, the Waratah Super Battery is 850mw capacity. To lend perspective, Elon Musk's South Australian battery built in 2017 in 91 days is now looking small at 100mw.
NSW has a bunch of the world's biggest batteries under development. It is convenient, even poetic, that Waratah is being built on the site of an old coal plant in Newcastle, which delivers the project proximity to grid connection.
Over in China, things are mega-scale; they are this year commissioning 20gw a month in wind and solar projects (that's more than double the entire Australian grid system capacity built in just eight months). All up, it's more grid capacity than Australia has built in the last 50 years.
EVs go ballistic
On the car front, sales for Chinese EV manufacturer BYD (10% owned by Warren Buffett) are up 80% in the first eight months of the year, having trebled last year.
It was only a few years ago that Scomo said EVs would destroy our weekends. They are now on the way to 100pc penetration (new cars) this decade. Already in China, they represent 34pc of new passenger vehicle sales. In Norway it's 80pc plus of new vehicle sales now. 
Australia, in terms of its natural resources, has always been the lucky country. From grazing to gold, then oil, coal, gas, copper, iron ore and nickel. And yet again, here we are poised to export our lithium, cobalt and rare earths – as well as nickel and copper – to capitalise on the latest boom, the boom in renewable energy.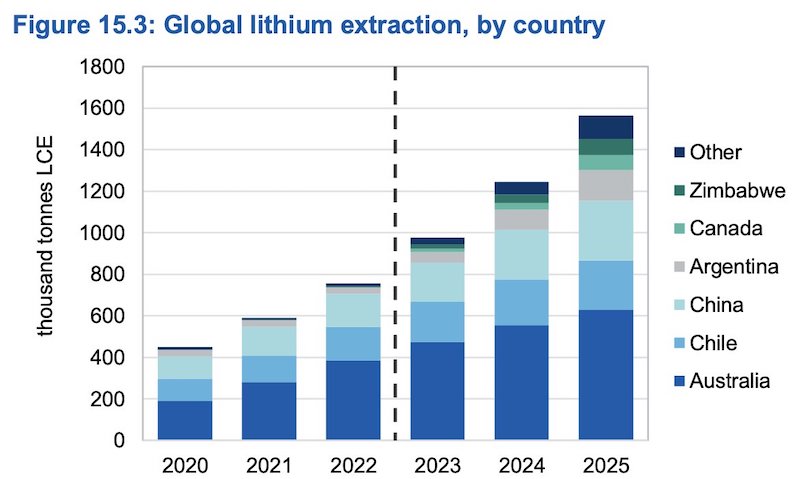 We mine half the world's lithium, for which demand is estimated to rise ~20% p.a. from 2020 to 2035, driven largely by demand for EV and ESS batteries. The question is, can we value add to create new industry, or do what we have always done, let foreign multinationals take the pie?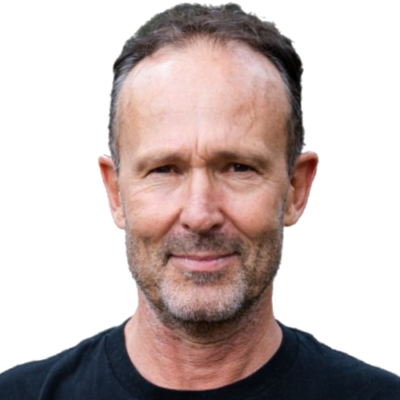 Michael West established Michael West Media in 2016 to focus on journalism of high public interest, particularly the rising power of corporations over democracy. West was formerly a journalist and editor with Fairfax newspapers, a columnist for News Corp and even, once, a stockbroker.