Burning wood for biomass energy is on the rise as an alternative to coal. But it is even dirtier than coal and is leading to alarming levels of deforestation. Elizabeth Minter, Tom Ferrier and Jane McIntyre report.
NSW is increasingly being lauded for its ambitious climate targets. But is that misplaced given a key focus of NSW's renewable energy plan is to replace coal with native forests as the fuel for power stations?
Science has shown that burning forests for energy is dirtier than coal. In fact, when compared with coal or natural gas, burning wood emits up to 150 per cent of carbon emissions per unit of energy produced.
In 2014 the O'Farrell government opened the way for the state's forests to be used to generate electricity, changing environmental protection regulations to allow trees otherwise destined for pulp and paper production to be burnt in power stations.
Policy driving deforestation
Then in 2015, the Abbott government included burning wood waste to its conditions for a deal on a Renewable Energy Target. The Australian Conservation Foundation argued at the time that this would drive deforestation and that whole trees would be used to fuel the furnaces.
Burning wood for energy is now accelerating alarmingly across Europe. One study in Nature found a 70% increase in Europe's tree-cutting since 2015.
In the UK, Drax, the UK's largest power station, has been converted to burn 100% wood mainly imported from US forests. UK taxpayers are subsidising this 'renewable energy' generator to the tune of £2 million per day.
This has all been made possible because grandfathered in the 2015 Paris Agreement was a policy from the Kyoto Agreement that counts electrical energy produced by burning biomass as carbon neutral.
But it is not carbon neutral. As the European Academy of Sciences Advisory Council said in an open letter last year:
"When a power station switches from coal to wood pellets, a significant amount of extra CO2 is released, so there follows a period (carbon payback period) during which switching from coal to forest biomass increases atmospheric levels of CO2.

This is often a long period – much beyond the time we have available to meet Paris Agreement targets of limiting warming to 1.5-2°C."
Biomass was never intended to be about using wood. The fuel was always supposed to come from annual crops such as rice husks and other agricultural 'waste' products.
Logging of NSW intensifies
The logging of public land in NSW has intensified following regulatory changes in 2019 around the licensing of state forests. Logging on private land is poorly regulated.
The rules around logging state and private forests have been relaxed to halve the number of trees that need to be retained.
Some 140,000 hectares of public coastal forests from Grafton to Taree have been zoned to allow for them to be intensively logged, with up to 60 hectares at a time able to be clear felled. The volumes of lower quality logs that can be taken has doubled.
In 2017, the NSW Department of Primary Industry  issued a media  release claiming there is sufficient 'forestry biomass' on the Mid North Coast to 'support energy generation systems, with no adverse effect on the environment'.
This photo, in a DPI report, shows pulp logs, cut from Bulls Ground State Forest, that could be used for biomass fuel.
Michael West Media reported earlier this year that in potentially illegal activity, 96% of the trees felled in the NSW region of Eden during the whole of 2020 were turned into woodchips.
By law, woodchipping cannot be the primary purpose of logging operations. More than 80% of all timber harvested in Australia is categorised as 'waste' or 'residue'.
Logging Eden: NSW south coast forestry dominated by potentially illegal wood-chipping
Greenwashing
 Australia has never had a 100% wood-burning power station but that could be about to change.
Hunter Energy, which is in the process of rebranding itself Verdant Earth Technologies, is planning to convert the defunct Redbank power station in the Hunter Valley to 100% biomass. Its development application (DA), currently being assessed by Singleton Council, is open for public comment.
Hunter Energy's Expression of Interest is calling for wood-based biomass. The biomass can be:
sawmill and wood processing residues
forest residues from harvesting and thinning
end-of-life, industrial and other wood waste streams.
Conjuring up images of living, breathing greenery, Hunter Energy/Verdant Earth Technologies' website states:
"Verdant is powering green assets and technology to facilitate the transition toward net zero CO2 emissions for power generation."
The power station is to "operate solely on waste biomass".
Its application says the power station will burn 850,000 tonnes of dry biomass to produce 150 Megawatts of 'green electricity' with 'net zero emissions'.
In reality, the Redbank power station will emit closer to 1.5 million tonnes of carbon dioxide annually, worsen air pollution in the Hunter Valley, and provide a market to increase native forest logging on public and private land, courtesy of taxpayer funded 'renewable energy' subsidies.
With plans to produce 151 Megawatts, the Redbank Power Station will be one of world's 10 biggest biomass power plants.
Meanwhile, in a sign of things to come, the Condong Biomass plant near Byron Bay is seeking permission to change its fuel source from woodchips to waste construction wood, because it is having trouble maintaining supply.
For the past several years, the 30MW power station has burnt sugar cane residue for six months, and wood for six months of the year.
Earlier this year more than 500 scientists and economists wrote to world leaders about the dangers of using wood as biomass fuel.
"Forest preservation and restoration should be key tools for achieving this goal and simultaneously helping to address our global biodiversity crisis. …

We urge you not to undermine both climate goals and the world's biodiversity by shifting from burning fossil fuels to burning trees to generate energy."
And when the Intergovernmental Panel on Climate Change tells us that the world has less than 10 years to effectively tackle climate change, chopping down our carbon-sequestering forests and releasing their carbon into the atmosphere is so counter-intuitive and scientifically unsound as to be absurd.
Burning hardwood for electricity is a lose-lose strategy: forests are destroyed and the carbon is released into the atmosphere. We may just as well keep burning coal – at least we get to keep our forests.
Michael West Media put a number of questions to Hunter Energy, but it did not respond.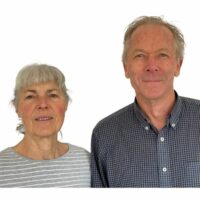 Jane McIntyre is a retired science and English teacher. She is co-editor of
local quarterly 'Inklings'.
Tom Ferrier is a retired environmental science teacher with a Masters in
Environmental Management. He has worked extensively in bush regeneration.
Tom and Jane live on a property on the Mid North Coast NSW, adjacent to
State forests. They are founding members of forest activist group No
Electricity From Forests, and more recently, part of Redbank Action Group.