The Australian Strategic Policy Institute says it's independent, free of influence and stands by the integrity of its research, so who is scrubbing negative comments from the Wikipedia page of the China hawk think tank? Is it the Chinese spies, is it Winnie the Pooh? Marcus Reubenstein reports.
"Clear strategic thinking and the value of contestable policy advice are never more important than in moments of crisis." That is the opening line of the Australian Strategic Policy Institute (ASPI) Annual Report.
ASPI claims to be an advocate of "contestable" ideas, however in the great military tradition its generals prefer one-sided contests.
For ASPI there is no greater crisis than criticism and, it appears, a level playing field can always be titled in its favour. One need go no further than the ASPI Wikipedia page to see that someone is looking very kindly on ASPI and the way it crafts its image.
(Editor: ASPI is also Australia's most influential and aggressive crafter of anti-China propaganda, funded to the tune of $11m a year by government and the military industrial lobby, foreign arms manufacturers that is).
Something is rotten with the state of propaganda
The top of the ASPI page comes with this warning from Wikipedia in bold text:
This article has multiple issues. This article relies too much on references to primary sources. This article may rely excessively on sources too closely associated with the subject, potentially preventing the article from being verifiable and neutral.
It is the standard Wikipedia disclaimer when Wikipedia suspects Something is rotten in the state of Denmark—or, perhaps one might say, in the Canberra suburb of Barton.
More than half of the reference sources on the Wikipedia page come directly from ASPI itself and all but one either endorses or praises ASPI.
The single criticism of ASPI is an Australian Financial Review article published in February 2020, one of the subjects of that story was a comment made in the Senate about ASPI's finances, which so offended the think tank it published a statement refuting those claims.
As it turned out one of the claims in the ASPI statement was incorrect, a point highlighted in an article critical of ASPI published five months later. That article questioning ASPI's funding was added as a reference to the ASPI Wikipedia page—less than two hours later it was gone.
Sockpuppets and WikiSneaks
Whereas ASPI has the Defence Department, US government and weapons makers to support its research, Wikipedia relies on an open collaboration model.
On 1 July 2021, the following paragraph was added to the ASPI Wikipedia page:
The former diplomat and commentator Bruce Haigh wrote in May 2021 that ASPI is the "preferred source of advice on China" for the Liberal–National Coalition, ahead of the Department of Foreign Affairs and Trade and the Department of Defence. He also argued that ASPI is exaggerating the threat China poses to Australia and its advice has resulted in China freezing Australia out of "significant bilateral trade, economic and diplomatic relationships".
Eight days later the paragraph was removed as was the reference to an opinion piece critical of ASPI, Haigh had written for the Canberra Times.
Haigh is a highly respected former public servant and diplomat, who has a large following on Twitter and his posts often receive thousands of likes and Retweets. He is a regular contributor to public policy website Pearls and Irritations and a vocal critic of the narrative pushed by ASPI and its backers.
Much like the army of censors employed by the Communist Party of China to cleanse online criticism of the CCP, negative comments about ASPI seem to be missing from its Wikipedia page.
A 2020 article on ASPI funding, published by this reporter, briefly made it on to the ASPI Wikipedia page but it was quickly scrubbed from the site by, an aptly named user, Forevertruthsayer.
That account has now been blocked by Wikipedia, whose administrators called the user a "sockpuppet" behind another account named Waskerton, also blocked by Wikipedia which says, "evidence confirms that the account's owner has abusively used multiple accounts."
Two other users who have edited the ASPI page, Festerhauer and Telsho, have also been identified as sockpuppets of the Waskerton account.
Talk is cheap
Above every Wikipedia page is a series of tabs, second from the left is a tab labelled "talk" which gives insights into the entry and any problems associated with the content. For the ASPI page, it says there are some glaring problems.
Wikipedia says this page is "missing important content or contains much irrelevant material", has insufficient references to "reliable sources" and "would not provide a complete picture for even a moderately detailed study".
The ASPI page ranked "C" on the Quality Scale, which is the lowest ranking for an established Wikipedia page.
Two users are identified who "may be personally or professionally connected to the subject of this article".
One of the users, named 203.173.10.92, is an IP (Internet Protocol) Address which points directly to the ASPI computer server. That Wikipedia user has edited the ASPI page eleven times and appears to have added ASPI to another Wikipedia page containing a list of notable think tanks.
The second user, who has edited the ASPI Wikipedia page, was a little less discreet in naming their account as ASPI org, that account name was later changed to Wyvern2604 and appears to have since been deleted.
Under the heading of "Allegations of an agenda" the open forum page says ASPI fails Wikipedia's NPOV (neutral point of view) guidelines. A page editor saying it is not within guidelines to "describe ASPI as being "non-partisan" or similar, given that there is a serious viewpoint that it is now partisan."
A clearly annoyed editor wrote, "Stop removing referenced content that details funding outside the Australian government. This is highly relevant and proven, and any attempts to remove can only be assumed to be in bad faith."
The Talk Page on ASPI's Wikipedia entry identifies "glaring issues" with content that is "heavily cherrypicked" and had "clear POV-inserts", in other words content uploaded by sources linked to ASPI.
The "Publications" section of the main ASPI page has this description of its online periodical, "The Strategist aims to 'provide fresh ideas on Australia's critical defence and strategic policy choices as well as encourage and facilitate discussion and debate among the strategy community and Australian public'."
These are the only words in relation to ASPI's research publications and they literally come straight from ASPI itself.
There are numerous examples of publicly disclosed material questioning ASPI's independence and its funding which simply do not appear on its Wikipedia page.
There is no reference to an AFR story from March 2021 which found, "A report from influential think tank the Australian Strategic Policy Institute that criticised government departments for giving too much business to a dominant provider of cloud computing capacity was paid for by a lobbying firm engaged by three of the market leader's rivals."
There is zero discussion of connections between ASPI and media outlets which have given ASPI constant positive media coverage, no mention of verified reports that a number of ASPI sponsors have engaged in the use of forced labour or been involved in human rights violations nor that ASPI has produced reports which recommend the Australian government purchase military hardware from its sponsors.
There's an entry on ASPI's website under the heading: China's increasingly sophisticated censorship regime. What is it they say? "Imitation is the sincerest form of flattery".
————
Editor's Note: both this publication and the author of this story's publication APAC News, and three other parties, received defamation threats from an ASPI contributor earlier this year. ASPI and its associated law firm, Meyer Vandenberg (which is making the threats) have refused to respond to repeated questions as to whether associates of ASPI are involved in the campaign of legal intimidation. Video explainer here:
---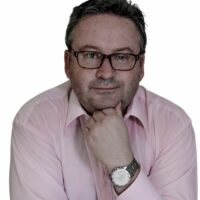 Marcus Reubenstein is an independent journalist with more than twenty years of media experience. He spent five years at Seven News in Sydney and seven years at SBS World News where he was a senior correspondent. As a print journalist he has contributed business stories to most of Australia's major news outlets. Internationally he has worked on assignments for CNN, Eurosport and the Olympic Games Broadcasting Service. He is the founder and editor of China-focussed business website, APAC News.