The prosecution of Bernard Collaery was dropped after pressure from Timor-Leste and fears of China's expansion. It's not great news for other whistleblowers such as David McBride, Richard Boyle or Julian Assange. Rex Patrick reports. 
Other than those high up in the intelligence community, and those involved in the 2004 spying on Timor-Leste's sea boundary negotiating team with the aim of defrauding the impoverished country of its oil and gas resource, most people welcomed Attorney-General Mark Dreyfus's announcement on July 7 that he was stopping the prosecution of whistleblower Bernard Collaery.
At the time Dreyfus announced his decision to exercise his power under Section 71(1) of the Judiciary Act  he said, "In taking this decision I have had careful regard to our national security, our national interest and the proper administration of justice. It is my view that the prosecution of Mr Collaery should end".
There was hope at the time that he might move on to considering dropping the persecution of whistleblowers David McBride and Richard Boyle. But the Attorney has shied away from dealing with them. 
It poses the question: how much of the Attorney-General's motive in dropping Collaery's prosecution was the administration of justice and how much of it related to national security and national interest?
A recent answer to a Senate question on notice from Senator Jacqui Lambie to Foreign Minister Penny Wong shows justice had little to do with it.
A little background is necessary first.
In November 2019, the hugely popular and influential former president and prime minister of Timor-Leste, Jose Ramos-Horta, filed an affidavit in the ACT Supreme Court against the prosecution of Bernard Collaery. This is how he ended his affidavit (the reference to "the Reported Fact" is to the 2004 spying operation).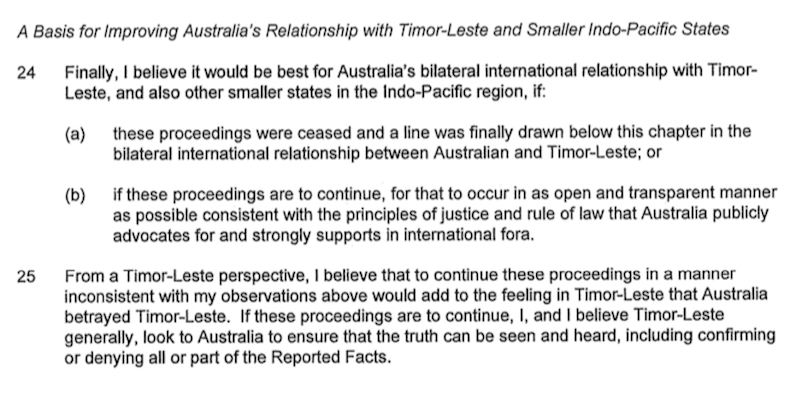 Ramos-Horta was respectful of our sovereignty, but clearly wanted the prosecution stopped.
Fast forward to 2022 when a couple of significant events occurred in the South Pacific.
A failure by the Morrison government in regards to international relations between Australia and the Solomon Islands brought about a real risk that China could establish military bases in the Solomons.

Ramos-Horta became President of Timor-Leste again.
We then turn to the answer just provided to the Senate about dialogue between the Australian and Timor-Leste government on the topic of Collaery. Wong provided the following:

There you have it. The prosecution of Collaery was dropped because it was important to the relationship between Australia and Timor-Leste. 
Whilst the Albanese government fails to support whistleblowers, no public servant will ever blow the whistle on malfeasance, misfeasance or corruption inside government. And that's a bad thing for Australia. 
Rex Patrick: will Timor-Leste become China's latest aircraft carrier?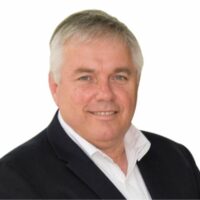 Rex Patrick is a former Senator for South Australia and earlier a submariner in the armed forces. Best known as an anti-corruption and transparency crusader - www.transparencywarrior.com.au.