Donald Trump aside, deaths in the US continue to soar from Covid-19, with a reported 383,000, and 23 million infections. Europe has also reported huge rises in the final month of 2020, while the numbers in African countries rose sharply too. Alan Austin takes a look at the latest pandemic wave.
The pandemic is devastating Europe. The nations most severely affected now by the pandemic are all in Europe and the Americas. Many – Britain, the US, Spain and Colombia – are contending with a third wave while several – Russia, France, Italy and Germany – are still battling their second.
The surge in deaths in several African countries in December, albeit off a low base, and much higher case numbers in South America also counter the claim that the steep rises in Europe and North America are due simply to winter weather.
Second waves
Germany was widely praised for its response early in the pandemic, starting testing and contact-tracing early. However, from just 147 fatalities recorded in August, and 200 in September, the number of deaths from Covid then exploded –  to 6,279 in November and a staggering 17,332 in December.
While Italy had a disastrous first wave, it appeared to have finally defeated that it, with just 342 deaths recorded in August. By the final two months of 2020, however, Italy recorded a whopping 16,958 deaths in November and 18,583 in December.
Parallel trajectories are seen in Norway, Denmark, Finland, Estonia, Latvia and Greece. Sweden appeared to have controlled the pandemic with 54 deaths in August and just 45 in October. But not so. Sweden recorded 743 deaths in November and 1,690 in December.
30 worst-hit nations
The 30 major countries with the highest deaths per million in December are the US, Panama and 28 states in Europe. Worst hit were Slovenia, with 1,262 deaths at 607 per million population, and Croatia, with 2,134 deaths at 521 per million. That's just in December.
All countries neighbouring Italy, the epicentre in February and March, are badly affected again – Switzerland, Germany, Austria, Croatia, Greece and Slovenia. All experienced more than 200 deaths per million in December. See chart below.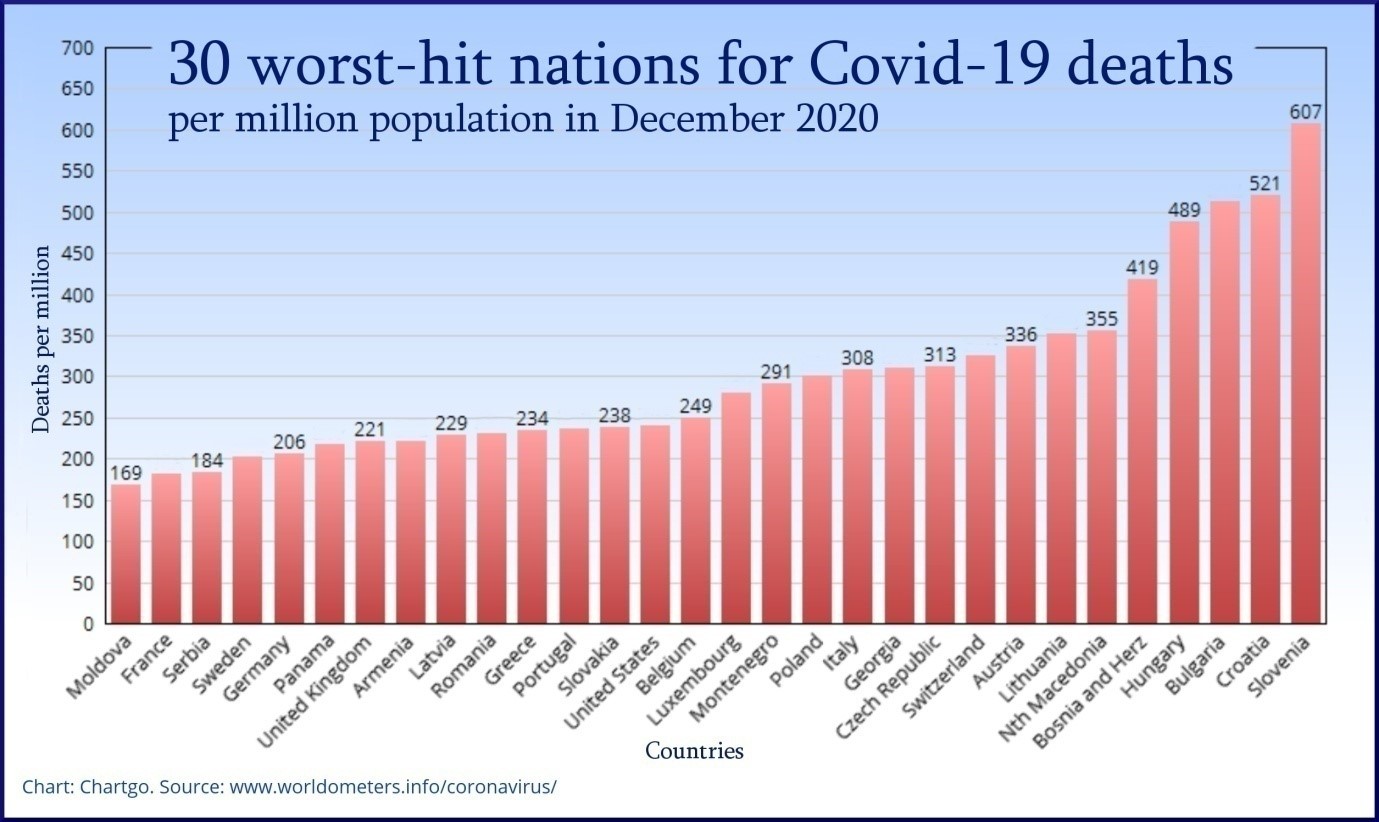 Americas faring badly
Outside Europe, the US was by far the worst-hit nation, with a staggering total of 80,086 citizens lost in December – at a rate of 241 per million. Next most heavily hit was Panama with 943 deaths at 217 per million population. These two were streets ahead of the rest. Mexico followed with 19,242 deaths at 148 per million, then Palestine with 668 deaths at 129 and Colombia with 6,447 deaths at 126.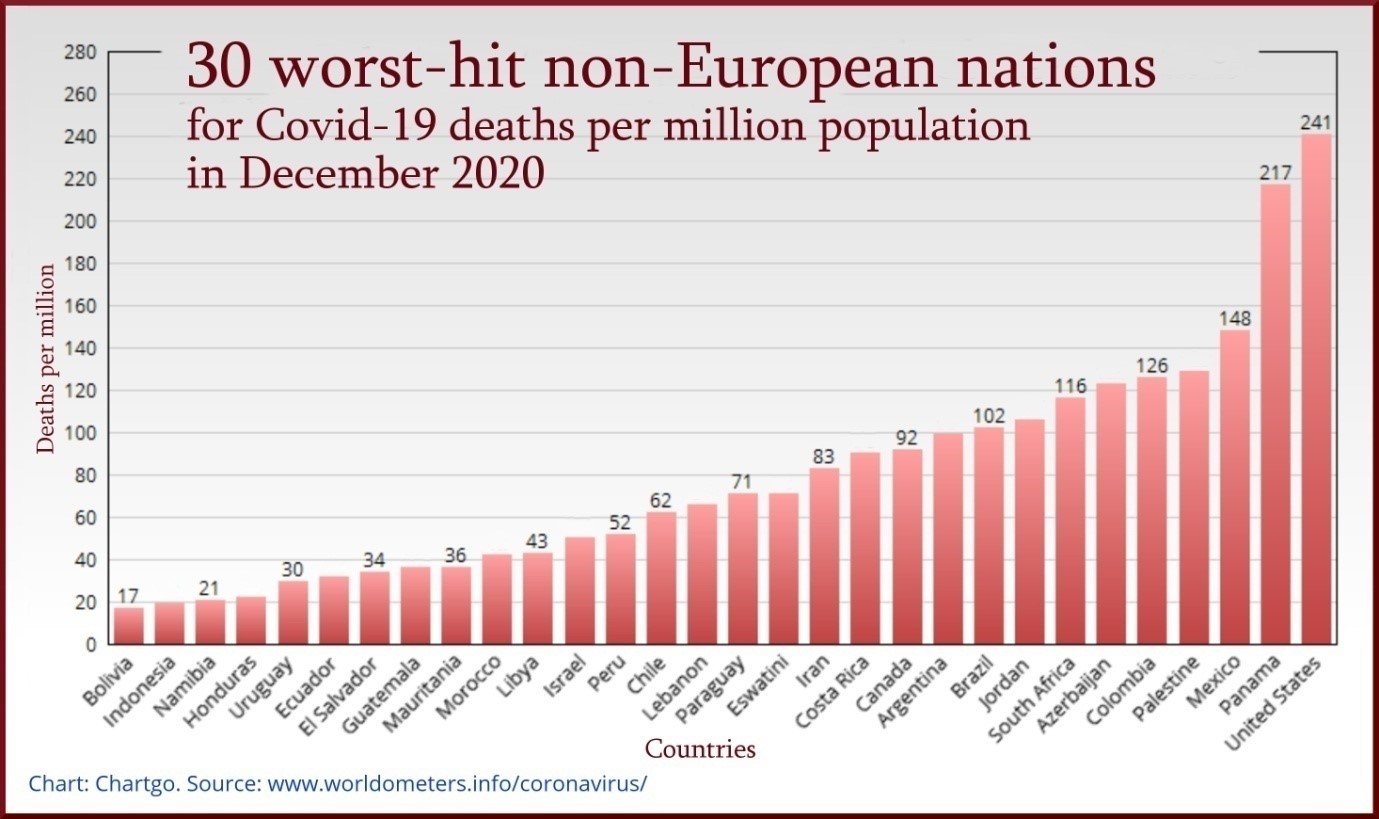 Methodology
This analysis examines all 172 major nations – populations above 400,000 – whose infection figures are updated daily by Worldometers. As always, caution must be exercised with data from poor African nations and repressive regimes.
Tanzania, with a population of 60 million, has recorded zero new cases and zero deaths since May. Are they sure? China also, with 1.4 billion people spread across a vast area, may well have had zero deaths in the past eight months, as reported. But this seems unlikely. There's no point checking data coming from North Korea or Turkmenistan. There isn't any.
Success stories
Of the 172 countries, only 20 had no Covid deaths last month. These include New Zealand, Singapore, Cambodia, Taiwan, Vietnam and China. Eight countries, including Thailand and Australia, recorded just one death.
New Zealand is the only major developed country to have recorded zero deaths in the past three months.
Australia is the only country, developed or other, to have recovered from heavy deaths in August and September – 455 and 234 respectively – and to have achieved close to zero now, with just one in November and one in December. That is impressively world-beating.
Next best has been Bolivia, with 2,072 deaths in August and 2,965 in September, which the country got down to 197 in December.
Global situation deteriorating
Some analysts consider the benchmark for success in controlling the pandemic is getting deaths below 3 per million per month. On this measure, successes have diminished as the year has ground on.
In September, 80 countries lost fewer than three citizens per million. This slipped to 72 in October, then 68 in November and 59 in December.
Countries to have fallen badly from the top echelons are Japan, which had 1.51 deaths per million October but 10.3 in December, and South Korea, which slipped from 0.99 in October to 7.29 in December.
Africa now affected
Until recently, many poor African countries had recorded zero deaths. Theories to explain this included a natural resistance to disease due to people living close to the earth, enhanced immunity derived from prior infections – and, of course, poor diagnosis and reporting of cases.
But deaths in several African countries surged in December. Niger recorded zero deaths in August, September and October, three in November but 32 in December. Mauritania recorded two deaths in August, September and October, 14 in November but 170 in December.
Others reporting escalating numbers in December include Nigeria, Burkina Faso, Zambia, Rwanda, Senegal and Namibia.
Such numbers are raising concerns that the pandemic may indeed devastate large swathes of the developing world where hospitals and other health facilities are relatively poor – a worry raised at the outset that has not eventuated. So far.
Africa's December outcomes – along with case numbers in South America – also serve to counter the claim that the surges in Europe and North America are due simply to winter weather.
Covid-19: sacrificing lives does not mean saving the economy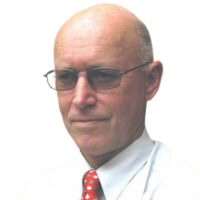 Alan Austin is a freelance journalist with interests in news media, religious affairs and economic and social issues.