Clive Palmer is suing YouTube sensation Jordan Shanks for defamation. Instead of capitulating however, Shanks doubled down and tore strips off Palmer in the funniest response to a legal threat yet. If you have been legally threatened in similar ways – we want to hear about it – click here to let us know – the Streisand effect may work in your favour.
Then the YouTuber started selling canary-yellow T-shirts emblazoned with one of the imputations: "Clive Palmer is a Fatty McF..khead". Beneath that, in small type, "* In my opinion".
Lawyers have long deployed unconscionable tactics to bully publishers and social media users into silence. Free speech is routinely muzzled. This website has amassed dozens of anecdotes, a few of which will be shared shortly. In most cases, the demands are excessive, designed to intimidate. So it is that michaelwest.com.au is launching the Legal Threats Survey is to identify patterns of abuse.
Here is Jordan Shanks' response to Clive Palmer's defamation threat:
The fact that Shanks is young and has no assets plays clearly in his favour. "I'm a millennial. Going bankrupt doesn't scare me. I don't have a house. Thanks to your four-decade long support of the Coalition, you took anything of value away from me before I was even born Clive. I have as many assets as you have seats in Parliament … none".
"I'm not going to capitulate to you, you …"
The threat from Palmer's lawyer, Sam Iskander of Alexander Law, is typical of defamation lawyers. Besides demanding an apology, there is also a demand that Shanks pay $500,000 in damages, plus "the costs of this letter, the costs of any Deed of Settlement and the costs of any advice from counsel".
The unusual aspect of the threat is that it did not insist the correspondence was "Private & Confidential … Not for Publication".
The usual tactic for defamation threats is a long and windy letter of outrage and indignation, coupled with demands the story be taken down and an apology be offered in words of the wounded's own choosing, topped off with a demand that the recipient of the threat pay the costs of the unsolicited letter. Then – despite the fact that there is no basis in law to demand confidentiality from somebody you have threatened without warning – "Private & Confidential … Not for Publication".
If you have been threatened in similar ways, please take a moment to tell us your story – click here.
Although legal intimidation often works, it can misfire spectacularly, and thanks to social media the defamation game is changing . The normal modus operandi of the defamation lawyer is to bury a story for a client and take a fee, but lately they have found themselves targets on social media; the story amplified, the imputations amplified, the "Streisand Effect" in full flight.
This reporter has had three threats in three years and published all of them: one from aged care group Aveo, another from lawyer Stewart Levitt and one from Energy Minister Angus Taylor.
Independent publishers are being harassed by defamation lawyers all the time. At a time when the media sector is under pressure, this is not good for free speech. Serkhan Ozturk, publisher of True Crime Weekly, had this from Rupert Murdoch's News Corp: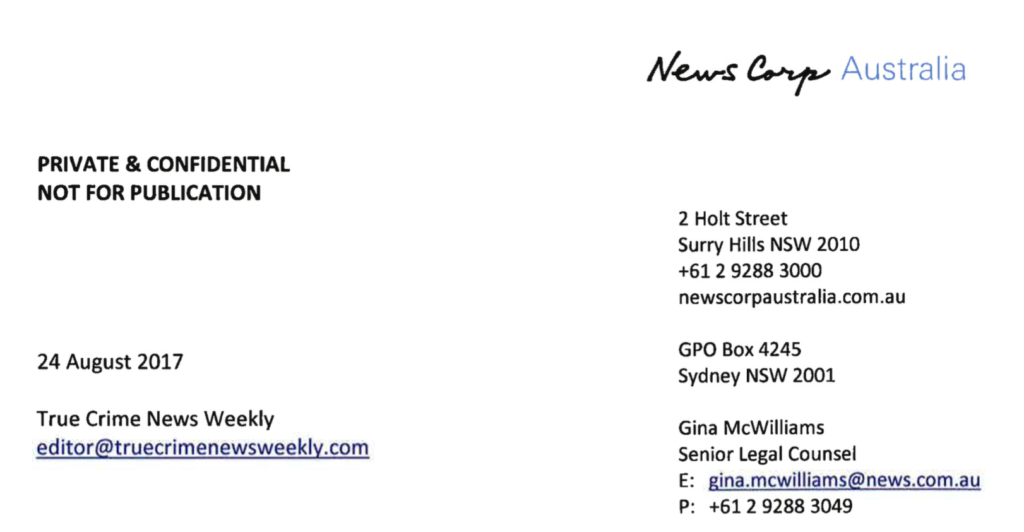 The story, about a News Corp editor, was met with a defamation threat by the media giant's legal counsel Gina McWilliams. Ironically, despite it being a media group, News Corp claimed its unsolicited letter was "Private & Confidential".
True Crime Weekly has also had threats from Minter Ellison's Sam White on behalf of Janette Coterell and from the AIDS Council of NSW which used Downson Turco Lawyers. It batted off all threats. Again, like Jordan Shanks, Serkan Ozturk has no assets to protect.
It is not just small publishers but social media posters on Twitter and Facebook too, even emails, which are subject to defamation threats. One classic case was the recent award of $120,000 in damages to the head of a strata committee of a Manly apartment building. The court found the man had defamed by an email from a fellow tenant which implied he was a "small-minded busybody" wasting residents' time on petty matters.
"Gary Raynor, 78, sued his fellow tenant, Patricia Murray, over a May 2017 email she sent to Mr Raynor and their neighbours in which she asked him to stop emailing her about locking her mailbox," said the story.
There are very few people in the world who would decline the opportunity to receive $120,000 in return for being called a small-minded busybody. This judgement alone is a measure of how inadequate are Australian defamation laws. Yet weekly, lawyers are firing off letters to shut down adverse comment. In the following case, which is not isolated, Twitter reacted by caving in immediately.
There is a revolution in defamation which has accompanied the explosion in social media and independent publishers. Unfortunately, the legal fraternity is light years behind the reform curve, relying on laws a century old, exploiting those laws to muzzle free speech. These are laws which favour the wealthy, their effect is to protect the wealthy from criticism.
After all, you don't sue for defamation unless you can afford lawyers and court costs, a luxury not available to 95 per cent of the population. As the old adage goes: justice is open to all, like the Ritz Hotel.
Public support is vital so this website can continue to fund investigations and publish stories which speak truth to power. Please subscribe for the free newsletter, share stories on social media and, if you can afford it, tip in $5 a month.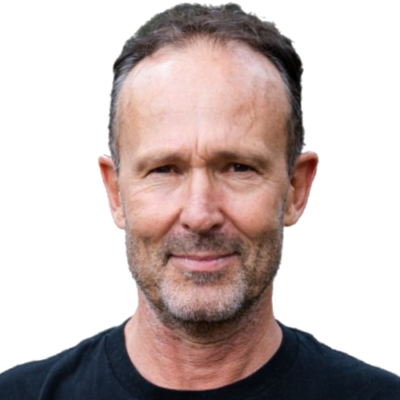 Michael West established michaelwest.com.au to focus on journalism of high public interest, particularly the rising power of corporations over democracy. Formerly a journalist and editor at Fairfax newspapers and a columnist at News Corp, West was appointed Adjunct Associate Professor at the University of Sydney's School of Social and Political Sciences. You can follow Michael on Twitter @MichaelWestBiz.