The government is investing in oyster farms and Wagyu beef start-ups. Having privatised things which made a lot of money, like electricity assets and the Land Titles office, our leaders in NSW are now investing taxpayers' money, alongside a posse of ex-Macquarie bankers, in a WA beef project and a South Coast oyster caper. Michael West reports.
The government of Gladys Berejiklian has set up a fund, the GO NSW Equity Fund, to buy ownership stakes in private companies.
Advised by a private equity firm called Roc Partners, which was spun out of Macquarie, NSW taxpayers are now the proud owners of a stake in Australia's Oyster Coast and Roc Partners' Stone Axe Pastoral fund. Michael Lukin, Roc's managing partner is also the chairman of Stone Axe.
This reporter strove valiantly to penetrate the phalanx of state government public relations operatives and establish contact with somebody in the Premier's office, somebody in any government office would do, somebody, anybody au fait with the Surf 'n Turf investment program. Alas, none were forthcoming.
The relevant agency boss, Nicole Cooke from Jobs NSW, was unavailable to talk about conflicts of interest procedures, or anything else.
Although an entire state-government apparatus was unavailable for comment, the head of Roc, Michael Lukin, to his credit, was straight on the phone. No conflicts of interest he said. Procedures were fully in place with Jobs NSW and First State Super, the other partner in the private equity deals, to handle conflicts.
No, the government was not buying beef and oyster businesses *from* Roc Partners; this was private equity, the government was investing *with* Roc. Lukin pointed out, quite rightly, that other states had innovation set-ups too.
South Australia had its South Australia Venture Capital Fund, managed by Blue Sky Venture Capital. Queensland has its Business Development Fund, and there was the national Innovation Investment Fund program.
There was even the Future Fund for goodness sakes. Here was a Commonwealth government fund with dozens of private equity subsidiaries in the Cayman Islands.
Beyond the subject of governments promoting jobs and innovation, which is the point of these kinds of funds, there is a glorious paradox. That is, $70 billion of state assets have been privatised by the state government, including 20,000 properties over the past eight years, as well as roads, ports, power plants and the critical Land Titles office, whose fees have since shot through the roof.
Irreplaceable assets sold, replaced by replaceable assets. Valuable, highly profitable assets sold, risky assets bought. Price hikes. Here is a government which is trading complete ownership of monopolies for minority stakes in start-ups.
You wouldn't see this asset-vacillation from Singapore with its $300 billion commercial investment enterprise, Temasek, which owns and holds so many assets internationally, and here.
If the Government of NSW was a car dealership, would it be trading its fleet of late model Mercedes Benz for a rickshaw? That would be okay, if the car belonged to the NSW government.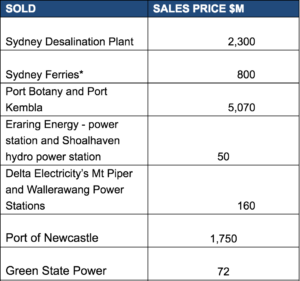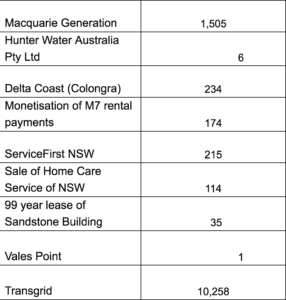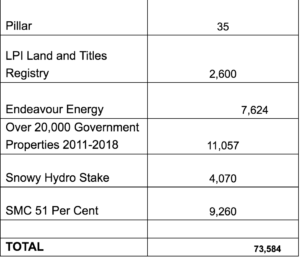 The government has been elected to be the steward of its citizens' assets but where it has failed miserably is in being accountable for its spending. Hundreds of them can't even pick up the phone to a single journalist, such is the PR paranoia.
This government has failed to be transparent, to consult with its electors. Did the people get a say whether it was better to build a rail network, or roads, for the future of Sydney? No, no choice there, zero consultation. The roads were sold off to the Transurban monopolists to toll the city's roads for decades to come, tolls escalating at twice the rate of inflation; and Transurban pays no tax.
In 2011, the NSW Government sold its Energy Australia retail electricity business to a foreign firm, TRUenergy. That operation is now controlled by a company in the notorious British Virgin Islands. It pays zero tax. While consumers struggle with record power bills, Energy Australia's first half profits this year trebled.
This, and other electricity transmission and distribution companies, used to deliver hundreds of millions of dollars in revenues to the state coffers every year. They were sold for a one-off budget sugar hit and a slather of fees.
There is little doubt they actually believe it is in the public interest to flog all this stuff – private sector efficiencies etc. There is no solid evidence for this belief. It is a neo-liberal article of faith. Otherwise there would be a reckoning. Where is the reckoning for this $70 billion sale, where is the cost-benefit analysis?
Which are the successful privatisations? Anybody? Has anybody done the work, the analysis, prices since privatisation, effect on competition, international comparisons? Treasury? The Auditor-General? Anybody who is not an "independent expert" with a government consulting gig on the other side of the Chinese wall?
Or have the politicians simply been "played off the break" by investment bankers and their lackeys in the media; conned by big four consulting firms, think tanks and inveigled by party donors? Shellacked for a poultice of fees? All because of an idea, the idea that government can't run things; things are better in private hands.
And now, now that it's all been sold, seventy thousand million dollars worth, before fees – the advisers whisper seductively – "jobs and innovation", let's buy this stuff over here; everybody loves oysters and Wagyu beef. Fees on the way out, fees on the way in.
Beyond the deals, there is the question of relentlessly decaying confidence in government. The secrecy goes to the failure to be accountable for the use of public money.
And now, as they deploy the funds from the sale of the Land Titles Office (LPI) to knock down sports stadiums and build them again, the question has to be put … who are they doing this for?
The word is Singo, Gerry Harvey, Mark Carnegie, Rupert Murdoch (Fox Studios next door) and others will mint it – thanks to the millions splashed on the new stadium and attendant infrastructure, to be financed by you-know-who.
You won't see the in-depth stories in the News Corp press about this deal. Fairfax either, so far. Puff pieces rather. ABC will be madly self-censoring, wrapped up with fears of complaints from, heaven forbid, big business.
This is another elite stadium debacle in the making. Tennis NSW And Tennis Australia's move on Newcastle's biggest community tennis centre. That will be muted too.
Transparency and disclosure. Bring it on.
Public support is vital so this website can continue to fund investigations and publish stories which speak truth to power. Please subscribe for the free newsletter, share stories on social media and, if you can afford it, tip in $5 a month.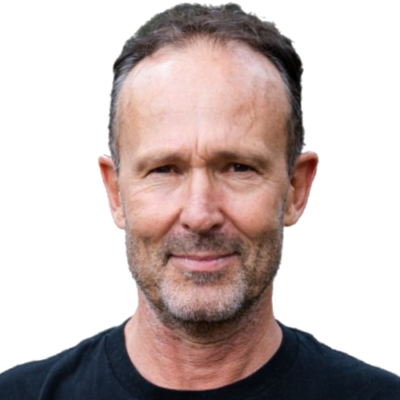 Michael West established michaelwest.com.au to focus on journalism of high public interest, particularly the rising power of corporations over democracy. Formerly a journalist and editor at Fairfax newspapers and a columnist at News Corp, West was appointed Adjunct Associate Professor at the University of Sydney's School of Social and Political Sciences.