Labor and Liberal parties doubled down on their support for harsh anti-protest laws after a District Court judge overturned a 15 month prison sentence given to activist Deane Violet Coco last year. Wendy Bacon has the story.
The Perrottet government's response to a NSW District Court Judge Mark Williams decision to overturn harsh sentences given to Violet Coco and her co-accused firefighter Alan Glover was to commit monitoring the laws and consider making them even stronger if it wins the NSW election on Saturday. 
Labor opposition leader Chris Minns also reiterated his support for the laws saying that he would maintain the harsh penalty regime. The laws, which were passed after peaceful climate change protesters disrupted roads and bridges, allow for prison sentences of up to two years and $20,000 fines. Although repression of protest is increasing around Australia, NSW has the toughest laws. 
(Editor's Note: the double standard when it comes to Hollywood's disruption of NSW infrastructure is telling):
Fall Guys: a generation of film-makers gutted by Australia bowing as Hollywood's backlot
In stark contrast, the NSW Greens have vowed to continuing pushing for the repeal of the laws, including in any balance of power negotiations while climate activists occupied Perrottet's office and the City of Sydney repeated its call for the repeal of the laws and an end to police harassment of protesters.
Greens MP and environmental lawyer, Sue Higginson, last week committed the NSW Greens to repealing anti-protest laws . She accused the Labor opposition of being "in lockstep with the government" and said "civic participation through protest is an accountability mechanism and a key driver of social and environmental change.
The impacts of sustained protest are cumulative – maybe this government won't listen, but the next may: protest has a vital role to play in our democracy. In a mature democracy, protest is recognised as an important and legitimate way of engaging in the democratic process. A person's right to engage in democracy does not end at the ballot box. People should be able to seek to influence political outcomes through all manner of peaceful activity, including civil disobedience." she said.
Peas in a pod
Perrottet and Minns' responses came after Judge Williams overturned the sentences of Coco and Glover who blocked one lane of the Sydney Harbour bridge for about 25 minutes. The judge accepted that the protest was motivated by their sincere concern about the impacts of climate change. Despite the Crown prosecutor arguing for a prison sentence, Coco was given a 12-month conditional release order. Her co-accused Alan Glover was also given a conditional release order with no conviction recorded. 
When asked to respond to news of the successful repeal, NSW Labor opposition leader Chris Minns went even further than supporting harsh penalties. He attacked the protesters by repeating a false police allegation that in March and April protests "emergency vehicles" had been "unable to get to emergencies".
Police lies repeated
This lie was included in the original NSW Police statement of facts. It played a part in the magistrate's decision to send Coco to prison but was withdrawn by police weeks ago. This was widely reported at the time.
Minns claimed that during some protests, "250,000 cars weren't able to get to work, home or around Sydney … they were knocking out half of Sydney," he said. He accused protesters of being "willing to cause as much chaos and disruption as often as possible".
In fact firefighter Alan Glover had explained to the media that the Fireproof Australia protesters had an explicit policy of getting off the road if any emergency vehicle was nearby. The protesters said that they only block one lane for 25 minutes. The judge rejected statements from the Crown Prosecutor that more lanes were blocked.
Minns' allegations lapped up by media
It's not clear where Minns' wild allegations came from because the Crown Prosecutor in Coco's appeal told the judge that the police did not know how many people were disrupted. Minns said that he was concerned that protests would undermine community confidence in climate change when in fact, his own wild exaggerations are deliberately designed to undermine support for protests.
While NSW Roads Minister Natalie Ward's threats to make the laws even tougher would not surprise anybody, some might expect Minns to show more compassion. Instead his false accusations were widely reported in regional NSW media. This suggests that Minns is more interested in convincing voters that he is tough on law and order than he is responding to concerns of civil liberties lawyers or the many human rights and environmental organisations that have called for a repeal of the laws. 
City of Sydney protects the right to protest
Meanwhile the City of Sydney continues to call for the repeal of the laws and to draw attention to police attempts to stop protests both through warning activists that protests may be unlawful when they are not, and using tough bail conditions to intimidate activists.
In December 2022, the Lord Mayor Clover Moore wrote to the NSW Attorney General Mark Speakman and the Minister for Police Paul Toole calling on the government to respect the right to peaceful protest, expressing support for the repeal of the laws and calling on the NSW Police to cease heavy-handed policing of climate protests. Recent reports indicate that rather than heeding her call, the police became even more heavy-handed.
Last week, City of Sydney Deputy Lord Mayor and Greens Councillor Sylvie Ellsmore successfully moved two fresh motions which restated the call for repeal and highlighted concerns about police misusing their powers.The motions where passed by all Councillors except Liberal Councillor Shauna Jarrett who abstained. (You can read the full motions here.)
Ellsmore drew attention to more reports of heavy-handed policing of peaceful protesters. These reports included the midnight arrest of UNSW student Cherish Kuehlmann after a small rally outside the Reserve Bank protesting against the cost of housing and bank profits. Kuehlmann was held for four hours and released on strict bail conditions not to travel within two kilometres of Sydney Town Hall, which meant she could not attend a protest later that week.
On March 1, Magistrate Clare Farnan removed the restrictive bail condition saying she "didn't understand" why NSW police had imposed bail given Kuehlmann had no prior convictions and that she had a "democratic right" to attend the protest.
Ellsmore's motion also drew attention to reports that activist Stephen Langford had been arrested for having stuck several pieces of A4 paper on the statue of Governor Lachlan Macquarie. He too was released on condition that he not go within two kilometres of Sydney Townhall but the magistrate removed the bail condition. According to Ellsmore, the police use of bail conditions "raises serious concerns that the police are seeking to undermine the right to peaceful protest".
Ellsmore moved a second motion in response to information that police are actively trying to stop peaceful protests in front of Sydney Town Hall which has been a traditional place of protest for decades.
Police and politicians just don't like protest
NSW Police reportedly told organisers of the weekend's Sydney International Women's Day March, the School Strike for Climate last week and the organisers of the 2023 May Day Rally that they could not hold these community-based actions in front of the Town Hall if the number of people exceed 2,000, an arbitrary number that has no legislative or policy basis.
The motion means that the Lord Mayor Clover Moore will now write to the NSW Police Minister asking for reassurance that the right to organise protests in the CBD will be respected. The Chief Executive Monica Barone will write to the NSW Police Commissioner asking him to explain the NSW Police's approach to peaceful protest and the lawful basis of their recent actions.  The City will also consider including links to material on the right to protest, such as that provided by the NSW Council for Civil Liberties and Amnesty International.
Activism changes history
Rachel Jacobs and Sylvie Ellsmore protesting in Sydney's CBD.
Josh Pallas, President, New South Wales Council of Civil Liberties issued a media release thanking the City of Sydney. "Activism changes history and the right to stand together and peacefully protest must be protected and defended for every citizen not pared back. The implications of criminalising protest at iconic sites like Town Hall and Oxford Street is unimaginable to ordinary Australians who have watched and actively participated in protests across countless human rights issues.
"These new regulations restrict peaceful protest rights that have always been the lawful right of trade unions, climate campaigners and other activists to convey their message."
The strong stance of the City of Sydney contrasts with the Inner West Council where Labor councillors

watered down a motion

calling for the repeal of the laws. All Greens and Independent Councillors supported repeal of the laws.
Activists occupy Perrottet's office
The anti-protest laws are designed to crush climate and other activism. But with the IPCC today issuing a "final warning" about the catastrophic impacts of global warming already being experienced by many millions, this is not likely to happen.
While Perrottet was out campaigning last Friday, Rising Tide protesters occupied his office. School-aged protesters even presented a lesson on climate change. Socialist Alliance supported the protest.
Rising Tide protesters giving a lesson about climate change inside Premier Dominic Perrottet's office. Photo by Rigmor Berg
Rachel Evans who has organised many protests herself and is the Socialist Alliance candidate for Heffron told City Hub that the occupation was organised in the context of the NSW state election. The purpose was to protest against the NSW government giving the green light for 850 gas wells in the Pilliga and the Federal Minister for Environment and Sydney MP Tanya Plibersek approving Santos's 116 new gas well projects in Queensland.
Climate change activists are concerned that  117 new coal and gas projects are still in the approval pipeline. "These moves are the exact opposite of what we need to do – immediately phase out fossil fuels and move to renewables. That's why the ten activists occupied the Premier's office," Evans said.
Four people were arrested for trespass inside the office. Another six were released but may be charged.
---
Wendy Bacon is a veteran investigative journalist who publishes at wendybacon.com as well as a range of mainstream media outlets such as The Conversation, Crikey, Guardian Australia, SMH and New Matilda.
Santos edges in on fracking the Liverpool Plains despite repeated denials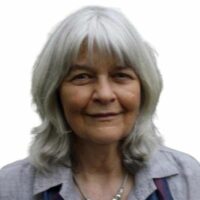 Wendy Bacon is an investigative journalist who was the Professor of Journalism at UTS. She worked for Fairfax, Channel Nine and SBS and has published in The Guardian, New Matilda, City Hub and Overland. She has a long history in promoting independent and alternative journalism.