When Angus Taylor was first promoted to the ministry as Assistant Minister for Cities and Digital Transformation in February 2016, he drew on his wealth of knowledge of consultancies to set up the little-known IPFA, the Infrastructure and Project Financing Agency. Intrigued by its absence of regular reports, Jommy Tee and Ronni Salt check out this elusive little agency.
The name IPFA sounds a bit like the Nation Building Authority, the fictional agency from the ABC's satirical comedy series, Utopia but is it as comical or does it have a critical role to play in delivering infrastructure?
No person within the federal ministry knows more about consultancies and performance fees than Angus Taylor. The embattled Taylor, before he entered parliament, was associated with the following consultancy firms: McKinsey & Co, Port Jackson Partners, Centaurus Partners, JRAT International. The latter two were not declared to Parliament.
In addition, as the Watergate imbroglio exposed, Taylor worked as a consultant for Eastern Australia Agriculture and Agricultural Managers Limited (Caymans registered), even though he was also listed as director of these companies at the time.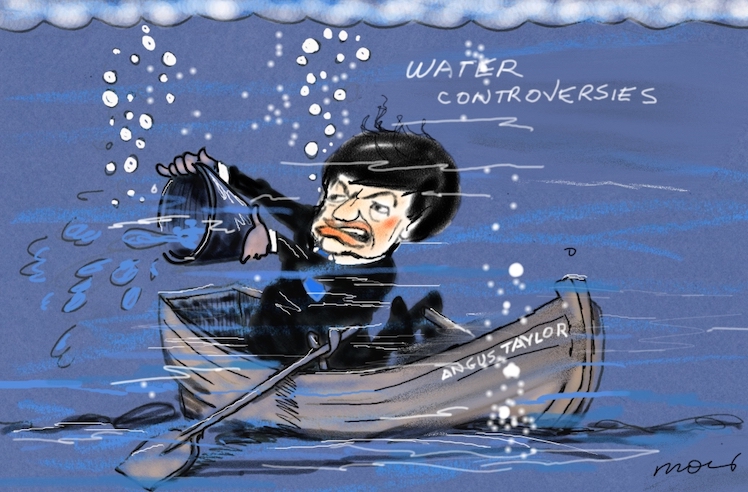 Angus Taylor was also very familiar with performance fees and had established an elaborate web of companies. Performance fees would be paid to companies he had established as the vehicle for his ambitious but unsuccessful attempts to buy Cubbie Station between 2010 to 2012.
This background is important because when Taylor was promoted to a ministerial position as Assistant Minister for Cities and Digital Transformation (February 2016 to December 2017), he drew on his background and in 2017, created one of the least known public sector agencies — the Infrastructure and Project Financing Agency (IPFA).
Tom Burton writing in The Mandarin, a public sector newsletter, believed the idea of the agency was modelled on the British Infrastructure and Projects Authority. In the UK's case, the authority took commercial funding models and applied them to large scale infrastructure projects, especially transport projects. According to Burton, the approach being championed by Taylor had "been distilled among Port Jackson partners over the last couple of years" — Port Jackson Partners being one of Taylor's previous employers.
"A positive change agent"
So let's take a look at the agency which Taylor was responsible for injecting into the public service.
IPFA has produced one annual report (2017-18) and a corporate plan (2018-19 to 2021-22). It held a few meetings and done very little else, at least publicly. Behind the scenes, who knows what achievements the agency has had as we hear nothing about them. The annual report says they've provided much support and assistance to other government departments working on the Inland Rail Project, Western Sydney City Deal and the WestConnex Motorway, among others.
And they've done a lot of engagement, heaps of engagement according to IPFA, so much that IPFA "are being recognised as a positive change agent for Australia's infrastructure sector".
Organisation of engagement activities
One of IPFA's key performance indicators (KPI)s contained in its 2017-18 annual report is organising development programs, events and forums. That definitely sounds like engagement.
The solitary annual report states IPFA was to run ten forums with a targeted 75 per cent satisfaction rating being its KPI. IPFA's annual report says "IPFA did not seek or receive any specific feedback on its knowledge-sharing activities". Perhaps people just forgot to action this item. It was hardly an auspicious start for a fledgling organisation priding itself on engagement activities.
Despite that glitch, IPFA is a remarkable agency. It is small in staff numbers (approximately 20 people) but boasting two offices: Sydney and Canberra. It is a workplace where the "salaries" for key executives are investment-banker-like and are based on fee-for-service for at least three of the managing directors that sit below the CEO. It has high finance pretensions for a small government agency. Taylor would be proud. Utopia's Nation Building Authority would be proud too.
Its small size and obscurity means IPFA seldom faces scrutiny.
Rowers' Reprise: how Angus Taylor's mates cleaned up without him
Engaging origination and development of remuneration
IPFA started life when Angus Taylor appointed an interim CEO to get the agency up and running. John O'Neil, who has an investment banking background, was appointed to head up the agency in June 2017. O'Neil was paid approximately $195,000 for six months work. Although he did advise Senate estimates on 23 October 2017 that he would be a candidate for the top job, alas, O'Neil was unsuccessful. Leilani Frew, formerly from NSW Treasury, was appointed as full-time CEO in December 2017.
It's not unusual for handover to occur when an interim CEO passes the baton to the new permanent CEO. What is unusual is that O'Neil was paid $64,000 to perform that role for six weeks over the period January to February 2018. That's good money for having a fireside chat with the new CEO, or as it's officially been listed — "transitional support to new CEO".
It must have been a fruitful, if lengthy, discussion, because O'Neil was able to acquire a contract to work for IPFA and provide "professional services" for $298,000 for the period March 2018 to end of February 2019. The contract was awarded as a result of a "limited tender".
O'Neil is, indeed, a busy man and in such demand that he continued to pick up contracts at a drop of a hat, albeit not with IPFA, but predominantly with Mathias Cormann's Department of Finance — the very department charged with overseeing the judicious expenditure of government monies on contracts.
The use of "limited tenders" is usually frowned upon by the bean-counters in the Finance Department but remarkably, since June 2018, John O'Neil has snagged three contracts valued in total at $489,000.
Watergate Crew: the regatta of mates behind Australia's richest water deal
Two of these contracts are again "limited tender" and the other one was a "pre-qualified tender". The pre-qualified tender contract started life originally as a $52,800 contract that was amended to eventually to reach $217,800. Public information as to value-for-money is not available.
The advice that O'Neil appears to be providing is associated with government business enterprises (GBEs) such as NBN, Australian Rail Track Corporation (ARTC), Western Sydney Airport, Snowy Hydro, Moorebank Intermodal Terminal and Defence Housing Australia (DHA).
Better than Newstart
Not content with all these contracts and obviously working simultaneously for the IPFA and the Department of Finance, John O'Neil was awarded another contract. Again as a "limited tender"– this time by the Department of Foreign Affairs and Trade – to provide advice on development finance. What started off as a contract for $165,000 ballooned out to $335,500 through a contract variation and extension.
What was good for the former interim IPFA CEO, also appears to be fair cop for three of the appointed managing directors of IPFA. Bear in mind that under the IPFA organisational structure, the CEO is supported by five managing directors. Three of these were appointed from the private sector and they have non-standard remuneration conditions.
The three managing directors are: Rob Ritchie, Chris Allen; and Catherine Black. The first two were appointed under Angus Taylor's watch. Responsibility for IFPA moved in December 2017 to infrastructure minister and part-time Elvis impersonator, Michael McCormack.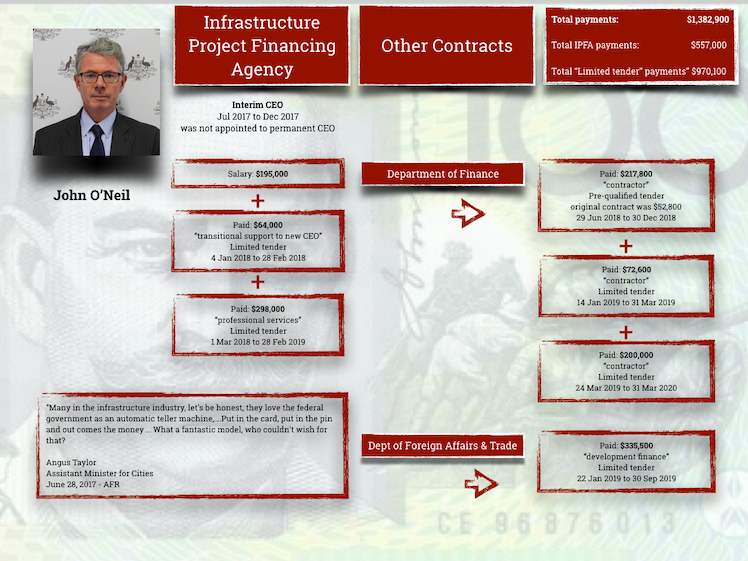 The first IPFA managing director
Rob Ritchie was appointed to IPFA in September 2017, while Angus Taylor was running the show, having previously come from a legal background working for Ashurst. Ritchie went to the University of Sydney and studied both economics and law over the period 1986 to 1989. Remarkably, Angus Taylor studied economics and law at the University of Sydney from 1986 to 1993.
Those familiar with #Watergate will also recall that Ashurst is the same firm that Angus Taylor deployed to put out a statement on his behalf to deny that he had received any payment associated with the controversial $80 million water buyback.
Ritchie has been fortunate to be awarded two contracts by IPFA — both through "limited tender". The "professional services" that Ritchie delivers to IPFA come at the price of $298,300 for 12 months' work from October 2017, and an additional $397,210 for 12 months' work commencing August 2018.
The second IPFA managing director
This brings us to the second managing director, Chris Allen, who was also appointed in September 2017. Allen comes from an infrastructure financing background being a director, together with his partner Donna Allen, at Rhumbline Advisory Pty Ltd.
IPFA does not directly pay Allen. However, IPFA has awarded two contracts to Rhumbline Advisory Pty Ltd. You guessed it – again under "limited tender" – for "economic evaluation of projects". The terms and payments under those contracts are remarkably similar to those received by Chris Allen's IPFA associate, Rob Ritchie.
For the 12 month period commencing September 2017, Rhumbline Advisory was paid $285,000. In addition, for the 12 month period commencing July 2018, Rhumbline Advisory was paid $379,500.
The third IPFA managing director
The final managing director, Catherine Black, is an ex Queensland Treasury Corporation director. Black is a bit of a johnny-come-lately being the newest appointed director of IPFA. Her appointment commenced in September 2018, under Michael McCormack's watch.
IPFA does not pay her directly either, instead it pays Noir No 64 Pty Ltd; not an alluring perfume but rather a company, a company which was awarded a "limited tender" contract of $379,500 for the "economic evaluation of projects". The contract term is for one year, commencing September 2018.
It is unusual for a newly-formed company such as Noir No 64 Pty Ltd, which only registered for business in July 2018, to win a contract of that size.
It's even more remarkable that the IPFA would know of its existence. The mystery can, of course, be explained by the fact that Noir No 64 Pty Ltd only has one director: Catherine Black. See details of the company here.
For the record, the chief executive of IPFA, Leilani Frew, is paid in the old school, traditional manner receiving an annual salary of $372,890 plus a fixed annual loading of $75,000.
As we move into August and September 2019 – the expiry date for the contracts of the three IPFA managing directors – it will be interesting to see whether new "limited tender" contracts will be issued.
IPFA is a unique agency. It has no visible achievements, although the management team is paid handsomely, and some in an unusual fashion.
This is the legacy of Angus Taylor's time at the helm when he was Assistant Minister for Digital Transformation and Cities. Things change though. Given the substantial remuneration for Key Management Personnel at IPFA, and the time the KMP have now had to engage in the achievement of their Key Performance Indicators, the best may be yet to come.
On the other hand, it may not.
McKinsey & Co: Libs trounce Labor in consultant spending blow-outs
Public support is vital so this website can continue to fund investigations and publish stories which speak truth to power. Please subscribe for the free newsletter, share stories on social media and, if you can afford it, tip in $5 a month.