Scott Morrison says Australia's position has been wrongly interpreted as siding with the US over China. Yet two of the main funders of the Federal Government-owned think-tank ASPI, a constant critic of China, are the US State Department, whose secretary Mike Pompeo has led the charge of global anti-China sentiment, and foreign weapons makers. Marcus Reubenstein investigates.
The Australia-China relationship has hit new lows, with China's ban on a range of imports threatening $20 billion of Australian exports. However, just in the past few days Prime Minister Scott Morrison has said Australia's position has been wrongly interpreted as siding with the United States over China, and that his government would not make a "binary choice" between the superpowers.
Which makes the funding of the Federal Government-owned think-tank the Australian Strategic Policy Institute, a constant critic of China, even more curious. Two of its biggest sources of funding are the US State Department, whose secretary Mike Pompeo has led the charge of global anti-China sentiment, and foreign weapons makers.
ASPI's annual report, which has just been tabled in Parliament, shows that funding from the US government skyrocketed by 367% over the past financial year alone – to $1,369,773.22.
Moreover, the limited disclosure buried on page 157 of the report suggests all the funds were in some way directed to research projects attacking China. The US payments primarily came through the State Department.
The mother country also tips in
Other foreign governments made significant contributions, with the bulk of their funding contributing to ASPI programs that were either directly or indirectly linked to reports critical of China. The UK was ASPI's second biggest foreign benefactor, contributing a total of $455,260. The governments of Japan, Israel, and Netherlands and NATO poured in another $66,072.
In the 2019-20 financial year, foreign (non-US) government contributions to ASPI were up more than 30 times on the previous year.
Weapons makers front and centre
ASPI's loyal supporters in the military industrial complex once again stepped up. Lockheed Martin, a continuous sponsor since 2004, provided $25,000, while its US counterpart Northrop Grumman paid $67,500.
The French did their part sending over $63,300 from Thales and Naval Group.
Department of Defence captured by foreign weapons makers Thales, BAE
Thales was awarded the contract to supply the Australian Army with Hawkei off-road light military vehicles in circumstances seriously questioned by the Australian National Audit Office. Completely ignoring that controversy, in September ASPI produced a report praising the Hawkei's capabilities.
Former Defence Minister Dr Brendan Nelson, a paid advisor to the Thales Group from 2015 until December 2019, was appointed to the ASPI Council earlier this year.
Majority French-government owned Naval Group won the contract for Australia's controversial $80 billion future submarine project.
Murder, corruption, bombings – the company at centre of Australia's submarine deal
In February 2016, ASPI's executive director Peter Jennings wrote a glowing opinion piece on the Naval Group submarines under the headline "Vive Australia's choice of a French submarine".
Two months earlier the French government bestowed France's highest national decoration, the National Order of Légion d'Honneur, on Jennings.
Annual report tabled late
The publication of ASPI's annual report – more than a month late – and its late tabling in the Senate by Defence Minister Linda Reynolds ensured ASPI's finances could not be scrutinized by the Senate Estimates Committee, which investigates how government agencies spend public money.
While the front end focused on the supposed gloomy news that ASPI's core Defence Department funding had dropped to an all-time low of just 34% of total revenue, the reality is that the federal government is lining ASPI's coffers at an alarmingly increasing rate, handing it a record number of contracts over the past financial year.
Defence Minister Linda Reynolds, who had a stint working with giant weapons maker Raytheon and co-founded the WA Defence Industry Council before entering politics, moved into her portfolio 18 months ago. In that time ASPI has filed two sets of annual accounts that show total government funding has risen more than 50%, from just over $5 million to $7.6 million.
Moreover, under Minister Linda Reynolds the total value of government contracts awarded to ASPI has leapt by 126% over the past year.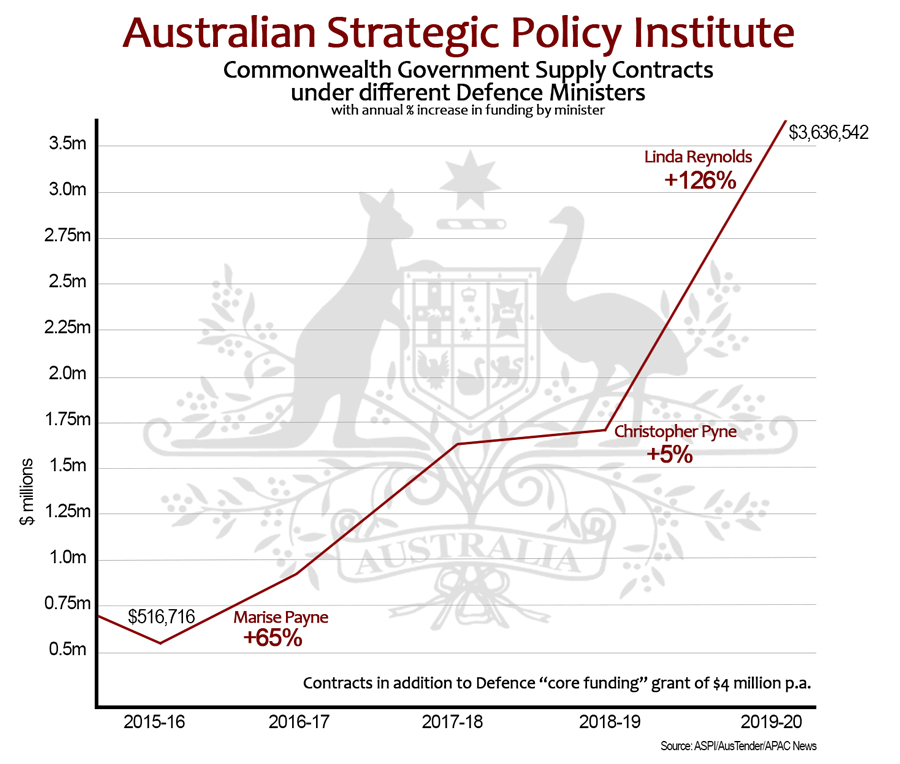 In their preface to the annual report Jennings and his Chairman retired Army chief Kenneth Gillespie, wrote, "We would like to thank the Minister for Defence, Senator the Hon Linda Reynolds CSC, for her continuing close personal engagement and support."
That close personal engagement between the Defence Minister and ASPI's executive director extends back two decades when both were chiefs of staffers to ministers in the Howard government.
Tracking its own finances
While ASPI's financial statements are audited by the Australian National Audit Office, ASPI is not required to provide a detailed breakdown of its income and expenditure.
ASPI's audit committee comprises three people with an independent chair. Its members are ASPI Council member Air Vice Marshall (Ret'd) Margaret Staib, and Geoff Brown, chief audit executive of the Department of Defence. The chair is Kate Freebody, a director of accounting consultancy FreebodyCogent Pty. Ltd., whose major client appears to be the Department of Defence. FreebodyCogent does not have a website or any published phone numbers or contact details.
According to Department of Finance records, this year her company was awarded $5.86 million in management advisory contracts with the Defence Department.
Zero disclosure on ASPI's financial beneficiaries
One key area where ASPI has zero transparency is the money it spends commissioning reports and hiring outside people, including academics and journalists.
Last financial year it spent $2,940,454 on contractors and suppliers, yet there is no public disclosure on who it hired and what they were paid. These contributors were paid from funds mostly derived from Australian taxpayers and foreign governments.
One ASPI contributor is federal MP Dave Sharma, who produced a report for ASPI while running as a Liberal candidate for the seat of Wentworth in the 2019 election.
ASPI has 18 Visiting Fellows who, it says, "produce a range of written analyses, contribute to ASPI program areas and provide mentoring for staff".
Among them are ABC journalist Stan Grant; former journalist and ASIO adviser John Garnaut; former deputy NSW Police Commissioner Nick Kaldas; former federal Labor politicians Stephen Loosley and David Feeney; and former Australian Signals Directorate chief Simeon Gilding.
In August last year the Australian Signals Directorate, the nation's international spy agency, paid the think tank $99,354.85—an amount ASPI did not report anywhere.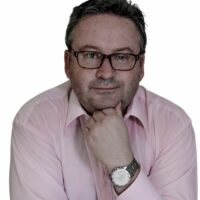 Marcus Reubenstein is an independent journalist with more than twenty years of media experience. He spent five years at Seven News in Sydney and seven years at SBS World News where he was a senior correspondent. As a print journalist he has contributed business stories to most of Australia's major news outlets. Internationally he has worked on assignments for CNN, Eurosport and the Olympic Games Broadcasting Service. He is the founder and editor of China-focussed business website, APAC News.