The Liberal Party, its ideological ally the IPA and Rupert Murdoch's News Corp have done a remarkable job of pushing the false narrative of superior Liberal economic management. The Labor Party has invited submissions to its 2019 campaign review. Alan Austin, offers a solution.
THE ECONOMY decides federal elections. Or, to be accurate, perceptions of the economy decide federal elections.
Just before the last poll, Christopher Pyne said twice on Q&A,
"Every election in Australia is decided on the economy."
No-one on the panel disagreed. The Guardian's David Marr said on the ABC's Insiders last week,
"In federal politics the fundamentals are the management of the economy."
No-one there disagreed either. If true, then Labor should have won the May election in a landslide. That's after increasing its majority handsomely in 2013 and 2016. Here's why.
The truth about Labor's economic management
An impressive global consensus exists that Australia's Rudd and Gillard Governments generated the best-performed economy the world had ever seen More than 130 economists, other academics and global leaders are on the record affirming Australia handled the global financial crisis (GFC) better than any other administration.
That list includes the 66 who signed an open letter in August 2010 supporting Kevin Rudd's stimulus program. It does not include finance ministers around the world who in 2011 voted Wayne Swan the world's best treasurer.
At least six economists are on record asserting the opposite view, published by the Institute of Public Affairs and/or News Corp.
In September 2013, after six years of Labor, this was Australia's profile:
* median wealth per adult $US219, 505, highest in the world;
* Heritage economic freedom score 82.0, highest in the OECD;
* ranking in the OECD on jobless rate: sixth;
* interest rates in the optimum band: 2.5 per cent;
* real wages increasing steadily;
* net debt 10.4 per cent of GDP;
* gross debt 16.8 per cent;
* growth in debt since 2007 lowest in the OECD;
* value of the Aussie dollar: 92 U.S. cents;
* productivity rising in a continuous 17-quarter streak;
* economic growth in a 22-year positive streak;
* AAA ratings with all three credit agencies, for the first time ever;
* world's best economy on the IAREM, for the third year in a row.
No other economy came close.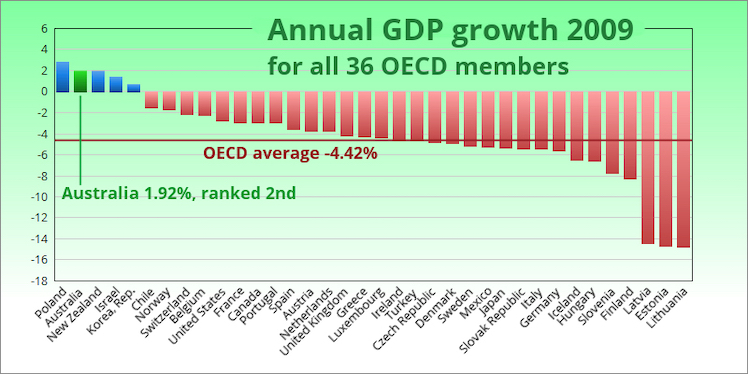 Coalition economic mismanagement
All data since 2013 show serious deterioration of the economy — in raw numbers, or percentages of population or gross domestic product (GDP), or global ranking. Comparisons here are with the 36 rich members of the Organisation for Economic Cooperation and Development (OECD).
Unemployment
In 2013, the joAdbless rate was 5.66 per cent, way below the OECD average of 9.04 per cent. Australia ranked sixth then. The average now is 5.92 per cent, less than a point above Australia's ordinary 5.24 per cent. Australia ranks 19th now, the lowest ever.
GDP growth
Throughout the GFC, from 2008 to 2013, economic growth remained positive for all but two non-consecutive quarters. No other OECD economy achieved that. Australia's ranking on annual GDP growth was first in 2009 and in the top seven for most of the Labor years. It now ranks 18th in the OECD. Also lowest ever.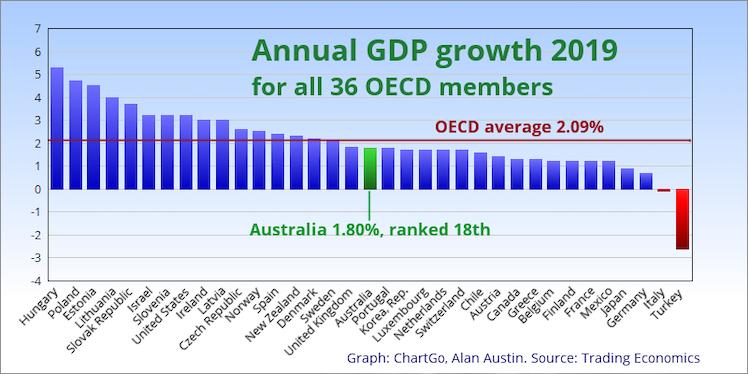 Federal deficit
Australia's deficit in 2012-13 was a puny 1.2 per cent of GDP, close to the OECD's lowest. That year, only Norway and Luxembourg were in surplus. Today, more than half the OECD countries are back in surplus. Australia is still in deficit.
Government debt
Gross debt was £194,775 at Federation and has risen steadily since, with declines only during the Hawke and Howard years. Debt surged through the GFC to end up at $271.7 billion when the Coalition won office in 2013.
Through the worldwide boom in jobs, growth and profits which took off in 2014, all well-managed economies have repaid much of their GFC borrowings. Australia is adding more. Still. It was $546.8 billion last Friday. So the Coalition in six years has more than doubled all debt by all governments since Federation.
Only Chile has increased its debt since 2013 by a greater percentage of GDP than has Australia.
Interest rates
Australia and Mexico alone kept interest rates within the optimum band 2.4 to 4.8 per cent between 2008 and 2013. Now, interest rates have plummeted to 1.25 per cent.
Other areas of marked deterioration of the economy include productivity, retail sales, income per person, wealth per person, household savings, infrastructure development and the value of the dollar. There are no areas of significant improvement apart from export volumes and corporate profits.
Why voters believe the opposite
As argued elsewhere, three powerful organisations systematically falsify the record on Australia's economy and have been remarkably successful in duping voters. These are the Liberal Party, the Institute of Public Affairs and Rupert Murdoch's News Corporation. There are others, but none with the resources and reach of these three.
The Coalition would not have won the 2016 election if voters knew Australia's economy had deteriorated from world's best to ranking ninth in the world. They would not have been returned in May if voters knew the economy is now outside the world's top twenty.
Australia falls to all-time OECD low on jobs but $A rallies against Zambian kwacha
Resisting the falsehoods
Professor John Quiggin urged Labor before the 2013 election,
"What is needed is a real explanation of the issues facing Australia, and why Labor has the best policy to deal with those issues. There is still time to make this election a serious contest of ideas, but that time is running out fast."
Labor did not heed that in 2013, nor at any time since. It doesn't matter how brilliant Labor's policies are if voters are convinced they are destructive. So this is where the battle must be fought. Labor must join the boycott of those media outlets which falsify the record.
They are not hard to identify. The Australian Press Council, ABC's Media Watch and online investigative news outlets routinely expose them. The main offenders are The Australian, the Daily Telegraph, the Herald Sun, and some commercial radio stations.
There is no official organised national boycott of News Corp and its advertisers. But the informal one spruiked through the social media is gaining momentum.
Federal Labor is in a strong position to support this. Its media teams include journalists well-connected to front line Canberra correspondents. Shunning all News Corp employees in favour of michaelwest.com.au, Crikey, The Guardian, The Conversation, The New Daily, The Saturday Paper and Independent Australia, would be visible and effective.
Change is achievable
As has been shown elsewhere, if just five per cent of voters had realised they were being lied to and switched sides, 15 additional seats would have changed from the Coalition to Labor/Greens in May (all other things being equal). If nine per cent of voters switched, 35 seats would have changed.
Labor should support the boycott not just because it will ensure re-election, but because it is the right thing to do. And it will get Labor elected.
Oh, and readers might be interested in Friendlyjordies' brilliant take below on Australia's Unlosable Election  — stop at 2.36 and 8.55 to hear about two blokes you know well!
————————-
Alan Austin is a freelance journalist with interests in news media, religious affairs and economic and social issues.
You can follow Alan on Twitter @alanaustin001 .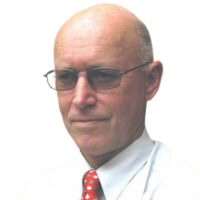 Alan Austin is a freelance journalist with interests in news media, religious affairs and economic and social issues.