Deloitte Access Economics' claims about Australia's economic recovery were repeated verbatim by media outlets, although many were based on cherry-picked data and mixed verified GDP figures with unverified data in a classic apples with oranges comparison. Alan Austin takes a closer look.
A batch of false claims about Australia's economy has spread widely this week through both mainstream news outlets and even the alternative media.
Most of these originated in a Deloitte media release that was full of cherrypicked data and mixed verified gross domestic product (GDP) growth figures with unverified data in a classic apples with oranges comparison.
Australia not leading the world
The media release was titled, 'Deloitte Access Economics: Australians ahead of the pack'. Its most glaringly false assertion was repeated confidently by ABC News on Wednesday:
"Deloitte Access Economics said there were only five other countries that could boast an economy bigger than it was prior to COVID-19."
We now have March quarter growth figures for GDP for 59 countries. Of these, 25 now have bigger economies than before the pandemic. Not five.
The multinational consultancy firm bolstered its assertions with a graph showing Australia ranking third in the world. This is deceptive.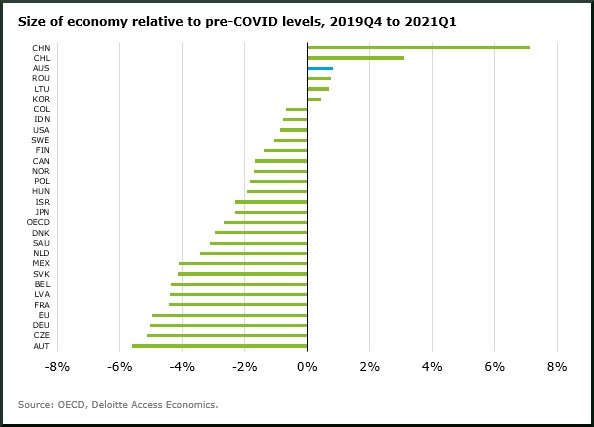 The chart purports to show current GDP growth for 28 countries plus the OECD and the European Union (EU).
First up, let's examine this bunch of 28 countries and two groups of nations. Twenty-three of the 28 countries are OECD members. The other 14 OECD members are excluded. (Why?) The five non-OECD countries included in the graph seem randomly chosen, as they are neither all G20 countries nor highly developed countries.
Second, we come to the heading "Size of economy relative to pre-COVID levels, 2019Q4 to 2021Q1".
But we do not yet have the data for all those 28 countries for 2021Q1 – the March quarter of 2021.
Australia's data was released on Wednesday. Japan has not yet released theirs as this is being written. Nor do we have the confirmed March figures for the OECD or the EU. We only have the OECD's vague "provisional estimates" formulated some weeks ago. So the data for those four entities on the graph is not accurate.
We do, however, have verified March data for Turkey, Estonia, Taiwan, Hong Kong, Serbia, Vietnam and Peru, but Deloitte does not include them on its chart. (Why not?)
All these countries have much higher annual GDP growth than Australia. Their average growth of 5.5 per cent is five times Australia's measly 1.1 per cent.
Recovery from recessions ruse
Deloitte claimed:
"It took two years to reach that same milestone in our last recession in the early 1990s – and almost three years in the early 1980s recession before that."
This is highly deceptive. The last global recession was not in the 1990s. There have been two since then – the early 2000s recession and the 2008 global financial crisis (GFC).
Deloitte wants readers to think that because the recovery from the 2020 shock was more rapid than from the shallow recession in the early 1990s the Morrison Government compares well historically. It doesn't.
The 2008 GFC was much more severe in its worldwide impacts on jobs, wealth and suicides than the 2020 downturn. But Australia recovered from the GFC far more rapidly than from the 2020 shock.
Australia had two quarters of negative quarterly GDP growth in 2020, but only one in 2008. Australia had three quarters of negative annual GDP growth in 2020, but none in 2008.
Similarly, Australia managed the early 2000s global recession much better than the latest one with only one quarter of negative quarterly GDP growth and no negative quarters of annual GDP growth.
Deloitte asserted:
"On average, OECD economies are 2.7% smaller than they were before the pandemic: the UK is almost 9% smaller, the EU is 5% smaller and the US has shrunk 1%."
On the contrary, the US data, released on 27 May, clearly shows GDP in the first quarter of 2021 was $19,088.1 billion. That is up by 0.41 per cent on the pre-pandemic high in the first quarter or 2020. The UK is down by 6.1 per cent, not nine per cent. The EU is yet to report.
Annual growth accurately represented
A more honest approach than Deloitte's cherry-picked chart is to compare all 59 countries that have reported their annual GDP growth up to March 2021. Or to compare all highly developed economies, or all OECD members.
When comparing the data on the 59 countries that have reported GDP growth, we can see that Australia ranks equal 18th. A long way from third. The top 30 of these 59 countries are shown in the chart, below.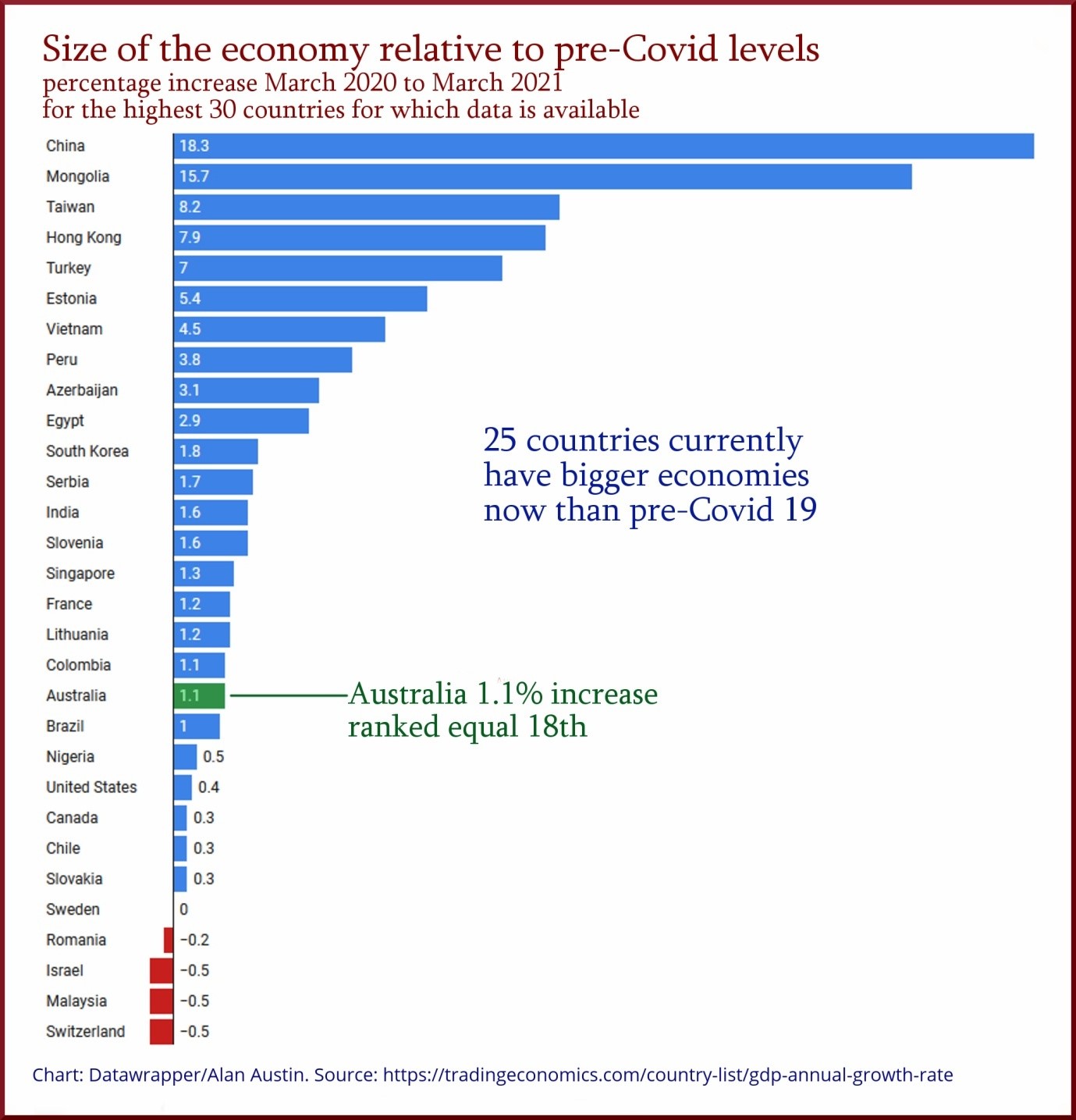 Australia 's 1.1 per cent trails France, South Korea, Singapore, Serbia, Slovenia and Lithuania, which are all reporting GDP growth above 1.2 per cent.
Estonia, Vietnam and Peru are above 3.5 per cent. China, Taiwan, Hong Kong and Turkey are all above 7 per cent.
It is highly likely Australia's ranking will worsen as more economies report their Q1 growth. Ireland, New Zealand, Belarus, Albania and Luxembourg will almost certainly beat Australia again, as they have done for the previous two quarters.
 Claims spread far and wide
It appears ABC News and the Nine newspapers ran Deloitte's claims as fact. The claims were spread worldwide by Microsoft News with a bold sub-heading: "Video: GDP growth shows Australia is 'leading the world' in economic recovery (Sky News Australia)".
The New Daily repeated the claim that Australia is "among a group of just five other nations to have emerged from the worst economic shock in nearly a century with higher levels of production".
This has since spread to several regional news outlets and professional journals.
Deliberate misuse of data?
Deloitte is by no means alone in disseminating reports which parade as expert and authoritative but actually push the point of view of a client (in this case the government – which did not commission this report but which is Deloitte's largest client).
The other Big Four consultants – EY, KPMG and PwC do similar). All have a pockmarked corporate record. Deloitte was heavily fined last year over failures to act with "integrity and objectivity" in auditing British software company Autonomy.
Bernard Keane asserts Deloitte is one of the big firms engaged in "the soft corruption of Australia's federal political system". Michael West claims it is one of the big four "masterminds of multinational tax avoidance".
How did Deloitte produce that graph showing Australia ranking third in the world?
What is the data source? Was this intended to mislead the Australian people into thinking the Morrison Government's failing economic management is succeeding?
Michael West Media has inquired but received no reply. If we do, the response will be included.
Crooked Consulting: EY and Deloitte spruik climate on one hand, the explosion in new coal projects on the other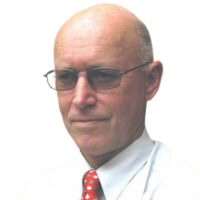 Alan Austin is a freelance journalist with interests in news media, religious affairs and economic and social issues.