The Probe Group, one of the Government's "Robodebt" collectors, and whose executive team has ties to the Federal Treasurer and another federal minister, has seen its business prosper since the Coalition was elected in 2013. Jommy Tee investigates another case of government acquaintances getting wealthy on the public dime.
Since the executive team of Probe Group, compromising chief executive officer Andrew Hume and chief operating officer Jarrod Kagan, joined forces in 2014, business has boomed, including its debt collection activity on behalf the government. Probe not only hunts down #robodebts for the Government but chases down tax debts as well. Only this month, emails from the Australian Tax Office revealed that the Morrison Government was warned its so-called #robodebt scheme was illegal.
The chief operating officer, Jarrod Kagan, went to the same school as the Treasurer (Mt Scopus Memorial College) and is friends on social media with Frydenberg's wife (another Mt Scopus alumna), Amie Saunders. The chief executive, Andrew Hume, who has a long track record in business process outsourcing is the former husband of Liberal Party assistant minister, Senator Jane Hume.
Senator Hume and her former husband, Andrew Hume, parted company several years before Senator Hume first took up her position in the Senate on 1 July 2016.  Given the relationship had ended Senator Hume was under no obligation to advise the Senate of her former partner's business interests.
Senator Hume does retain at least a passing interesting in the fortunes of the company and her former husband's business activity as recently as last year passing favourable comment on Linkedin on Probe's business expansion.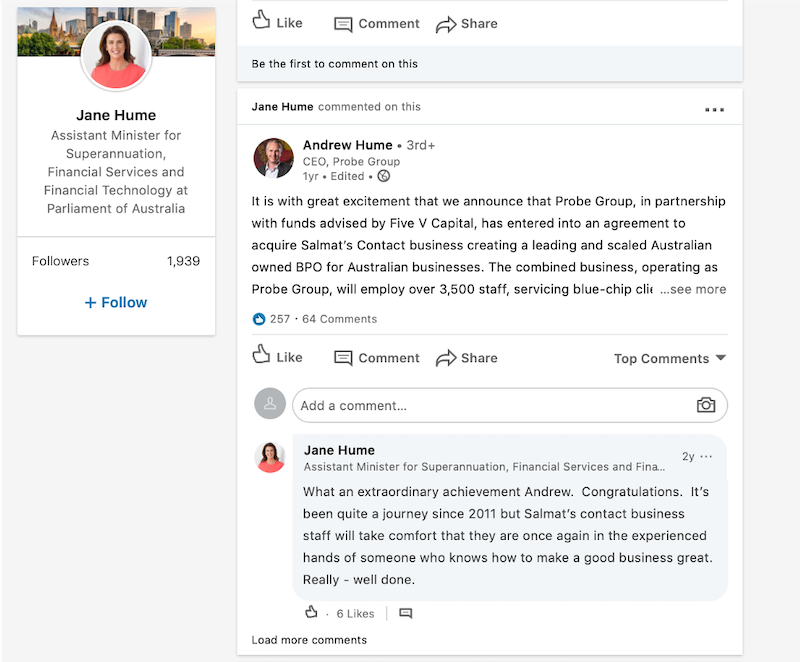 The fortunes of the Probe Group have improved dramatically since the Liberal Party came to power in 2013, with federal government work for the company increasing a staggering seven fold compared to when Labor was in government during 2007-13 period.
Using data from the official government contract and tendering site www.tenders.gov.au, it can be revealed that Probe's tender successes under the Liberal government dwarfed the value of contracts Probe won under the Labor government — $159.7 million compared to $23.8 million over a corresponding six-year timeframe.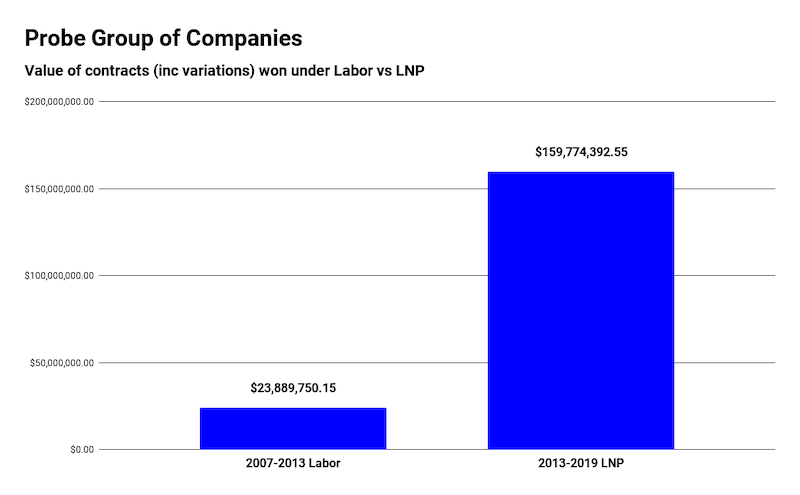 Contracts (and variations) with the federal government between 2014 and 2019 won by the Probe Group include:
debt recovery and labour servicing for the Australian Tax Office (ATO) worth a total of $105.7 million
debt recovery servicing for the department of Human Services worth $16.4 million
recruitment services, project management and business facilitation services for the department of Industry, Innovation and Science worth $35.1 million
The contracts won by the Probe Group were all the subject of open tender processes. Although the tender process was open, in reality, there are only a very limited number of companies that have the capacity to bid for the work.
The majority of work won by Probe has been with the ATO.
The ATO serves five ministers within the Treasury portfolio, including the Treasurer, Josh Frydenberg and Senator Hume, who is the current assistant minister for superannuation, financial services and financial technology. Coincidentally, both Frydenberg and Senator Hume are both ex-Deutsche Bank senior executives.
Probe goes after soft targets
The Government's crackdown and hardline policy approach to recovering tax and welfare "debt" from soft targets (welfare recipients and small business respectively) and outsourcing government activity has contributed greatly to Probe's business expansion.
As recently as January this year, the Probe Group acquired the Filipino managed services agency MicroSourcing for A$100 million. In a disclosure, the ASX-listed marketing services group Salmat, which owns MicroSourcing, said it had agreed to sell the business to Probe BPO through a share sale.
It is not the first deal involving Salmat and Probe. In May 2018, the Probe Group, together with Five V Capital, purchased another outsourcing company, Salmat Contact Solutions Australia for $53 million. Five V Capital is owned up by private equity heavyweight, Adrian McKenzie, and former Macquarie Group associate, Srdjan Dangubic.
In an interesting development, when Probe acquired Salmat Contract Solutions, Salmat had an existing government contract. After the purchase, Probe found itself the beneficiary of a $25.3 million contract variation six weeks after it was bought out Salmat Contract Solutions (the contract variation has been included in the $159.7 million figure above).
The Probe Group's web of subsidiaries
The Probe Group consists of a deep layer of subsidiary companies. As well as being the Chief Executive Officer and Chief Operations Officer of the Probe Group, ASIC records reveal Andrew Hume and Jarrod Kagan are directors of many of the affiliated Probe companies in Australia as well as two affiliated New Zealand companies. Andrew Hume is also a shareholder in one of Probe's holding companies — Probe BPO Holdings Pty Ltd.
A search of ASIC records reveals that the current ultimate ownership of the Probe Group and its intricate web of corporate structures ostensibly lies with Rodney Kagan (Jarrod Kagan's father), Adrian McKenzie and Srdjan Dangubic.
The surge in government for work can in part be explained by the government's policies to aggressively collecting tax, albeit apparently confined to individuals and the small business sector, and its crack down on welfare recipients through its pernicious Robodebt regime.
Some of the ATO practices and its treatment of small businesses and debt recovery practices were exposed by ABC Four Corners when they aired the Mongrel Bunch of Bastards episode on 9 April 2018.  The program featured ATO whistleblower, Richard Boyle, who highlighted the inappropriate use of standard garnishees to recover debt from small businesses.
The ATO's website states that the value of debts referred to collection agencies ranges up to as much as $500,000. The ATO's website is clear that do not sell debt to collection agencies.
The ATO approach to smaller taxpayers and individual taxpayers is in stark contrast to that is applied to major corporates and multi-national corporations.
For those in receipt of government welfare payments, the story is different. The Robodebt crackdown, which uses a data-matching algorithm, issues debt notices to social service payment recipients.
The regime has been characterised by a reverse burden of proof onus on recipients, false and inaccurate debt attribution and led to severe financial and psychological pressure being placed on recipients, including several suicides.
The debts are collected and chased down by companies, such as the Probe Group.
Senate inquiry into Robodebt
Probe were quizzed at a Senate inquiry hearing into Robodebt on 19 April 2017 about their debt collection contracts.
The CEO of Probe, Andrew Hume, did not attend the hearing, and it was left to Probe's chief operating officer, Jarrod Kagan (Rodney Kagan's son), to field questions.
Kagan admitted at the hearing that the company was receiving a commission on the Robodebts it collected. Mr Kagan said the Robodebt payment arrangement was typical of that used for debt collection services by banks, energy retailers and telcos.
The Senate hearing was also told that the payment arrangement used to collect Robodebt was different to the arrangement that Probe was contracted to deliver for the ATO, which was based on a flat payment rate.
There have also been reported examples of the Probe Group using bullying and standover tactics to extract payment from potential debtors.  The tactics included gaining access to bank account details in a possible breach of the Privacy Act.
Robodebt's class action
The Robodebt regime is currently the subject of a class action, launched by the opposition government services spokesperson, Bill Shorten, on 17 September 2019 and being run by Gordon Legal.
The class action is investigating amongst other things if more than 400,000 debt notices issued by Centrelink after 1 July 2016 lawfully entitled Centrelink to recover the amounts claimed. It is also investigating if collection fees levied by Centrelink should be refunded and whether those who have repaid all or part of those amounts should be paid interest on the amounts collected by Centrelink.
While social service payment recipients live in fear at prospect of the Robodebt collector calling in a debt, for the debt collecting firms, like Probe, it is a different story — they are picking over potential more government contract work and growing their business.
—————————
Carpark Pork: "13 new projects totalling $149 million … all of those first-cab-off-the-rank projects went to seats held by the Liberal Party, including six in highly marginal NSW and Queensland electorates" @jommy_tee nails it again #auspol https://t.co/In6WA9OmkB

— 💧Michael West (@MichaelWestBiz) February 14, 2020
Public support is vital so this website can continue to fund investigations and publish stories which speak truth to power. Please subscribe for the free newsletter, share stories on social media and, if you can afford it, tip in $5 a month.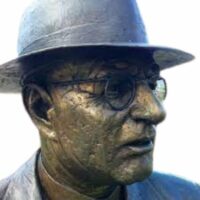 Jommy Tee is a long-time career public servant, having worked in the policy development field for 25+ years as well as an independent researcher interested in politics, current affairs, and Nordic noir.