The NSW Pork Barrelling Inquiry will be expanded to hear claims that bushfire funding has been diverted to Coalition political mates and even the business projects of billionaire Anthony Pratt. The move follows an investigation here by Elizabeth Minter into a $177 million bushfire recovery scheme which only a handful of Coalition figures and the MP for Wagga Wagga seem to have had heard about.
The misuse of public money has reached such blatant proportions that even grants for bushfire relief and recovery for local communities are now being deployed for political purposes, to buy votes.
Following an investigation by Michael West Media into the secretive allocations of bushfire money to companies associated with prolific Coalition donor Anthony Pratt ($1.5m last year) – and to Coalition seats – a NSW Upper House inquiry into grants rorting has been extended.
Almost a quarter of the funds, more than $40 million, went the way of Wagga Wagga, whose state seat lies in the middle of Nationals MP and Deputy PM Michael McCormack's seat.
Part of the Wagga Wagga electorate, the Snowy Valleys Shire, is also in the Labor-held federal electorate of Eden-Monaro. .
Wagga Wagga Independent MP Dr Joe McGirr did not respond to two emails from Michael West Media asking for comment on the extraordinary funding his electorate received from the hitherto unknown $177 million in bushfire recovery funding that has been rorted by NSW and Coalition governments for political ends.
The electorate of Wagga Wagga received more than 25% of the funding. In the 2018 by-election, the Liberal Party's primary vote dropped more than 28%, and they lost the seat for the first time since 1957 to Dr McGirr. He held on to his seat comfortably in the 2019 NSW election.
Four days after Michael West Media published its exclusive story about the rorting of the bushfire funding, the Sydney Morning Herald published an article on the very same information labelled Exclusive.
Headlined "New allegations of pork barrelling over a $177 million bushfire relief fund", the article referred to "analysis done by inquiry chair Greens MP David Shoebridge".
Neither the Labor Party nor the Greens were aware that there had been any rorting of the bushfire recovery money until contacted by Michael West Media.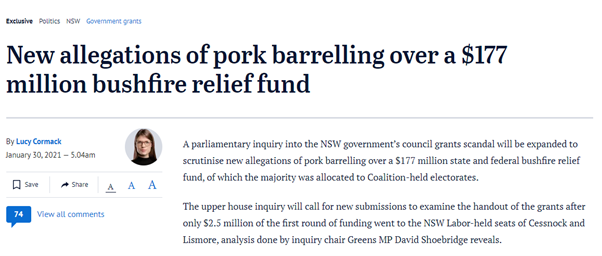 Independent MP for Wagga Wagga
The first email Michael West Media sent to Dr Joe McGirr was on Monday January 25 at 4.25pm. Dr McGirr's electorate office responded to say she had sent on the request for comment to Dr Joe and his media adviser.
Michael West Media asked the following questions:
I would like to know whether Joe McGirr was contacted towards the end of last year to ask if his electorate had any shovel-ready projects that he wanted considered for funding under the bushfire economic recovery funding. I am not referring to the $250 million BLER funding grant that opened on October 27 and closes on January 28.
I am asking in reference to the $177 million in fast-track projects – 71 of them – that were announced on November 2 by David Littleproud and John Barilaro. See here for the media release: Joint media release with the Hon John Barilaro MP – $177 Million for 71 bushfire recovery projects in NSW (homeaffairs.gov.au) According to the list of 71 projects that were fast-tracked, a number were in the Wagga Wagga electorate. The full list is available here: Local Economic Recovery | National Bushfire Recovery Agency
I would like to know what, if any, Joe McGirr asked to be funded. I would also like to know if there were other projects he put forward for funding.
Alternatively, it might be that he didn't know that this stream of money was available to fund projects. If that is the case, I would like to know that.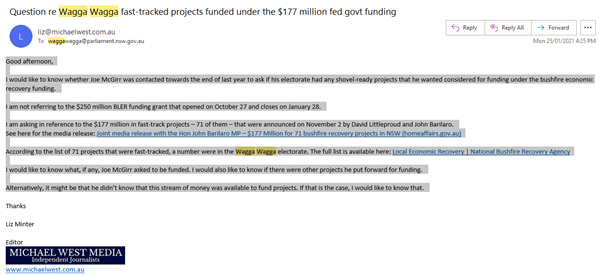 Michael West Media published the story on Tuesday January 26 having not received a response from Dr McGirr.
Michael West Media sent a follow-up email to the Wagga Wagga electorate officer on Friday January 29:
I was just following up on my earlier questions to see if Dr Joe or his media adviser had any answers to them please.
Still no response from either Dr McGirr or his media adviser.
Among the grants Wagga Wagga received:
$12.5 million to upgrade the Tumut Aerodrome.
$10 million to Visy Pulp and Paper in Snowy Valleys, to install a Stacker Reclaimer system
$10 million to upgrade and modernise the Tumut Mill in Snowy Valleys,
More than $3.95 million to Snowy Valleys Council to construct infrastructure at the Batlow Caravan Park to increase accommodation available for itinerant workers employed in the horticulture industry.
More than $3.5 million to develop a new cider manufacturing and distribution centre and tourism experience in Snowy Valleys Shire
More than $2.28 million to Seven Springs Orchard in Snowy Valleys, to support apple production
$991,000 to Ardrossan Nurseries in Snowy Valleys to develop a nursery
$480,000 to help Snowy Valleys Council repair the Wondalga Road junction which links softwood plantations of the Snowy Valleys Functional Economic Region with the world-scale sawmills and pulp mill of the region.
$275,000 to the Snowy Mountains Forests Australia Trust in Snowy Valleys, to replace the existing bridge on Tarcutta Creek and Baga Creek with a new structure and locate another crossing at the western end of the plantation.
Batlow and Talbingo, which are both in the Wagga Wagga electorate, were hit hard by the summer bushfires. More than half of the Snowy Valleys Shire was burned out, including a large chunk of the NSW forestry industry.
Editor's note: this article has been updated to include information about parts of the Wagga Wagga electorate being within the federal Labor seat of Eden-Monaro. 
Bushfire Rorts: Coalition targets bushfire recovery funds for Coalition seats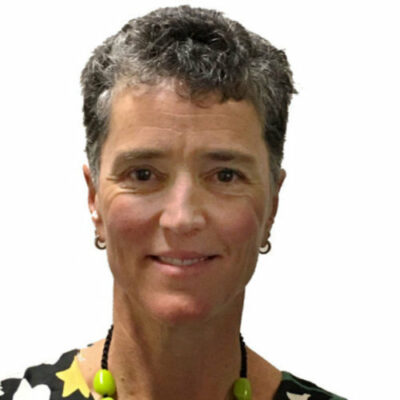 A 30-year veteran of the mainstream media, Liz was the editor of Michael West Media until June 2021. Liz began her career in journalism in 1990 and worked at The Age newspaper for two 10-year stints. She also worked at The Guardian newspaper in London for more than seven years. A former professional tennis player who represented Australia in the 1984 Los Angeles Olympics, Liz has a Bachelor of Arts and a Bachelor of Letters (Hons).