With investigators still sifting through the wreckage of a tragic Boeing 737-800 crash in China, an acclaimed Netflix documentary about the deadly crashes of two 737 MAX aircraft suggests Boeing should also be scrutinised. Marcus Reubenstein examines the deteriorating safety culture at the aviation behemoth.
On March 21, a China Eastern Boeing 737-800 crashed in a densely forested area in Guangxi province in China's south. The 132 passengers and crew are all presumed dead. As with any air disaster, at this early stage, theories on why and how it crashed can only be speculation.
The 737-800 went out of production in December 2019. Ironically the final two were delivered to China Eastern on January 5, 2020.
That variant of Boeing's single aisle short haul workhorse was part of the NG series (Next Generation) of which 6900 were delivered to commercial airliners. According to aviation website Simple Flying, around 5300 737-NGs are still flying.
The China Eastern aircraft which crashed in Guangxi was not old. It had been operating for six years and eight months, the average age of the Qantas fleet is double that at 12 years and seven months.
After this crash, China Eastern, China's second largest carrier, grounded its 737-800 fleet.
The last 737 disasters
On October 29, 2018, Indonesian carrier Lion Air Flight 610 crashed 13 minutes after take-off on a domestic route from Jakarta. With 189 people on board, it was the deadliest accident involving all variants of the Boeing 737.
Five months later, on March 10, 2019, Ethiopian Airlines Flight 302 crashed six minutes after take-off from Addis Ababa, all 157 on board died.
They are not the same aircraft involved in the latest air tragedy, they were both 737 MAX aircraft which crashed shortly after take-off, while China Eastern MU5735 was a 737-800 that crashed mid-flight.
After numerous denials of culpability and blame shifting onto the pilots and maintenance crews of both Lion Air and Ethiopian Airlines, Boeing was forced to hand over internal documents to the US Congress.
A damning series of emails, memos and minutes of meetings reveal Boeing had for years known about the design fault which caused both doomed aircraft to become uncontrollable within minutes of take-off.
The 737 MAX had erroneously coded computer software running what it called the MCAS system (Maneuvering Characteristics Augmentation System) and a fuselage mounted sensor to determine the pitch of the aircraft which had no back-up in the event of it being damaged.
It was a safety critical component of the 737 MAX, with no built-in redundancies; and one which pilots and airlines had not been told about—the only place MCAS was mentioned in the Boeing flight manual was in the appendix of abbreviations.
Captain Chesley "Sully" Sullenberger, pilot of the 2009 "Miracle on the Hudson" US Airways flight, told a congressional hearing, "We shouldn't be blaming [Lion and Ethiopian Air] pilots and shouldn't be expecting them to compensate for flawed design."
In the event of an MCAS failure, pilots had just 10 seconds to react by switching off the system to manually fly the aircraft. The Ethiopian Airlines pilots did exactly that and the aircraft still crashed.
Six weeks after the disaster, Boeing president Dennis Muilenburg told CNN the blame for that crash lay with the pilots. Later that year he was sacked by the board of Boeing, walking away with a $US53 million payout.
A sorry tailspin
Released in February, the Netflix documentary Downfall: The case against Boeing, did not simply chronicle the events surrounding the Lion Air and Ethiopian Airlines crashes. The feature-length documentary delved into a corporate culture that revealed an ugly, and ultimately deadly, side of Boeing.
One of the more chilling interviews was with Sullenberger. He said the malfunction which caused the deadline nosedives was "maniacal … [and] the pilots never understood it [the 737's computer system] was trying to kill them."
The film revealed that Boeing had hired an army of lobbyists and public relations companies "backgrounding" journalists and politicians on Capitol Hill. Their message: the Ethiopian Airlines plane would never have crashed if the pilots were American.
Four weeks after the Lion Air crash, Boeing sought a meeting at the headquarters of Allied Pilots Association, the union representing the US's 15,000 airline pilots. Said then president, Captain Dan Carey, Boeing did not bring the engineers they expected: "They brought their lobbyists. Who brings lobbyists to a safety briefing?"
Management throws safety off the plane
A number of former Boeing engineers, interviewed for the documentary, described what they called a disturbing shift from safety and quality to the stock price.
In 1997 Boeing had merged with its major US rival McDonnell Douglas, whose boss Harry Stonecipher became the new Boeing CEO. One of his first big decisions was to shift the corporate headquarters from Seattle, Washington state, to Chicago, effectively keeping Boeing's engineers away from its bosses.
Stonecipher also initiated a program called ShareValue Trust, which Boeing internal presentations indicated the new focus was on cutting costs and boosting profits. Employees were told, "Achieving productivity and growth targets plays a key role in establishing the basis for the Boeing stock price."
It began a steady outflow of production engineers, that continued throughout the period in which the crashed 737 MAX's were produced.
A former Boeing production manager, Ed Pierson, who worked on the development of the 737 MAX, testified before a US congressional hearing in 2019 that he'd warned the company numerous times in writing about serious safety issues with the aircraft. Warnings he says were ignored.
Former engineers interviewed for the documentary said the company cut the number of quality control inspectors across its production line from 15 per shift to just one.
One engineer said a ladder was found in the fuselage of a 787 Dreamliner after it took its first test flight. It was next to the aircraft's horizontal stabiliser and had it shifted midflight it would almost certainly have caused a crash.
Political cash splash and revolving doors
Boeing is also noted as being one of corporate America's largest lobbyists, the biggest in the aviation and air transport industry. Last year it spent $US13.5 million on external lobbyists—$US25,000 for every member of the US Congress and Senate.
That is in addition to Boeing's sizeable internal government relations division; of its 10-member executive team eight are former staffers to politicians or previously had senior US presidential appointments.
In the 2020 presidential election year, Boeing also made sizeable political donations. The Biden campaign received $US760,000; while $US602,000 went to Trump; and $US900,000 to members of Congress and the Senate.
The Boeing-controlled PAC Political Action Committee (PAC) gave $US330,000 to various political groups aligned with the Republican Party. PACs are quasi lobby groups which can circumvent limits on individual political donations.
Rich pickings in Canberra
Since January 2000, Boeing has picked up more than $16 billion in Australian government contracts. In addition, Qantas and Virgin have spent billions of dollars on Boeing aircraft. But, in a blow to the US manufacturer, in December Qantas announced it would replace its entire domestic fleet of Boeing 737 and 717 aircraft with Airbus planes.
The president of Boeing Australia is Dr Brendan Nelson, who began his working life as a general practitioner. He rose to become president of the Australian Medical Association, moved to politics and is a former defence minister in the Howard government. He has no background in aviation, however.
One of his final major decisions as defence minister was to approve a $6.6 billion purchase of military aircraft. And who made those aircraft? Boeing.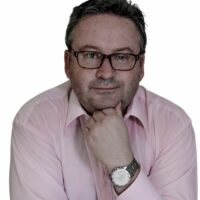 Marcus Reubenstein is an independent journalist with more than twenty years of media experience. He spent five years at Seven News in Sydney and seven years at SBS World News where he was a senior correspondent. As a print journalist he has contributed business stories to most of Australia's major news outlets. Internationally he has worked on assignments for CNN, Eurosport and the Olympic Games Broadcasting Service. He is the founder and editor of China-focussed business website, APAC News.