While rich countries like Australia are reaching 80% or more double vaccination rates, less than 5% of people in many low income countries have received COVID-19 vaccines. Millions are dying while new more infectious strains of the virus like Omicron develop, reports Patricia Ranald.
This vaccine inequity is partly caused by World Trade Organisation (WTO) rules for 20-year monopolies on patents and other intellectual property for COVID-19 vaccines. A handful of companies like Pfizer, which received public funding to fast-track development of vaccines, control the quantities and price. Rich countries have been first in line while millions are still dying low-income countries. Pfizer and others are refusing to share their vaccines knowledge to enable expansion of production in developing countries.
The World Health Organisation has pleaded for Pfizer and other companies to share their knowledge so increased production can take place in countries which already produce generic medicines like India and South Africa. South Africa and India have proposed a temporary waiver of WTO patent rules on vaccines and other COVID-related products to enable regional vaccine production hubs to quickly expand global production. This is known as the WTO TRIPs waiver.
Over 100 of the 164 WTO member governments, including the US and Australia, are supporting the waiver. But a decision has been stalled for over a year as a small number of richer countries have blocked consensus on the waiver. Amongst the few opponents are the EU, led by Germany, the UK and Switzerland all of which have been lobbied by their large pharmaceutical companies. The waiver was due to be debated again this week at the Ministerial Meeting on November 29-December 3. Ironically this personal meeting of Minsters has been postponed indefinitely because of the new Omicron variant, caused by low vaccination rates resulting from the refusal to share vaccine knowledge. However the negotiations about the waiver are continuing in virtual meetings of the WTO Trade in Intellectual Property Right Council and the General Council which have the authority to make the decision about the waiver.
Pfizer has played a leading role in lobbying against the WTO waiver. Pfizer partnered with German company Biontech to produce its MRNA vaccine. Pfizer has recently announced expected revenue of US$36 billion from vaccine sales for this year.
In an interview with Bloomberg, the Pfizer CEO acknowledged that Pfizer has lobbied against the WTO waiver. Pfizer has also imposed unacceptable conditions in contracts with developing countries. Pfizer has only sold 10% of its production to low-income countries, and has refused to share its knowledge to enable increased production in those countries.
The world needed more than 11 billion doses in 2021 and now booster shots and childrens' vaccinations will increase demand even more in 2022. As former US Center for Disease Control director Tom Frieden noted, vaccine makers are significantly behind their production pledges. There is no plan to make enough to meet the 40% World Health Organisation global vaccine coverage pledge by the end of 2021, let alone the 70% coverage pledge by mid-2022.
Donations through the COVAX scheme and by countries like Australia are needed for health and emergency workers, but they are not meeting their own targets and cannot meet global needs. Billions more doses of vaccines will be needed every year for boosters and to combat new variants.
Changing WTO rules to enable regional production of vaccines is essential to vaccinate the world.
Australian Fair Trade and Investment Network (AFTINET), Amnesty International Australia, Médecins Sans Frontières (MSF) Australia, Oxfam Australia, the Public Health Association of Australia (PHAA) and others rallied outside Pfizer offices in Sydney on November 22 to tell Pfizer to stop profiteering from the pandemic, to stop lobbying against the WTO waiver and to share its vaccine knowledge.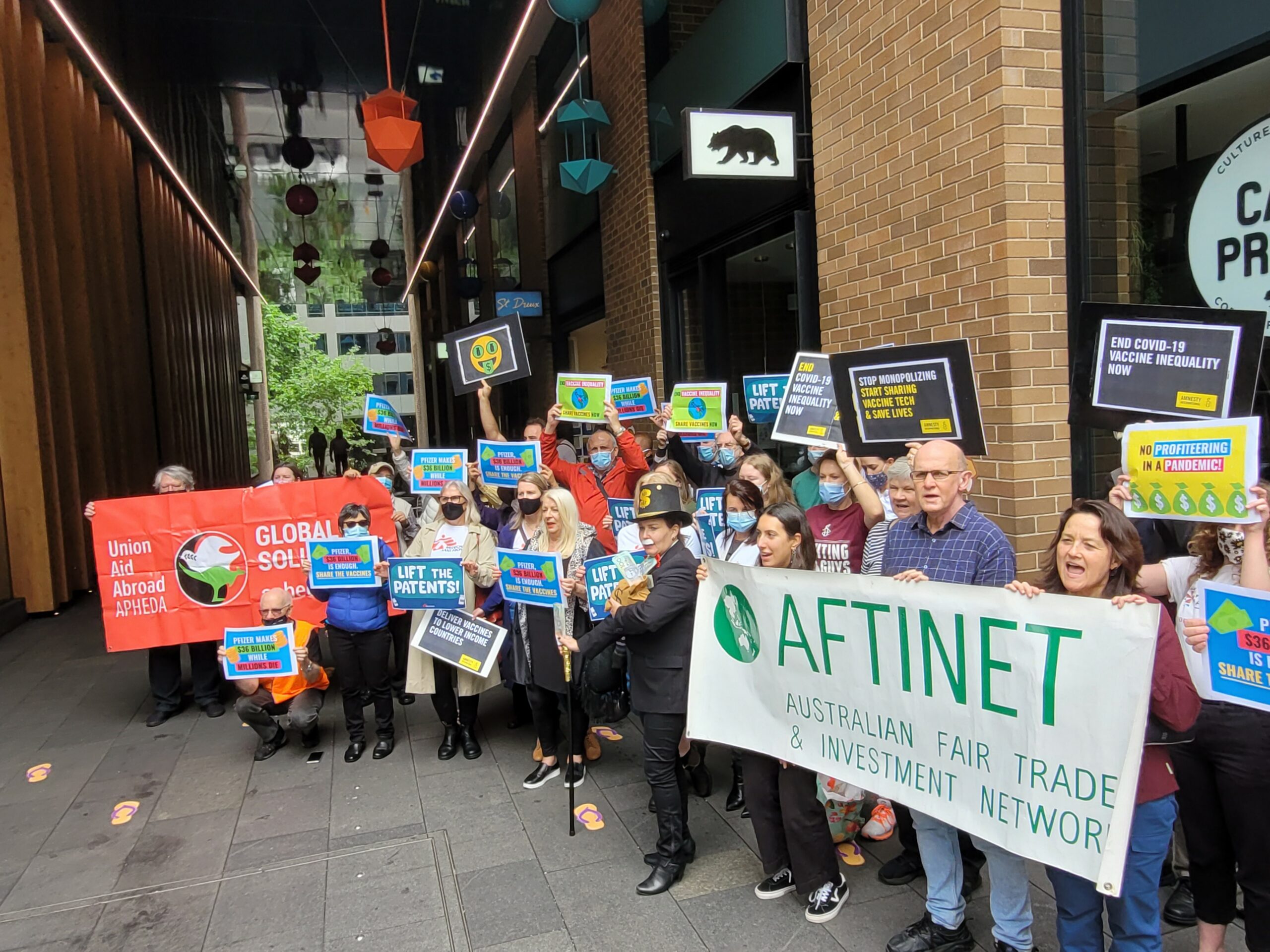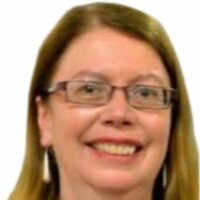 Dr Patricia Ranald is an honorary research associate at the University of Sydney and Convener of the Australian Fair Trade and Investment Network who has published widely on corporations and the social impacts of on trade and investment agreements.