Prices for pedigree puppies are soaring amid the Covid-19 crisis; Golden Retrievers up to $6,000, a French Bulldog pup at $10,000. Spike in demand for furry friends is an open invitation for a few dodgy operators to line their pockets with "non-refundable" deposits and profiteers to cash in. Sandi Keane reports on the poor governance by state licensing bodies who are failing to protect the buying public.
In these bleak times when many are forced to stay at home, cut off from friends and family, puppy sales are booming. With the closure of pet shops, and puppy farms outlawed, or restricted in some states, pedigree breeders are doing a roaring trade. Whilst the majority of breeders comply with consumer law, a few unscrupulous bad apples ply their fraudulent trade in plain sight of the state controlling bodies that license them. 
The shortage of pedigree puppies in Australia means long waiting lists. Several factors have led to demand eclipsing supply. The first is the introduction in 2004 of the "Limited" Register, which prevents a buyer from breeding or showing a dog. Only puppies sold on the Main Register can be bred or shown. According to Dogs NSW, this register is supposed to be for dogs "considered by their breeder to not be quite up to the standard that is required for showing or breeding". But try buying a breeding female on the Main Register!
These changes have reduced the numbers of litters and puppies. This author contacted half a dozen breeders all of whom said they used the Limited Register to protect their bloodlines.
As a result, there are now less breeding females as Australian National Kennel Council (ANKC) registration stats show. Prior to the Limited Register in 2004 when there was just the one register, many breeders sold those puppies not destined for showing or breeding without papers, so actual numbers pre-2004 were even higher.
Cartel breeding
Apart from the obvious dangers to animal health from restricting the gene pool, there is also the issue of restricting competition, or "market sharing", which is considered cartel behaviour and is illegal in Australia. A recent bid by the ANKC to prevent members registering puppies with an alternative purebred dog registration service was refused by the ACCC as it would "reduce competition" and "reduce choice for breeders".
Tougher breeder regulations is a another factor. But the latest hike in prices and demand for furry friends is thanks to COVID-19. And just like the toilet rolls and N95 masks, the pedigree puppies market has become a haven for profiteers, particularly those exploiting buyers with non-refundable deposits — or "booking"/"holding" fees.
Annual pedigree dog sales last year were estimated at $275 million but 2020 sales figures are anyone's guess. This is a seller's market where the popular French Bulldog can now fetch $10,000. And Golden Retriever puppies – last year fetching $3,000 – are now up to $6,000 from some breeders, with deposits up from $250 to $1,000. And that's for a puppy you can't show or breed! One labrador breeder who wishes to remain anonymous said:
"sales have gone through the roof. In the last five years prices jumped from $1,200 to $3,000.  One breeder in Sydney is asking $10,000 for show-quality puppy."
And this from a cocker spaniel breeder:
"A lot of people are in lockdown and looking for something to take their mind off it. Prices have gone through the roof. Doubled in four years to $3,500."
Things for pedigree pet buyers to watch out for
But profiteering is just one of the problems. High prices now are simply a factor of the virus and supply and demand. While the majority of breeders comply with consumer law, puppy buyers should ensure they know their consumer rights before handing over a deposit.
Australian Consumer Law is clear. A pet or stud service is the same as any other good or service. Those selling puppies, whether they have an ABN or not, are "traders". Only "one-off" sellers of goods are exempt such as a garage sale.
As for "non-refundable deposits", the Office of Fair Trading NSW says:
"Traders who sign contracts and accept deposits knowing they would not be able to supply the goods in a timely manner are acting unlawfully."
Given their dependence on the puppy-buying public for their survival, what are the peak body, the Australian National Kennel Council (ANKC) and the state canine controlling bodies doing about it? There's no education program on consumer law that we could find nor a code of conduct to protect the public's rights.
The Victorian experience for buyers
Back in 2017, Victorian police investigated puppy scammers running online ads for non-existent puppies. The former Dogs Victoria, CEO, Tim Adams, who was interviewed at the time, said:
"We're actually working with the State Government right now on improving protections for legitimate, responsible breeders so it makes it harder for the unscrupulous types to rip people off."
So what has Dogs Victoria (DV) done since to make it harder for unscrupulous operators? At this stage, very little.
In spite of Dogs Victoria receiving complaints from the public about breaches of consumer law, there is still no education program for breeders other than DV's Prefix Exam (for new breeders) which references an outdated law — Commonwealth Trade Practices Act 1974 (now replaced by Competition and Consumer Act 2010, the vehicle for which is Australian Consumer Law. The Prefix Accreditation Program purports to teach potential breeders the "hallmarks of a truly responsible breeder".
But those who pass their exam and receive their accreditation can breach the law with impunity as no rules, regulations or codes of practice at DV require compliance with consumer laws. The only laws breeders are asked to comply with as listed under " The Law and You" are:
The Domestic Animals Act 1994
The Prevention of Cruelty to Animals Act 1986
This author's stint as complaints officer of a breed club revealed the extent of dodgy practices by some pedigree dog breeders in Victoria. The list included withholding deposits, selling puppies with genetic/health defects, taking stud fees for failed services, stealing dogs, forging documents and even resorting to abuse of the legal system to force a complainant to back down. We have email exchanges of at least six victims' cases. The stories of financial and emotional stress suffered by the victims are heart-breaking. Many rang me in tears.
Three of those defrauded took their complaint to Dogs Victoria. They got their money back, but the perpetrator received no penalty. Reason: there was no breach of any rule or regulation. This is a bit like telling a bank robber "give the money back and you're free to go rob the next bank!"
This unscrupulous breeder also exploited the legal system by using a VCAT summons as "payback" based on fraudulent claims, false testimony and even forged documents. During the last two years, three breeders have taken out six Personal Safety Intervention Orders (like the two PSIOs taken out against me to stop publication of this investigation). Designed for victims of domestic violence, these PSIOs are being weaponised as a means of revenge — or in my case, as a gag from publication.
Those who persist with a complaint to the controlling body get little help. They're expected to fill out the correct form and reference which of the 32 pages of rules and 125 pages of regulations (in the case of DV) have been breached.
In a well-publicised case where the owner of a stud dog submitted a lengthy, documented complaint after the previous owner assaulted her and stole her dog (now mysteriously missing and allegedly killed), was refused because she failed to state which rules and regulations had been breached.
After a legal case which lasted a year, the matter was settled with an acknowledgment from the previous owner that she no longer had any rights to the dog, including for breeding or showing purposes. The owner's request to DV for the dog to be transferred to her as the legal owner, in order to help her look for her missing pet, was refused. The reason provided by DV for this refusal was that the word "pedigree" had not been included in the settlement statement.
No investigation was undertaken by Dogs Victoria.
Another complainant to DV was told, "Nothing to do with us, take your case to VCAT". But like many breeders, the breeder in question withheld her address. Due to confidentiality laws, DV was unable to help.
The only way to stop these serial offenders is suspension of membership and subsequent non-registration of their puppies. To do that requires a breach of a Regulation, Rule or Code of Practice. The following are frequently quoted by complainants to Dogs Victoria:

But apparently, committing fraud, forging court documents, theft, assault, abusing the legal system and serial breaching of Australian Consumer Law — is not considered "contrary to community standards" or "bringing VCA into disrepute". State controlling bodies such as DV effectively licence these breeders to ply their unscrupulous trade by registering their puppies which, in turn, allows them to sell pedigree puppies with papers at very high prices.
Many members in Victoria frustrated by the failure to rein in the wrong-doers, believe the problem lies with the independence of the investigations team. If they are dog exhibitors, would they sacrifice potential show points by suspending or fining another member if he or she were a dog judge? There doesn't appear to be any measures in place which deal with this conflict of interest.
We emailed the CEO of Dogs Victoria with relevant questions on 28 February but no response has been forthcoming.
How the rights of the public fare in NSW
In NSW, such was the concern by the Office of Fair Trading about what it referred to as "dodgy dog deals", it ran a twelve-month campaign to alert and educate the public about their rights — 'Consumers Dogged by Dodgy Deals'.
Dogs NSW responded to the avalanche of complaints by including the following in its Code of Ethics:

But when we rang the Office to ask what happens to members who are defrauding the public by taking non-refundable deposits or selling puppies with genetic/health issues, we were told:
"They'd have to be breaching a regulation. We don't get involved in sales."
We were referred to Dogs NSW website which is quite clear:
What are the state governments doing to protect the public?
Other than the NSW Office of Fair Trading, only one other state government, Western Australia, has sought to educate both members of the public and members of the kennel club with its 'Consumers' Guide to Buying a Pet'.
Education and a Code of Conduct the solution?
Without an education program nationwide, it's unsurprising to see some breeders claim that "holding fees" are legal, as in this Facebook discussion: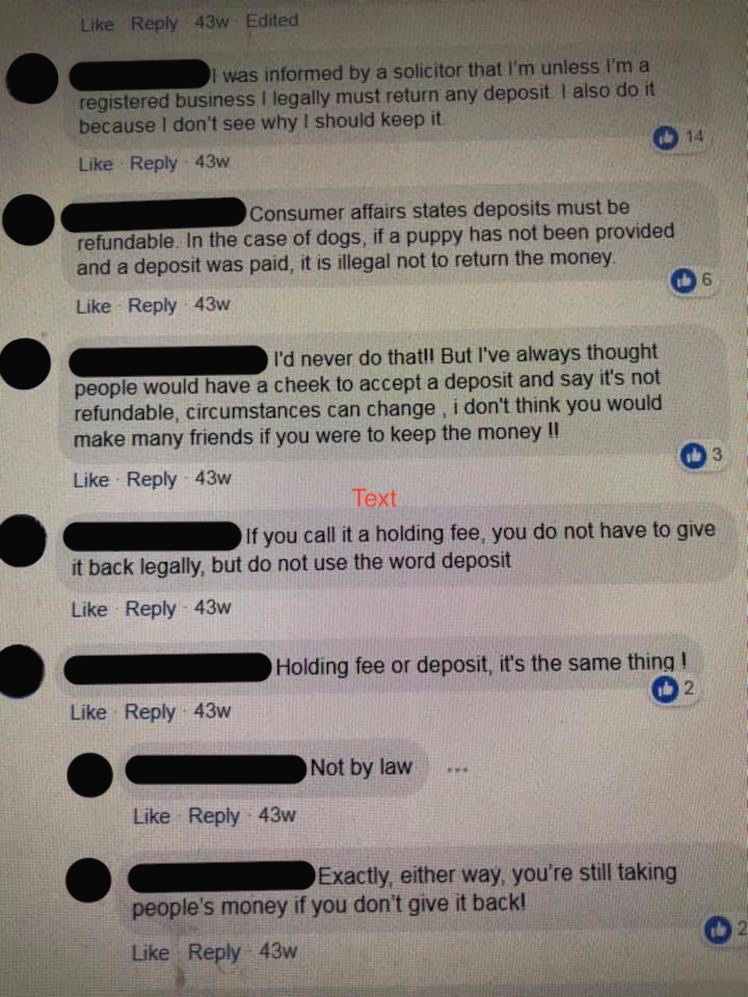 One hope to address the failure by the governing bodies to protect consumer interests is for breed clubs to step up. Plaudits to the Golden Retriever Club of Victoria (GRCV) in this regard. They've jumped into the vacuum vacated by Dogs Victoria to support the rights of those to whom they owe their ongoing existence.
Members of the public are educated on avoiding dishonest operators including help for those who've fallen foul of them. If you're in the market for a puppy, we recommend you read their advice on Looking For a Puppy. Dodgy operators are not admitted to the club.
Advice for prospective puppy buyers
If you're looking to buy a puppy, follow GRCV's recommendations above! You can also check if the breeder has criminal court list/attendance records. The first stage is free. Just type in their name on the following link. If it comes up, you can get full details of the court attendance records by upgrading to a registered account and then making a payment. Fees start at $17.50 for 24 hrs access with unlimited searches. Click here to register an account.
We welcome your feedback
If you believe you've been treated dishonestly in any way by a pedigree dog breeder, please feel free to contact Sandi here.
Editor's Note:
Two of the breeders in the above investigation used Personal Safety Intervention Orders against the author to delay publication of this article. They also made bogus complaints to police, a previous employer and Dogs Victoria, and defamatory statements on social media. 
Toxic "Safety" orders the latest tool to shut down free speech
————————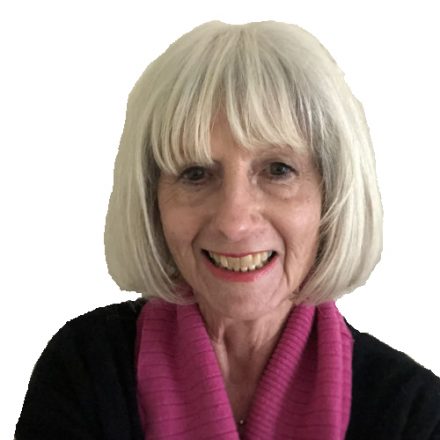 MW's former editor, Sandi was also editor at Independent Australia.
Sandi has conducted corporate investigations, principally into the CSG and media sectors. Sandi holds a Masters degree in Journalism from the University of Melbourne.