October in Canberra heralds the annual reporting season for government departments and agencies. Angus Taylor's brainchild, the Infrastructure and Project Financing Agency (IPFA), has sallied forth with its latest 2018/19  Annual Report. Jommy Tee reports on the agency for who knows what.
While some of us are policy wonks – don't hold it against us – IPFA holds a special place in our heart because of its relative anonymity and the contractual arrangements it is has with three of its managing directors — Rob Ritchie, Catherine Black, and Chris Allen.
This small government agency, with offices in Sydney and Canberra, and unusual executive remuneration structure, was originally established by Angus Taylor, when he was Assistant Minister for Cities and Digital Transformation in 2017.
Its role is to assist government to identify, assess and broker financing opportunities for infrastructure projects.
Sleek pay, oblique performance: Angus Taylor's first government agency, the IPFA
Now IPFA has issued its annual report, which appears to confirm more of the same; precious little detail about what it actually does and even what it pays its people to do who knows what.
Nowhere is it reported that Rob, Catherine and Chris are paid close to $400,000 each per annum through contractual arrangements. One has to dig earnestly elsewhere in order to discover this sort of information.
We're told how much the CEO Leilani Frew is paid ($467,743.58) and the other senior executive service employee, William Brummitt, ($282,431.64) but not the individual contractual value of the three managing directors.
Perhaps IPFA obliquely refers to Rob, Catherine and Chris as "labour hire contractors engaged for their technical or specialist skills and capabilities"?
Only the diligent will find them — as we have previously done here and here.
Here are the details of the payment to Rob Ritchie: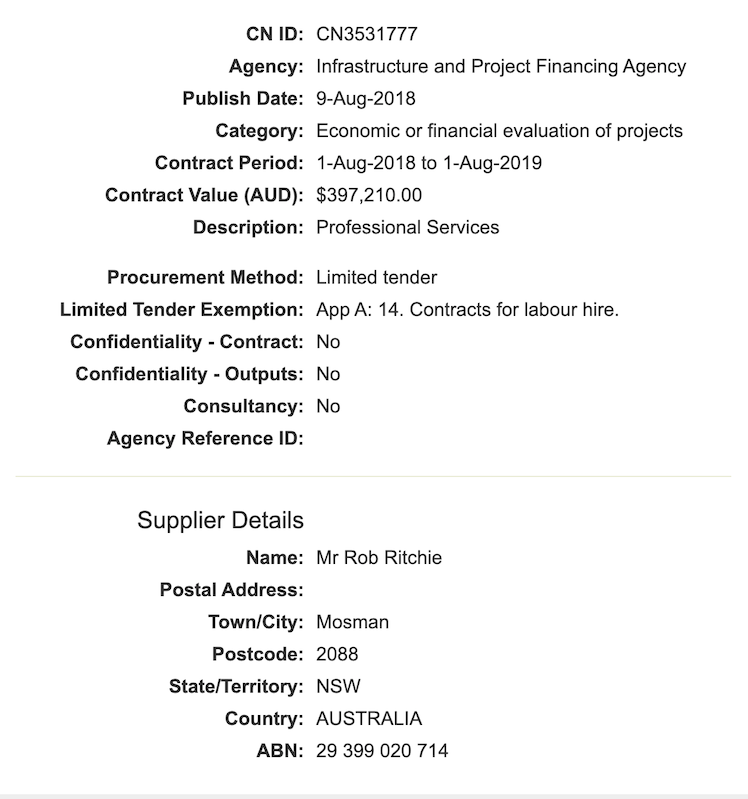 And Catherine Black. IPFA does not pay her directly. Instead it pays Noir No 64 Pty Ltd. The contract term was for one year, commencing September 2018.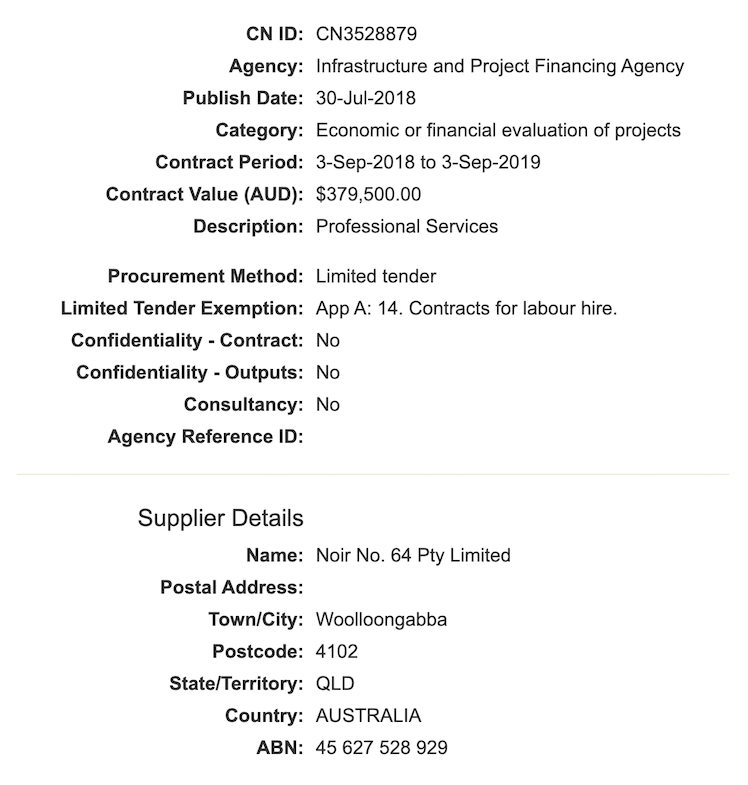 And lastly, Chris Allen. IPFA does not directly pay Allen either. However, IPFA has awarded two contracts to Allen's personal company, Rhumbline Advisory Pty Ltd. You guessed it – again under "limited tender" – for "economic evaluation of projects".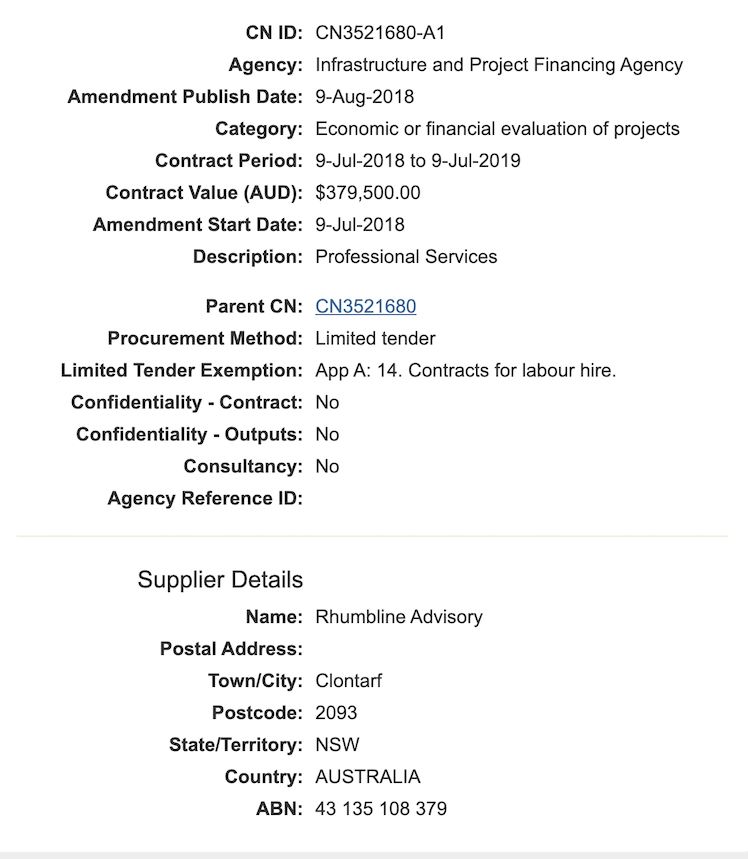 If IPFA was a publicly-listed company, it would have to disclose such related party transactions in its annual reports.
Similar provision is made in government agency annual reports. So a quick flick through IPFA's report takes us to a section within the report subtitled "Note 4.3 Related Party Disclosures".
Perplexingly, IPFA claim:
"It has been determined that there are no related party transactions to be separately disclosed".
In short, three contracts with a combined cost of $1.2 million awarded to three of IPFA's managing directors (or their personal companies) does not require disclosure in the annual report.
Investigation into the govt agency founded by Angus Taylor, shows "IPFA" is yet to do much apart from overpay associates of Angus. Story by @jommy_tee & @MsVeruca could be script for ABC's Utopia.https://t.co/BbIyklcyrS#auspol#ausbiz

— ?Michael West (@MichaelWestBiz) August 8, 2019
The latest annual report also ekes out some of the activities that IPFA undertakes — engagement and collaboration with other agencies remains a high priority.
The majority of its KPIs cover communication and stakeholder activity.
IPFA proudly boast:
"over the last year alone, we received 100 requests for our commercial and financial advisory services from 11 agencies".
The report does not provide any additional information on the nature of the requests.  Hence it cannot be ascertained if the requests were general in nature, emails, phone calls, wrong numbers, formal requests for briefings and/or collaboration in project management.  Nonetheless, 100 requests is indeed taxing work for the highly remunerated executive staff at IPFA.
The extent of the remuneration component of IPFA's budget can only lead to the conclusion that the agency is "top heavy".
In 2018-19, IPFA received an appropriation of $5,083,000.  Significantly, one-third of its annual appropriation (approx $1.6 million) is consumed in remuneration and contract payments to four people — IPFA's CEO, and its three managing directors — Rob Ritchie, Catherine Black and Chris Allen.  That's right! Fully one-third of its running costs goes to its executive management team.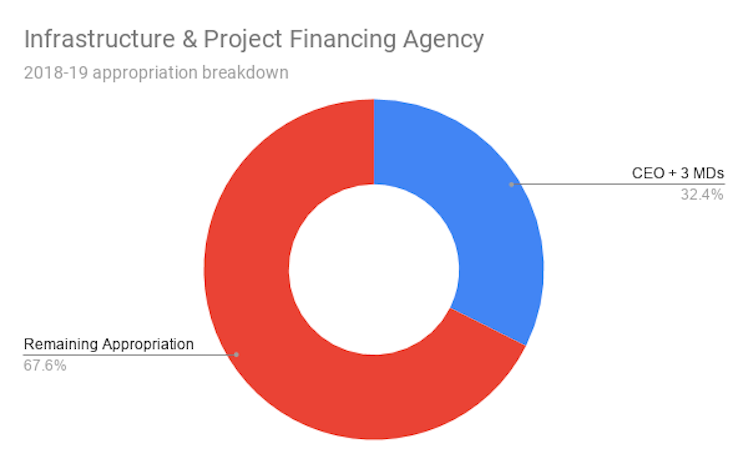 Moving on, IPFA's 2018-19 target was to hold 10 knowledge-sharing events. Proudly, they over achieved and were able to hold 11 such events.  Additionally, they achieved a 98% satisfaction rating for the 11 events. While we are critical of other aspects of IPFA, we cannot deny that, based on the figures, they clearly put on a good show.
IPFA also engages – we assume on a financial advisory basis – with other agencies involving negotiation services and financial advice on projects such as the Inland Rail, the Western Sydney City Deal, Underwriting New Generation Investments program (energy), and Snowy 2.0.
(ABC on Utopia: "We don't write satire, we make observations")
Of course, many of these projects are long term, so the opportunity for providing advice on them will probably span the life of the projects … or the life of the agency itself.
The client-focussed approach of IPFA appears to favour a long-term polygamous marriage with multiple partners, whereby it can provide ongoing advice and counselling.
The stable of marriage partners has broadened from last year (Inland Rail and City Deals) to now embrace the sexy new energy kids on the block  — Underwriting New Generation Investment program, and Snowy 2.0.
This would seem fitting and a match made in heaven as the original minister for establishing IPFA, Angus Taylor, can re-acquaint himself with his former agency and introduce the offspring of his new, energy-blended family.
Snowy 2.0, in particular, has recently been in the news. It would be interesting to know what advice IPFA has provided on Snowy 2.0 as the original cost of the project has blown out from $2 billion to $5 billion and may reach north of $10 billion by the time the project is completed.
Angus. Too smart by half.
Taylor obfuscates wholesale and retail cost blowouts of Snowy 2.0 and dodges questions on who will bear the cost of Snowy 2.0 with distribution upgrades as yet uncosted. Will it be borne by electricity consumers and/or taxpayers or both? #auspol #Snowy2 pic.twitter.com/ZHvesxF41n

— THE Russell – The BOT who Votes (@THE_Russell) October 14, 2019
That's a bucketload of cost overrun where IPFA's self-proclaimed expertise will no doubt be sorely sought.
While our prime minister is eager to espouse his love of "congestion busting" infrastructure, IPFA are going further, artfully describing their work in the infrastructure space as "collaborative impact".
Next year's annual report on the outcomes of another 12 months' of collaborative impact will again be eagerly anticipated.
——————
Angus Taylor's agency flipped to Tudge, gives executive pay another nudge
Public support is vital so this website can continue to fund investigations and publish stories which speak truth to power. Please subscribe for the free newsletter, share stories on social media and, if you can afford it, tip in $5 a month.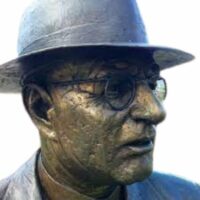 Jommy Tee is a long-time career public servant, having worked in the policy development field for 25+ years as well as an independent researcher interested in politics, current affairs, and Nordic noir.