Australia's universities face $5 billion in losses and are crying poor. Their highly paid bosses can make more money in a week than the casual staff, many of whom they have consigned to the dole queue, make in a year. Michael Sainsbury runs the ruler over the numbers and asks why those universities with high reliance on international students have shown such poor risk management.
The COVID-19 virus has exposed the emerging contradiction at the heart of Australia's public university system; that it is both a network of learning institutions and a string of highly competitive, profitable and often rapacious businesses.
Hailed in recent decades by politicians of all stripes as Australia's "third largest export industry" after iron ore and coal (gas also bested it last year), universities are now crying poor. Yet, with honourable exceptions, there has been a near-industry wide failure of risk management.
Australia's now-corporatised universities, are warning of combined losses of between $3 billion and $4.6 billion this year, according to their peak body Universities Australia.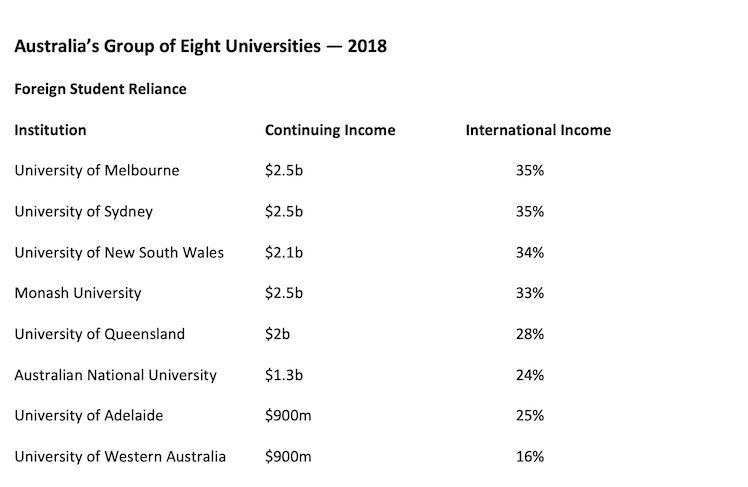 Two of Australia's top tertiary institutions, the Universities of Sydney and Melbourne, each had 34% of their continuing annual revenues – a tick over $2.5 billion each –  coming from overseas students in 2018. For the University of NSW, it was 34% of its revenues of $2.1 billion. Monash, which won't divulge any numbers at all, is believed to have a similar exposure. Of this total overseas student revenue, 40% comes from one market — China.
Now, with UNSW forecasting a loss of $600 million, the University of Melbourne $500 million, University of Sydney $470 million, the University of Queensland between $240-480 million, Griffith University $100-200 million, Universities Australia is predicting sector wide losses of up to $6 billion.
In August last year, a Centre for Independent Studies paper by academic Salvatore Babones warned starkly of the financial risk of this reliance on overseas students.
"Australian universities are extraordinarily exposed to the Chinese market, and by extraordinarily, I mean that the Australian universities have a multiple of several times the number of Chinese students of any comparable university in the world.
"At these levels of exposure, even small percentage declines in Chinese student numbers could induce significant financial hardship as universities struggle to meet the fixed costs of infrastructure and permanent staff salaries in the midst of a revenue shortfall. Large percentage declines could be catastrophic."
Now those declines are happening, with University of Sydney saying overseas student numbers are down 9% for the first semester. Insiders believe the decline in semester 2 revenue across the sector will accelerate as students struggle to find work in a contracting economy. "Unless a vaccine is found quicker than expected, all bets are off for next year," one senior university executive said.
These learning-institutions-cum-businesses are also officially designated as charities and therefore make no contribution to Australia's tax base, despite raking in collective profits of over $1 billion last year, profits which were turbo-charged by overseas students.
Notwithstanding their charity status, the Government excluded them from relief in the JobKeeper packages despite their warning of thousands of job losses. This means they will have to show a revenue fall of 30% rather than their expected 15% to qualify for the $1,500 per employee subsidy.
It's little wonder the Government opted to treat universities like businesses rather than charities. After all, what charity pays its boss $1.5 million? Australia's universities pay their top employees far closer to corporate salaries than to executives at even Australia's biggest non-educational not-for-profit organisations. The salaries of the chief executives of Australia's two largest non-educational or church charities, Red Cross Australia's Judy Slatyer and World Vision Australia's Claire Rogers ( who recently resigned) have been reported at between $350,000 and $400,000.
"After all, what charity pays its boss $1.5 million?"
An investigation by Michael West Media has revealed that, members of the exclusive Group of Eight (G8) who sit atop the nation's 41 universities have, between them, dozens of senior staff who are paid more than Prime Minister Scott Morrison's salary of $549,250.
The Universities of Melbourne Sydney, NSW and Monash have at least half dozen executives on more money than the Prime Minister — and few if any of them teach.
The average annual vice chancellor's (VC) salary in Australia in 2018 was just under $1 million, in stark contrast to the United Kingdom where the average was £270,000. Cambridge University vice-chancellor Stephen Toope, second highest paid in the UK, was on a basic salary of £431,000 in 2017-8 – a little over $A800,000.
So, it is little wonder that Duncan Maskell moved from a senior position at Cambridge University to Glyn Davis's job the University of Melbourne when Davis was paid an Australian record $1,589,999 in 2018 in his last year as VC. (Glyn Davis heads up the Paul Ramsay Foundation.)
Hot on his heels was University of Sydney's aggressive, pro-China vice chancellor Michael Spence, who has seen his pay soar more than 60% in the past five years. (It's interesting that Spence's next job running one of the United Kingdom's top tertiary institutions University College London will see him take a sharp headline pay-cut.)
Rounding out the G8, UNSW vice-chancellor Ian Jacobs received $1,288,478 in 2018 and University of Queensland's Peter Hoj $1,199,999, Monash University's Margaret Gardner (Glyn Davis's wife), $1,109, 999, University of Adelaide's Peter Rathjen $1,175,000 and University of Western Australia's Dawn Freshwater, $1,095,000.
The outlier is Australian academia's most decorated vice-chancellor, Australian National University's Brian Schmidt, winner of the 2011 Nobel Prize for Physics. Schmidt refused silly money, opting to take a relatively modest $675,510 (est.). Tellingly ANU receives only 22% of its continuing revenues from offshore students.
Outside the G8, the million-dollar club is headed by Australian Catholic University, the smallest in the country where Greg Craven received $1.25 million — Deakin's Jane den Hollander, Royal Melbourne Institute of Technology's Martin Bean, University of Technology of Sydney's Attila Brugs all on $1.1 million and half a dozen more on $1-1.1 million.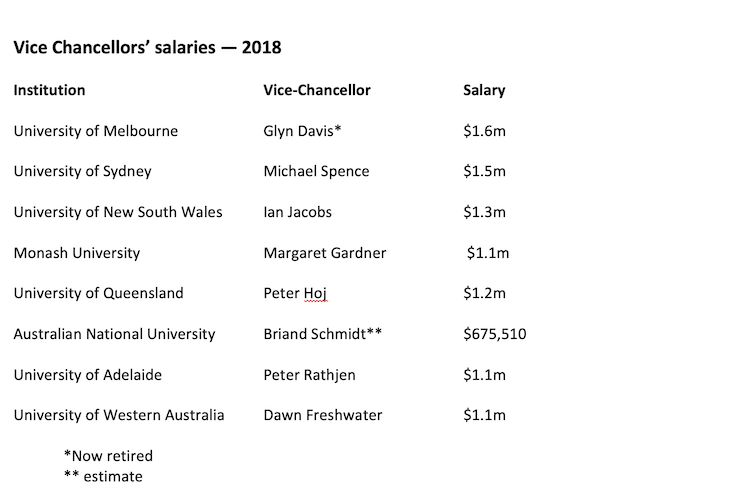 Despite begging the government for wage assistance as they send casual staff – some of whom earn less in a year than the VCs do in a week – to the dole queue, only a handful of university VC's, including UNSW and Melbourne University have cut pay to senior executive staff (20% apiece) with UNSW's Jacobs now calling for voluntary pay cuts from other staff.
It is true that federal funding cuts dating back to the Keating Government, and accelerated dramatically under the Howard administration, encouraged universities to step up their marketing and core offerings to overseas students.
Yet, given an inch by government, universities have taken a mile, seemingly learning nothing from the last student shock during the 2008-2009 global financial crisis. This one is set to be far worse and longer lasting.
The question is — what were the Universities expecting when they so highly exposed themselves to the international student sector? And within that, to one particularly market – China – which accounts for approximately 40% of all overseas student revenues?
"It's an issue of putting too many eggs in the one basket and that is just bad business practice," one senior university executive said.
There is also the extremely controversial matter of universities trying to pass full-fee-paying foreign students or risk revenue losses. This is perceived as the ultimate conflict of interest as universities should ideally treat all students equally and pass them or fail them on their merits.
COVID-19 has changed the playing field overnight. Friendly visa rules and generous provision for working for international students – that have included members if their families, with little or no oversight – have been thrown out the window by the Morrison Government as local unemployment soars.
Only four months ago, Australia was welcoming international students with open arms with stated government plans to continue growing a sector even though the business side of many institutions was already beginning to eat up the core learning function, and as offshore revenues began outstripping those from local student fees.
The message from the Government has now been flipped on its head. Prime Minister Scott Morrison's chilling message is "go home" to international students who cannot afford to support themselves in jobs that have largely disappeared or are needed by freshly unemployed Australians.
Like Australia's airlines, universities and their executives have been happy to make hay in the good times – sending executive pay into the stratosphere – but come running for government handouts when things turn sour.
The escalation in salaries and the corporatisation of Australia's universities has been exacerbated and indeed rubber stamped by elite consultancies. PwC, for instance, is believed to have been paid more than $25 million by UNSW for advice on how to run its business. This advice presumably included more pay for the elite class of university managers. Others such as Western Sydney University forked out $10 million for a rebranding exercise which involved changing the name from University of Western Sydney.
With the prospect of further downturns in international student numbers in the second semester now certain, and with an entirely uncertain outlook as to future revenues, it is time for the well-paid leaders in the sector to start earning their money, They must figure out how to reshape our institutions so Australian students, a market they had lost sight of amid their foreign student frenzy and corporatisation, are not the primary victims of a comprehensive lack of foresight.
———————
Coronavirus kills off privatisation of Australia's visa system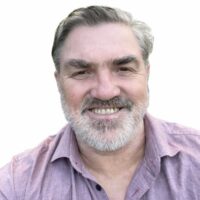 Michael Sainsbury is a former China correspondent who has lived and worked across North, Southeast and South Asia for 11 years. Now based in regional Australia, he has more than 25 years' experience writing about business, politics and human rights in Australia and the Indo-Pacific. He has worked for News Corp, Fairfax, Nikkei and a range of independent media outlets and has won multiple awards in Australia and Asia for his reporting. He is a fierce believer in the importance of independent media.