Without a strong anti-corruption commission, Australians cannot trust that the government of the day is spending the nation's money in our best interests. So why are News Corp columnists so opposed, asks jurist Stephen Charles.
The Murdoch press has shown itself to be no friend of the fight against corruption in politics.  The Australian  columnists Gerard Henderson and Janet Albrechtsen have led the charge against a federal integrity body. Albrechtsen's May 11 column supporting Scott Morrison's disdain for these bodies ignores the real concerns of the public as well as most experts in the field.
Before the 2019 election, this government promised to establish such a body.
Also before this election, the Coalition government set up the program that became known as the Sports Rorts after the Auditor-General determined that it broke both rules and norms, throwing $100 million at marginal electorates to bolster the Coalition's electoral chances. The Coalition government ignored the recommendations from Sports Australia which adhered to the established guidelines and merit criteria. Sports clubs which had dutifully followed the process in good faith were treated appallingly in the cynical decision-making process.
Government's actions were unacceptable
The Auditor-General's report was released in January 2020 to almost universal bitter criticism of the government's actions. The Australian's editorial board and several of its prominent journalists led this commentary on the government's actions as unacceptable. In the later Senate committee hearings, Australia's leading academic constitutional law specialists described the use of the program as a breach of the rule of law. There was no legal basis for the allocations, and they were said to be unconstitutional. Indeed they were in defiance of High Court decisions.
The carpark rorts, worth $660 million, followed. Here there was not even a process to disregard; there were no formal guidelines, no merit or eligibility criteria, no cost-benefit analysis and no significant consultation other than with Coalition members and unelected candidates. The result was to be 47 car parks in marginal seats, with four in Kooyong to support Treasurer Josh Frydenberg's campaign at a cost of $65 million. Tim Wilson's seat of Goldstein was to receive another six.
A matter of discretion: politicians make their own rules on funding
Several more programs have been revealed in this extraordinarily bloated exercise of what is known as "pork-barrelling," with an estimated cost of many billions of dollars.
While the Australian system has accepted some pork-barrelling as normal, it is in fact a form of corruption. At this scale, it constitutes substantial political corruption. Transparency International defines corruption as: "The abuse of entrusted power for personal, private or political gain." These programs together with the associated failure to implement a strong anti-corruption commission are among the principal reasons for Australia's fall from seventh in the Transparency International Corruption Perception Index in 2012 to 18th in 2022. The only other nation to drop as many places was Hungary.
Tawdry vote-buying exercises
For a government that prides itself on its "good economic management," this feckless waste of the nation's wealth on tawdry vote-buying exercises is inexcusable. Indeed, aiming to entrench an unpopular government in this way is anti-democratic.
Morrison has blamed Labor for refusing to accept the then Attorney-General's Commonwealth Integrity Commission (CIC) model for his failure to permit debate on such a body. In fact, the Coalition's CIC acts as a shield to protect politicians and public servants from investigation. To accept it would be to establish a cover for any future government to spend money corruptly with the constant excuse that the CIC is finding no wrongdoing.
In fact, as Morrison said on May 4, he did not want MPs, when allocating funding for community grants or infrastructure, to be investigated by public servants. This suggests his real motivation for failing to introduce a strong anti-corruption commission was protection of his cabinet. Would he really want a future Labor government to be free from such surveillance?
The half of the CIC that covers law enforcement bodies is a solid functioning model. It is interesting that the Coalition feels politicians' reputations are so much more vulnerable than law enforcement officials so that the model applying to them is, as Jacqui Lambie said, "not an ICAC, that's a feather duster." Even High Court judges may be investigated for misconduct in public.
It is critical for Australians to recognise – as The Australian 's journalists have done – the damage to democracy that is caused by programs such as the Sports Rorts and Carpark Rorts. The best way to prevent governments (of any complexion) from misusing the wealth of the nation is a well-resourced body able to step in and prevent such misconduct.
Gerard Henderson, in his column in The Weekend Australian (May 14-15), remains concerned that an overly broad definition of corruption will lead to reputational damage to politicians and premature ends to their careers. Transparency International's definition of corruption, however, remains the benchmark. It has labelled recent "pork-barrelling" as corrupt using that definition. It remains for parliament to design the legislation in such a fashion as to prevent accusations of wrongdoing reaching the stage of public hearing without thorough investigation first.
The cases of former NSW Crown prosecutor Margaret Cunneen, and former NSW premiers Greiner and O'Farrell which concern Henderson, I have dealt with at length in Keeping them Honest, to which Henderson refers. Conservative premiers in NSW continue to support the body and the important work it does.
A strong anti-corruption body will itself be monitored by parliament and the Federal Court to make sure that it does not overstep its bounds. It will be well-regulated by the legislation that establishes it and well-resourced to make sure that any future government, of whatever colour, will work within the bounds of the rule of law, norms and societal expectations of integrity.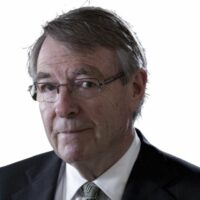 After a distinguished career at the Victorian Bar and as a Judge of Appeal in the Supreme Court of Victoria, Stephen Charles AO, QC, is now a board member of the Accountable Round Table and the Centre for Public Integrity. He has been for many years a tireless advocate for the creation of a federal anti-corruption watchdog.