The Prime Minister's short-lived incarnation as managing director of Tourism Australia has long been a matter of speculation. A Liberal sacked by a Liberal government! But for correspondent Jommy Tee, it's a case of ACCESS DENIED.
New evidence shows the Prime Minister's Office (PMO) interfered in denying a Freedom of Information (FOI) request by Michael West Media (MWM) into Scott Morrison's sacking from Tourism Australia in 2006. 
MWM has been trying for months to obtain, via FOI, a copy of the 2006 Tourism Australia Board paper that discussed Scott Morrison's termination. Access to the Board paper was refused. This document could provide critical insights into why the board of thought it necessary to terminate Morrison's employment as managing director of the organisation after only 15 months. It is a document that no other media organisation has attempted to obtain previously.
As part of consultation process for our original FOI, Tourism Australia was obliged to consult the Prime Minister and seek his views on the release of the document.
We had to lodge a further FOI application to find out what consultation took place between Tourism Australia and external parties, including Morrison. The request uncovered 68 documents.
We were granted full access to two documents, partial access to 16 documents, and refused access to 50 documents.
Less than a week ago the Prime Minister was asserting that the ABC and SBS were "not above scrutiny", yet when the focus is on either him, or his ministers, it's a case of "move on".
The FOI documentation received included an email dated June 25, 2021, from Tourism Australia's general manager of corporate affairs, Bede Fennell, to the PMO.
It indicates that Tourism Australia had intended to release a version of the board paper to MWM, albeit with redactions.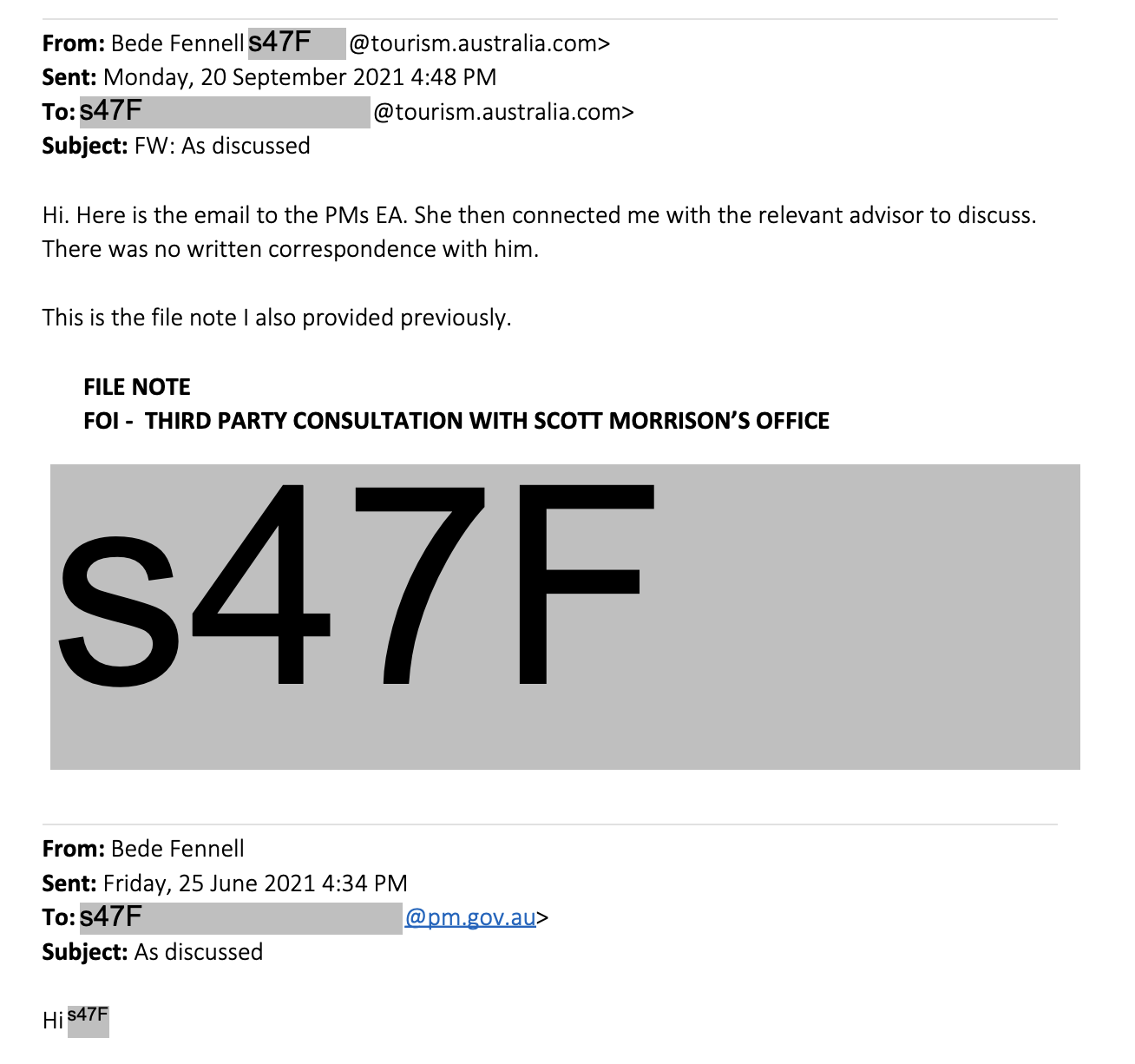 The email from Fennell to the PMO shows the official email contained an alarming degree of familiarity for a public servant referring to the Prime Minister by his first name "Scott" – not Scott Morrison, nor Mr Morrison nor the Prime Minister – but "Scott".
The familiarity is not surprising, as according to his Linkedin profile, Fennell in a past life was a Liberal Party staffer, and deputy state director of the New South Wales division of the party from 2000 to 2004. 
As it turns out Morrison just happened to be the state director of the NSW Liberal Party from 2000 to 2004 before he accepted the Tourism Australia job.
In our view, the liaison between Tourism Australia and the PMO all of this is most awkward: an FOI request involving Morrison is being handled by an ex-party political work colleague and former 2IC to Morrison who now works for Tourism Australia.
There are serious perceived conflict of interests at play here which cast doubt on the handling of our original FOI claim seeking the board paper. 
This includes the apparent change of heart by Tourism Australia from providing a redacted copy to not providing anything, except a truckload of reasons as to why access should be denied.
The email shows that a phone discussion took place with the relevant adviser in the PMO but no paper trail back from the PMO to Tourism Australia appears to exist. 
None.
Our latest FOI attempt, does however indicate that Fennell made a file note of the conversation with the PMO adviser – but access to the file note was redacted.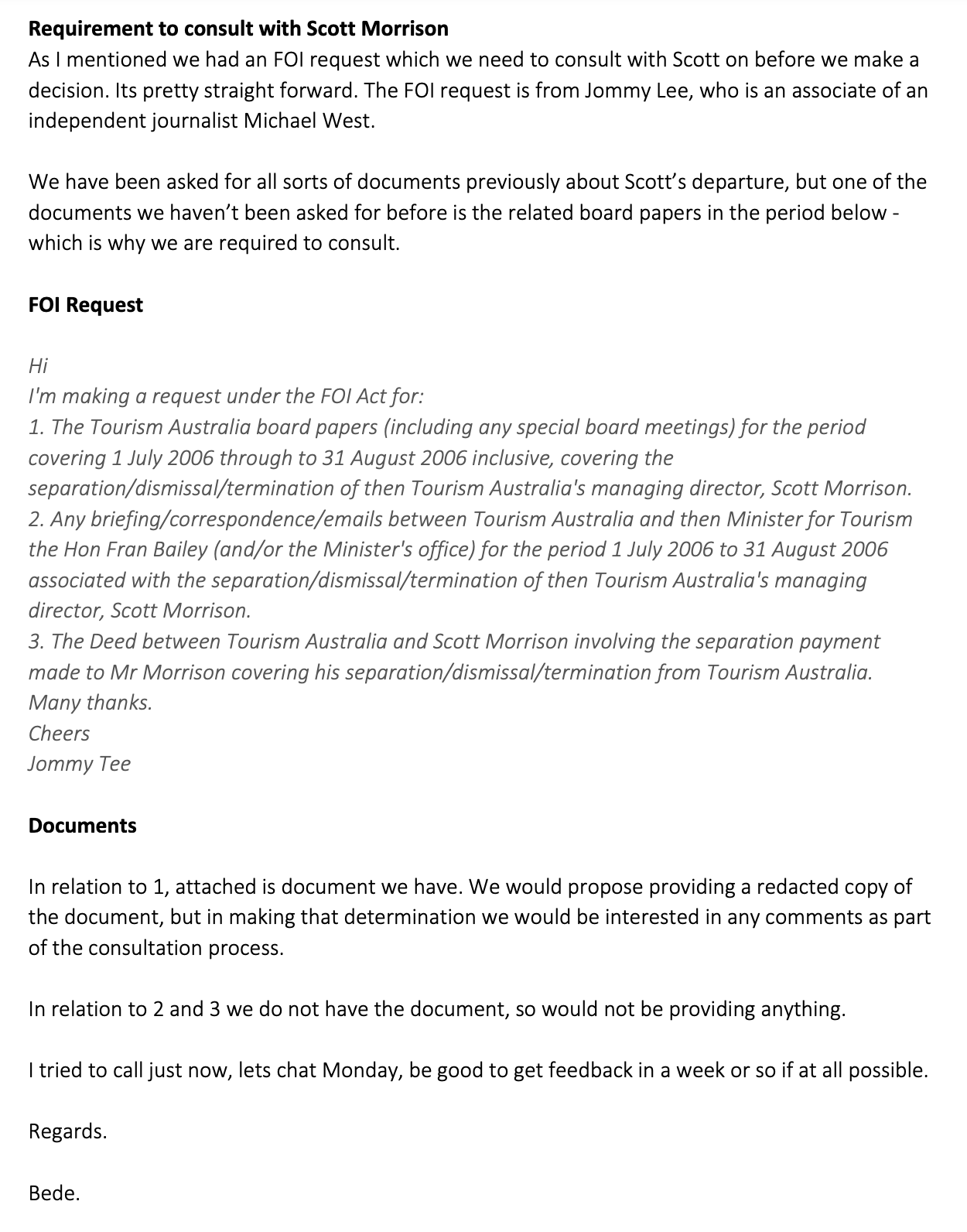 The Fennell email also confirms advice that we previously received (but have yet to report on) that Tourism Australia does not hold a separation agreement between Scott Morrison and itself. In the past much has been made of the existence and the confidentiality conditions associated with this elusive agreement.
Tourism Australia, as part of the consultation process associated with our original FOI request for the board paper, also sought external legal advice. Tourism Australia also refused us access to the legal advice, claiming legal professional privilege. These documents make up the vast bulk of the documents to which we were refused access.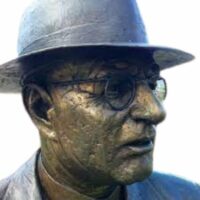 Jommy Tee is a long-time career public servant, having worked in the policy development field for 25+ years as well as an independent researcher interested in politics, current affairs, and Nordic noir.