In a David and Goliath battle in the Federal Court today, Rex Patrick takes on Information Commissioner, Angelene Falk to challenge to the lengthy delays that plague freedom of information (FOI) requests being reviewed by her. Rex Patrick gives us the inside word as he enters the courtroom.
Delay is the enemy of FOI, and right now our Information Commissioner is aiding and abetting that enemy.
When you think you've got a dud FOI decision from a government department or minister, who really only wants to share information in a form and at a time that suits the government, you can expect the Information Commissioner to take three years, or more, to review the decision.
By the time the Information Commissioner overturns the decision and grants access, as she does in 50% of all cases, the information is of a lot less interest. The debate the requested information was relevant to is over, a decision will have been made, or the laws will have been passed by the parliament.
In some instances, the Government the FOI requester is trying to scrutinise, is no longer in government.
Prime Minister's department ordered to come clean on Sports Rorts cover-up
The case of aiding and abetting that enemy
It's a case that will go to the heart of how the Australian FOI system works and will have far-reaching implications for the rights of journalists, civil society organisations and the wider public to access government information, holding leaders and decision-makers to account, and the understanding of what is being done in their name.
Ensuring that people can access government information in a timely manner through the FOI system is an essential part of a healthy democracy. But in Australia, the FOI system is broken.
Because there is no statutory time frame for the Information Commissioner to conduct an FOI review, common law says that the parliament means for her to make a decision in a reasonable time frame. I say three years is unreasonable. I say one year is unreasonable.
The Information Commissioner is adopting two arguments against me.
Chequered flag
First, the Information Commissioner argues that the way in which the FOI Act is written means that she has no duty to make a decision until after she has conducted her review; she can take as long as she likes considering all the facts of the case and, only after she has done so, does a duty arise for her to make a decision in a reasonable time frame.
It's like saying  that when measuring race time in a car race, the laps in the race don't count, only the time it takes to get to the chequered flag after exiting the final corner.
Lack of resources
The Information Commissioner's fallback argument is that the time she is taking to make decisions is reasonable when you consider the lack of resources that she has.
When the FOI Commissioner, Leo Hardiman PSM KC, quit earlier this month, he wrote about changes that had been made to FOI processing to improve timeliness and then said:
further changes are … necessary to ensure that the timeliness of IC reviews and, consequently, access to government-held information, is increased.
He went on to indicate that the necessary changes are not within his powers and so he was resigning. Most people thought he was referring to powers in the Act. They haven't seen the evidence filed in the case by the Information Commissioner (and can't until it's 'read into' the court today). He's not talking about legislative power, he's talking about resources.
Prime Ministers Abbott, Turnbull and Morrison all starved the Information Commissioner of resources. Albanese has not remedied the situation.
I'll be arguing that that reasonableness should not be referenced to the Information Commissioner's resources, rather to the objects of the Act.
Legal costs
Half a million taxpayers' dollars have been billed by the Information Commissioner's external lawyers, with the Information Commissioner suggesting to the Senate in November that this number would rise to $700K. I'll be most surprised if it doesn't hit a million.
Half a million squandered by Information Commissioner on frustrating public's right to know
Luckily for me, the Grata Fund and The Australia Institute have agreed to indemnified me against any adverse cost order if we lose. They both understand the importance of bringing this case.
Isabelle Reinecke, Executive Director of Grata Fund, says:
"Access to information, and the ability to scrutinise government is absolutely essential to a healthy functioning democracy. Unreasonable delays from the OAIC in reviewing decisions ultimately conceals information by preventing time sensitive public airing of information that is proper and necessary to hold public officials to account — this case tackles that roadblock in the FOI system."
The Australia Institute's Democracy & Accountability Program Director, Bill Browne, says:
"Australia's democracy needs consequences for departments that abuse the FOI system, and a watchdog that is willing and able to hold them to account. Public servants and ministers have taken advantage of the FOI system to delay and hold back information that is in the public interest, and that the public is entitled to by law".
They understand what's at stake, and are putting their money where their mouth is.
David v Goliath
Today the Information Commissioner will be represented in court by senior counsel, junior counsel and a commercial law firm, along with lawyers from the Office of Australian Information Commissioner and a partridge in a pear tree.
On my side of the bar table will be a lone barrister, Tiphanie Acreman, working pro bono. I'll be sitting behind her in the court, willing encouragement.
I know how hard Tiphanie has worked on this – week after week, weekend after weekend! I have full confidence that her nimble approach and legal skills will win over the goliath.
As a Transparency Warrior, no matter the outcome in the court, I'll be awarding Tiphanie with a Transparency Jedi Master certificate to hang proudly on her law chamber wall. She deserves the gratitude of anyone who treasures democracy.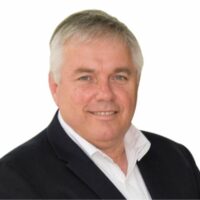 Rex Patrick is a former Senator for South Australia and earlier a submariner in the armed forces. Best known as an anti-corruption and transparency crusader - www.transparencywarrior.com.au.