Karen Hayes, CEO of Guide Dogs Victoria and resident of Kooyong, prints flyer and goes on social media in direct contravention of charity regulations.
The Australian Charities and Not-for-profits Commission (ACNC) is the national regulator of charities. Its website states that a charity must not support a political party or candidate because…
… the charity will run the risk of being found to have a disqualifying political purpose, and therefore not being a registered charity

ACNC
Pretty clear to anyone but Karen Hayes, and according to Twitter the ACNC is being inundated with complaints. In her flyer and Facebook video, Karen waxes lyrical about Josh Frydenberg's unrelenting support for her cause. To the tune of $2.5 million in government funding in 2020.
Frydenberg was, of course, also a supporter of the legislation that sought to muzzle charities and advocacy groups such as GetUp. But not the Guide Dogs apparently.
Too many puns to mention, we can only hope there are more sensible heads among the many board members of Guide Dogs Victoria.
Update> The board is now "launching an investigation" and in a surprise twist, no sign of coverage in the mainstream media, except for the ABC.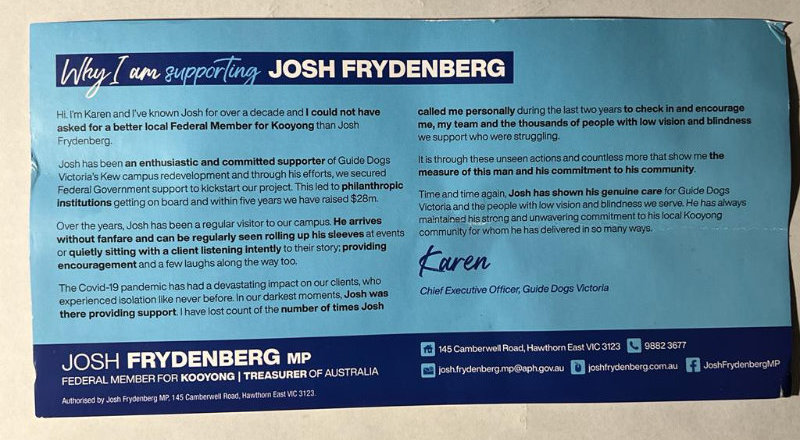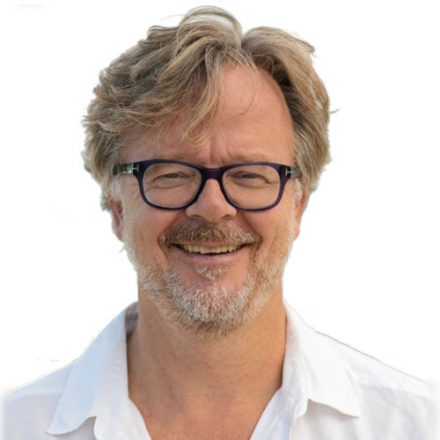 Kim Wingerei is a businessman turned writer and commentator. He is passionate about free speech, human rights, democracy and the politics of change. Originally from Norway, Kim has lived in Australia for 30 years. Author of 'Why Democracy is Broken – A Blueprint for Change'.