Barack Obama once described it as "either this is the largest building in the world or the largest tax scam in the world". That was in 2009. The building was Ugland House in George Town on the Caribbean island of Gran Cayman.
Ugland House was then home to 18,857 corporations. And Ugland House is soon to be home to another one, along with the profits of 43 Australian hospitals, unless Treasurer Josh Frydenberg blocks the deal on grounds of national interest.
No sooner had the Northern Beaches Hospital in Sydney been built in a $2 billion taxpayer-funded deal, its operator Healthscope opted to sell it, along with another 42 Australian hospitals also subsidised by taxpayers, to a shadowy group which has a large presence in tax havens.
We say shadowy because neither the directors of Healthscope nor their slick takeover suitors from Brookfield have agreed to respond to questions about who and what will control these essential Australian assets after the Brookfield takeover.
But there is now strong evidence that Healthscope's hospitals may be held by a vehicle in the Cayman Islands, indeed a vehicle whose address is Ugland House. This except is from the Implementation Deed for the deal: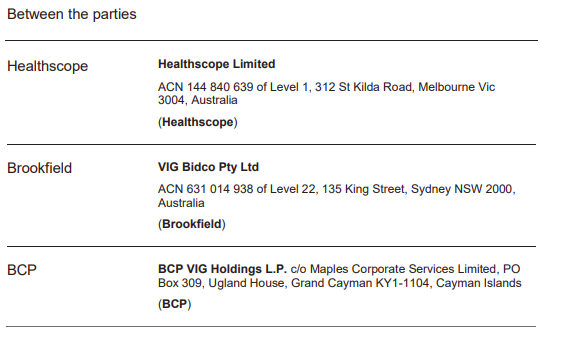 It shows an entity controlled by Brookfield called BCP VIG Holdings LP is based in the Cayman Islands. BCP is the sole shareholder of Brookfield Holdco and Brookfield Holdco is the vehicle which will hold the shares in Healthscope after the deal is done.
The Healthscope board has approved the $5 billion takeover and the transaction now awaits approval from Treasury via the Foreign Investment Review Board (FIRB) – approval which must surely take account of the national interest in selling crucial Australian infrastructure to aggressive foreign tax avoiders.
When it comes to secrecy and dodging tax, the crew from Brookfield has form:
Brookfield however has given itself plenty of room to move. The Implementation Deed also reveals that Brookfield can also nominate a "related party" to get involved in the Scheme of Arrangement. Presumably, according to the document, it can house the Healthscope assets pretty much wherever it chooses.
Sensibly, the Treasurer knocked back another tax haven deal last year, that is the bid for gas pipelines monopolist APA Group by a vehicle linked to the family of a Hong Kong billionaire who also operates out of the Caymans. So there is hope that $5 billion in critical Australian infrastructure will not be captured by the tax avoiders from Brookfield, but no assurances … yet.
The Treasurer also needs to approve another deal in order for the Brookfield proposal to pass. Brookfield is proposing to bust up Healthscope, selling the land and buildings to a trust in the US and leasing them back. There is scant information about the affiliates of NWH Australia AssetCo and MPT Operating Partnership LP although it appears the latter has connections to at least one tax haven in Delaware.
Ironically, Healthscope itself was being investigated by the Tax Office for tax avoidance but appeared on track – as it was running out of tax losses – to pay tax for the first time this year. The Brookfield bid, if successful, would put a swift end to that.
Public support is vital so this website can continue to fund investigations and publish stories which speak truth to power. Please subscribe for the free newsletter, share stories on social media and, if you can afford it, tip in $5 a month.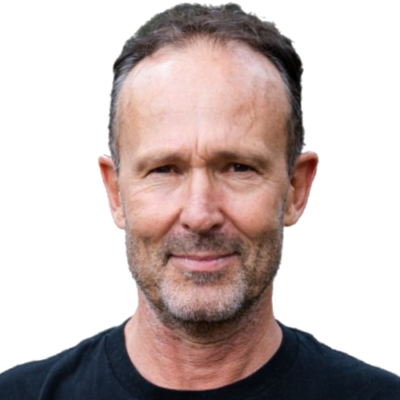 Michael West established michaelwest.com.au to focus on journalism of high public interest, particularly the rising power of corporations over democracy. Formerly a journalist and editor at Fairfax newspapers and a columnist at News Corp, West was appointed Adjunct Associate Professor at the University of Sydney's School of Social and Political Sciences.