Hapless taxpayers face the prospect of subsidising foreign billionaire, Gautam Adani, to the tune of billions of dollars – not just the railway but now the mine itself too – and farmers in Queensland are told to bear it when the government hands out unlimited free water to Adani. It is little wonder public outrage over Adani's Carmichael coal mine – a project considered unbankable by Queensland's own Treasury two years ago – has now galvanised into one of Australia's biggest protest movements. Both the Australian Conservation Foundation and GetUp! are targeting politicians in marginal seats. The #StopAdani movement, intent on scuppering the project, is staging a nation-wide protest this Saturday. On the heels of ABC Four Corners' dredging through Adani's dubious deals, comes another report today underscoring the total absurdity of this project. Editor-in-chief, Sandi Keane, reports.
THE RELEASE OF today's Institute for Energy Economics and Financial Analysis (IEFFA) Report sounds the death knell for coal. European utilities who bet on coal, suffered huge financial losses over the last decade.
According to the report: 'Winners and Losers in the Global Electricity Market', $US185 billion was lost in shareholder value by those energy utilities which failed to keep pace with renewables.
The report looks at eleven case studies (split into "Leaders", "Transitionalists" and  "Laggards") and documents the technological advances in Asia, Europe, the Americas and Africa as the cost in wind- and solar-generation declined.
"Wholesale electricity prices are being pushed down by the rise of renewable generation," said Tim Buckley, lead author of the report and IEEFA's director of energy finance studies, Australasia. "Developers of renewables can now consistently outbid fossil fuel-based generation, in no small part because renewable generation has no fuel costs.
"Crucially, renewables need only capture a relatively small market-share for market disruption to occur, and for it to continue."
IEEFA lists below a summary of the eleven major utilities in transition from "Leaders" to "Laggards":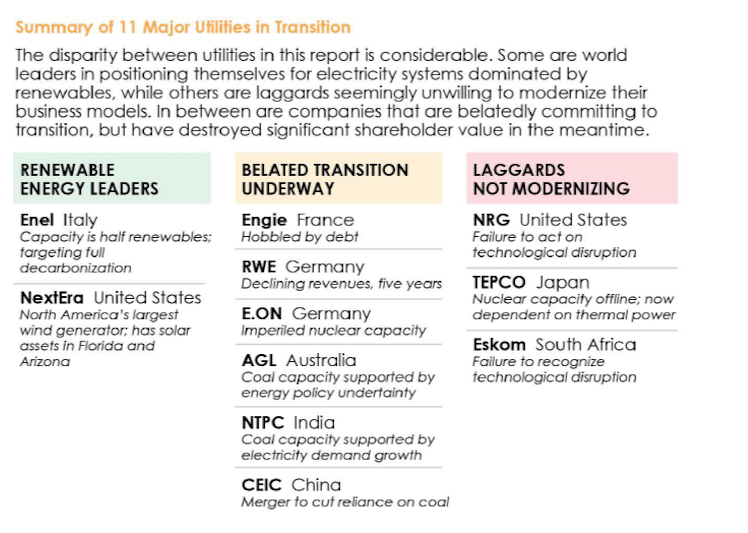 Companies whose transition is underway
Australia's largest energy company, AGL, one of the "Transitionists", is shown in a positive light as it looks to renewable energy to replace coal. The IEEFA Report notes the marked change in direction in 2015 with the embracing of renewables by AGL's new chief executive, Andrew Vesey. Vesey's new greenhouse gas policy released in April 2015 committed AGL to exit coal-fired power stations unless fitted with carbon capture and storage systems. After the release of the Finkel Report, Vesey was quite vocal in his support for a "Clean Energy Target" and was adamant that coal be excluded being financially unviable in the long term. AGL is now a major investor in renewables and battery storage. In SA, it is trialling a virtual power plant linking domestic and business battery storage as a way to cut consumer costs and improve grid stability. In July 2016, AGL announced its Powering Australian Renewables Fund investing 1000 megawatts of large-scale renewable energy with partner QIC.
But AGL also says generators should be able to use ERF carbon credits to help meet their Clean Energy Target obligations — provided they don't impede efforts to decarbonise the energy industry.
The Minister for Environment and Energy, Josh Frydenberg, has been asked whether ERF carbon credits from land projects meet international accreditation standards and how many tonnes from them will be counted against our UNFCCC target. No response has been received as yet.
Another example of an energy company in transition is RWE Germany. RWE has reported declining revenues over the past five years and a net loss in three of those years. The only thing keeping RWE afloat is the spin-off of its renewable assets into a separate company, Innogy, whose market value is double that of RWE.
Germany's deputy economy minister, Rainer Baake, said last month that Germany will need to shut half its coal-fired power stations to meet its 2030 carbon reduction target.
The "Leaders"
Renewable energy "Leaders" are Enel, Italy (whose capacity is half renewables, targetting full decarbonisation) and NextEra, USA, North America's largest wind generator which also has solar assets in Florida and Arizona.
As RenewEconomy reported in July (quoting Morgan Stanley):
"….notwithstanding President Trump's stated intention to withdraw the US from the Paris Agreement, we expect the US to exceed the Paris commitment of a 26-28 per cent reduction in US 2005-level carbon emissions by 2025".
Italian-based Enel SpA announced that it intends to close all coal-fired power generation by 2030. Enel's chief executive is convinced renewables are winning the battle over coal and nuclear with battery-storage as the game-changer. It is now the largest renewables operator in Africa and has made incursions into the US market with the 400 MW Cimarron Bend wind farm in Kansas. It's offspring Enel Green Power had 3.2 GW renewable capacity across 23 US states and 2 Canadian provinces. According to the report,
"Enel has emerged as one of the world's leading producers of clean energy while simultaneously outperforming other major European utilities that have not moved so fast and have suffered destruction of shareholder value as a result."
NextEra Energy Inc is a major US electricity generator with about 46 GW capacity. It also emerged as a global leader in its transition to the clean energy economy.
"Like Enel, the Italian utility giant, NextEra has seen the prudence in embracing the energy systems of the future. The fact that the company – again like ENEL- is navigating a complicated transition while outperforming the broader stock market puts it in stark contrast with competitors that remain wedded to coal-fired power and whose underperformance has destroyed significant shareholder value."
The "Laggards"
The Fukushima disaster has weighed heavily on Japan's TEPCO which posted losses in the three years following. It's net debt of $US46 billion is seven times its equity market capitalisation. The government's preference for replacing nuclear baseload with imported fossil fuels has cost it opportunities to develop renewables. This presents a big risk for Japan's national energy security with its reliance on the import of all its fossil and nuclear fuels. As its population declines, the demographic drift will restrain further economic growth and energy demands.
In South Africa, electricity prices have quadrupled since 2007 and an expensive coal-fired power build-out threatens to drive prices even higher. Investment in renewables appears ever more appealing, but also disruptive. South Africa's Eskom growing overcapacity in expensive new coal plants which have to be paid for regardless of sales in electricity and failure to invest in renewable energy as seen its total debt securities and borrowings of ZAR355 billion ($US26.8 billion) in its March 2017 report with finance costs increase 83 per cent.
Summing up
The report concludes that economies around the world can make $ billions on solar and wind investment and avoid the huge financial losses suffered by European utilities which made the wrong call when it bet on coal and other thermal power.
"While it might take decades yet for renewables to become the dominant form of generation globally, their presence today is permanent and their advance inevitable," said Mr Buckley.
One such success story is Norway's largest private pension fund, Storebrand. Storebrand launched its fossil fuel-free funds this April, now valued at over $US1.6 billion. With a rate of return of 19 per cent, the company has won global accolades for sustainability. The company invests in windpower in Germany, Spain, Denmark and Portugal and solar power in Norway and Switzerland as well as green transport in Italy. Said Jan Erik Saugestad, CEO of Storebrand Asset Management:
"Investors are getting wise to the fact that power companies are shifting away from fossil fuels and towards less risky renewable energy…. As the IEEFA report show, investors and power companies which have held onto coal and fossil fuel assets for too long have suffered with multi-billion dollar write downs…"
Tim Buckley on the International Energy Agency (IEA) work launched today:
"2016 was another record high year of renewable installs and unexpectedly large renewable energy cost deflation, again highlighting the IEA's continued underestimation of both these two trends driving the increasingly global market transformation."
Meanwhile, while Australians struggle to make sense of our politicians risking taxpayer funds into likely stranded assets projects like the controversial Carmichael Mine, the cost of electricity continues skyward in the absence of certainty on an energy policy resulting in a delay in renewable-energy rollout.
You can follow Sandi Keane on Twitter @Jarrapin.