A long forgotten 2006 transcript from the ABC's 7:30 Report shows Barnaby Joyce fudged the facts about his role in the #Watergate scandal. Jommy Tee reports.
As we know, Barnaby Joyce, as Minister for Water and Agriculture, was responsible in 2017 when the government forked out $80 million in water buybacks to Eastern Australia Agriculture (EAA), the company where Angus Taylor had been a director and consultant.
EAA owned two cotton growing properties, Kia Ora and Clyde in the St George region of Queensland when the government paid for unreliable flood water attached to the two properties. EAA then transferred the windfall gain to its parent company in the Cayman Islands, Eastern Australian Irrigation (EAI).  EAI was also founded by Angus Taylor.
The long-lost 7:30 Report interview by the late Paul Lockyer took place a year before Angus Taylor founded his many farm companies and just before Taylor hand-selected the Kia Ora and Clyde properties.
The revelations within the transcript include:
(1)   The attempt by Joyce to coerce the LNP government into buying Clyde Station in 2006.
(2)   Evidence that the leading advocate for this sale was none other than the local St George senator, Barnaby Joyce:
"The noises for a government purchase began with Queensland Nationals Senator Barnaby Joyce, who lives in nearby St George."
The 7:30 Report went on to say:
"There was initially a positive reaction from the Queensland Government, but the matter seemed to go no further, despite overtures that were also made to Canberra."
This accords with an agricultural industry update produced by liquidators KordaMentha confirming the Queensland Government ruled out purchasing the Clyde property after it was passed in at auction on 7 July 2006.
KordaMentha went on to say:
"The Queensland Government had previously indicated that it had failed to reach agreement with the Federal and New South Wales Governments regarding funding a bid for the properties."
It is reasonable to assume that Angus Taylor, a savvy businessman, would almost certainly have made a note of Barnaby Joyce's desire to transact and facilitate the Government's purchase of Clyde. Indeed, Taylor went on to purchase the property in 2008 on behalf of his Cayman Island investors.
In another bombshell, there is overwhelming evidence that the deal promoted by Joyce was rejected by the Federal Government because of the unreliability of the water flow and the high price for the water.
As the ABC's transcript reveals, Malcolm Turnbull (then parliamentary secretary to the Prime Minister) told 7.30 Report:
"Well, the Queensland Government approached us about them and we, the first question we asked was, these properties have very large notional entitlements, but how much water actually or practically are they ever likely to be able to divert?"
The Government rejected the offer because the $20 million price tag for the whole Clyde property including water licences was too high and "the amount of water that you would actually end up acquiring simply was not worth the price".
He also went on to say there was doubt, "the big entitlements the properties have on paper will be realised when the rivers run again." In other words, Turnbull thought the $20 million for all of Clyde's water entitlements was too high and considered the reliability of the water on offer as highly questionable.
Turnbull added:
"the view that was shared generally among governments, and it's my recollection, was that the amount of water that you actually end up acquiring simply was not worth the price that was being put on these properties."
The question must now be asked.  Why in 2017, did Barnaby Joyce, as Minister for Water, engineer the purchase of that same water from Clyde at the exorbitant cost of $40 million to taxpayers?
Why also did Joyce as water minister in 2016 loudly and vociferously voice his opposition to water buybacks?  Indeed, Joyce's duplicity was such that he even tweeted in late 2016 that he was vehemently opposed to water buybacks, while at the same time, he and his department were in deep discussion with EAA and EAI to buy their water licences for a record price of $80 million.
$30m for irrigators – we believe in investing in water infrastructure – not buy backs to secure water savings. https://t.co/KFU2RJ9DVf

— Barnaby Joyce (@Barnaby_Joyce) December 22, 2016
To date, there has been no answer from Joyce as to the reason his department effectively purchase Clyde's unreliable overland flow water entitlements for a staggering $40 million — twice the price that the whole kit and caboodle could have been bought for in 2006.
Turnbull's 2006 interview leaves no doubt that various federal governments had undertaken analysis that showed value for money would not be achieved for ALL of Clyde's water at the price of $20 million — yet paying $40 million for unreliable water in 2017 was deemed by Joyce and his department as being "exceptionally advantageous….and represents value for money".
Going back in time and flushing out the back stories provides insights into how Joyce operated his "game of mates" in the St George region. The 7.30 Report transcript and evidence below highlights Joyce's long history of meddling in water issues.
Joyce first moved to St George in the 1990s. He established an accountancy practice, Barnaby Joyce & Co, from 1999 before ending up in the Senate in 2005.  While running that accountancy practice he, by his own claim, built up a clientele of over 450 clients.
Over that period, he grew extremely familiar with a range of local irrigators, cotton growers and other farmers — including people associated with Cubbie Station, and of interest to this story, Clyde Station.
Joyce's interest in grubby water politics even ran to the extent that a Queensland government statutory authority – the Eugun Bore Water Authority – listed Joyce's accountancy firm as its main address. This continued up until 2009, four years after he had taken up a Senate position.
The close knit game of mates in the area even extended to Cubbie Station who were a major donor to Joyce's senate bid, handing over a declared donation of $9000 in 2004.
One of the reasons Joyce advocated for Clyde being sold back in 2006, was to protect Cubbie's water holdings from a potential compulsory government buyback, by offering up the Clyde property which was already on the market.
Clyde Station was managed by Joyce's friend, Hamish McIntyre.  Both Joyce and McIntyre were profiled in 2006 by SmartRivers — an association of local Dirranbandi irrigators.
SmartRivers, and its board, are all well known to Joyce, and in 2008, the organisation, together with two directors (Tom Sharp and Connor Maloney) of the Taylor-founded Caymans company EAI, met with a South Australian parliamentary delegation in St George. Joyce's friend, McIntyre, was also present at the meeting.
McIntyre managed Clyde Station prior to it being bought by Angus Taylor's group of companies but stayed on in various capacities, including in an executive capacity, to at least 2015.
It seems almost unbelievable, given Joyce's role in local water politics, that he was unaware that Angus Taylor was the purchaser of Clyde, especially when Joyce's good friend Hamish McIntyre effectively managed the farm and worked for the Taylor-founded EAA for nearly 7 years, as well escorting the two Cayman directors around St George in 2008.
We all remember the infamous meltdown Joyce had when interviewed by Patricia Karvelas on ABC's RN Drive in April 2019 when the #Watergate scandal broke. Joyce claimed repeatedly that prior to 2013 he had no knowledge of Angus Taylor's existence.
Joyce's verbatim response was:
"I never knew Angus Taylor, I wouldn't have known him if he stood up in my cornflakes, before he came into parliament, right.  And certainly at this point in time my knowledge of any association of any person of Angus Taylor going to be future minister was, listen to it, zero, zero."
It is often forgotten that EAA and EAI over the period 2009 to 2012 when Angus Taylor was involved, were bidding to buy Cubbie Station which at the time had gone into liquidation.  It could not have escaped Joyce's attention that Angus Taylor, quoted in the media as the spokesperson for EAA and EAI, during that period was a principal with EAA and very interested in Cubbie Station.
It could also not have escaped Joyce's attention that his mate, Hamish McIntyre, was also a director of EAA.
It is also impossible to believe, as he busily giving a multitude of interviews during the Cubbie Station purchase phase, that Joyce was not aware of the potential bid from EAA — as the EAA bid was widely broadcast in the media and in the region.
Are we to believe a politician so entrenched in local water politics since the 2000s, and associated with the key principals of the irrigators in his hometown, was totally oblivious to a bid by EAA to buy the largest irrigated property in Australia?
Are we also to believe that a politician who willing accepted campaign donations from Cubbie Station, and who had a friend working for, and being a director of a company established by Angus Taylor could be oblivious to these connections when they were publicly bidding for Cubbie?
And are we to believe that a politician could forget that, when he was a senator, he had lobbied for the government to buy Clyde Station – a property managed by his mate – despite federal and NSW governments at the time declaring its water flows "unreliable" and the ask of $20 million "not worth the price"?
Barnaby Joyce has misled the Australian people again and again by not fully disclosing his relationships and giving full and honest accounts of his actions. Both Labor and the Greens continue to call for a Royal Commission as the only way to get answers to the #Watergate and Murray Darling Basin scandal.
——————
Watergate Crew: the regatta of mates behind Australia's richest water deal
Public support is vital so this website can continue to fund investigations and publish stories which speak truth to power. Please subscribe for the free newsletter, share stories on social media and, if you can afford it, tip in $5 a month.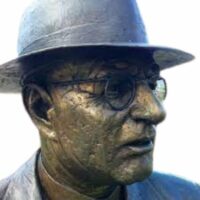 Jommy Tee is a long-time career public servant, having worked in the policy development field for 25+ years as well as an independent researcher interested in politics, current affairs, and Nordic noir.