Scott Morrison spins defence spending and says contractors are "doing it tough". The numbers show big dollars going to weapons makers from the US, France and Britain, while locally, lawyers, accountants and management consultants are in the frame. Marcus Reubenstein reports.
The Prime Minister Scott Morrison and his Defence Minister Linda Reynolds trumpeted the announcement: "A $1 billion investment package to boost Australia's defence industry and support thousands of jobs across the country."
As is de rigueur under current government/media arrangements, all the political correspondents of the mainstream media had been handed the story on a platter the day before the announcement. Moreover, the ABC's report included the inexplicable statement that "Australia's defence industry was struggling due to the coronavirus pandemic".
Defence struggling?
In July the government announced a defence spend of $270 billion, the details of which were also handed out to the media prior to the official announcement.
Based on that figure, the recent $1 billion announcement is a little under 14 days of spending – a drop in the ocean. Furthermore, it is money that was going to be spent anyway; it has just been brought forward.
Said the Prime Minister:
"Like much of the economy, our local defence industry is doing it tough because of Covid-19. This is especially so for small and medium-sized businesses that are critical to jobs.

"Supporting our defence industry is all part of our JobMaker plan – especially high-paying, high-skilled jobs that ensure we are supporting a robust, resilient and internationally competitive defence industry."
While smaller defence suppliers may be doing it tough, companies whose businesses are principally exposed to defence spending seem to be doing very nicely.
In the past eight weeks the Department of Defence has handed out 4,602 contracts, worth more than $4 billion.
Of that $4 billion, $2.6 billion (or 65%) was awarded in deals of $20 million or more. Furthermore, that $2.6 billion involved just 24 contracts, with the vast majority going to foreign companies or wholly owned Australian subsidiaries. Five contracts were awarded to Australian companies, two went to government agencies and one to a university.
So $2.2 billion of the $2.6 billion spend has gone to foreign companies. That's 83 cents in the dollar headed offshore and now the government announces a lazy billion dollars is being brought forward as part of its "JobMaker" initiative.
French multinational wins big
The biggest beneficiary of the contracts handed out in this financial year is French military aerospace giant Thales. On July 16 it was awarded a $1.26 billion contract to supply light weapons and ammunition.
On August 13 the Boeing corporation of the United States picked up a $332.2 million aircraft maintenance and repair contract. Another $78.8 million went to the NGJ Cooperative Program, which is an electronic warfare systems project run by the United States Navy.
The Australian beneficiaries don't appear to be struggling small to medium-sized enterprises either, with construction giant Hindmarsh awarded a $77.3 million construction and maintenance contract.
Melbourne-based Daronmont Technologies, which calls itself an SME, was awarded a $72.3 million contract for security surveillance and detection services. It's a big win for the company, far and away its biggest ever contract, but it has still won $290 million in government contracts over the past decade.
Other contracts include $57.9 million for Pacific Marine Batteries, $35 million for Watpac construction, $22.4 million to DMV Consulting, while the Defence Department-aligned University of Tasmania was awarded a $30 million contract for "building construction and support and maintenance and repair services".
Tough eight weeks for 'battlers'
Among the Aussie battlers to benefit from the past eight weeks of Defence Department contacts, $25 million was spent on accountants and another $30.3 million on lawyers.
Market research firms pocketed $1.7 million, while $5.4 million was spent on hotel rooms and function centres, with another $853,494 on restaurants and catering.
The big-ticket item was a staggering $201 million spent on management consultants.
The $1 billion announcement is little more than spin delivered amidst sustained attacks on the federal government over its response to the Covid-19 crisis in aged care.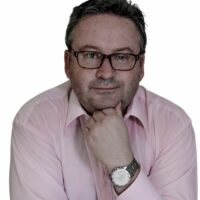 Marcus Reubenstein is an independent journalist with more than twenty years of media experience. He spent five years at Seven News in Sydney and seven years at SBS World News where he was a senior correspondent. As a print journalist he has contributed business stories to most of Australia's major news outlets. Internationally he has worked on assignments for CNN, Eurosport and the Olympic Games Broadcasting Service. He is the founder and editor of China-focussed business website, APAC News.