Defence spending used to account for little more than a fifth of government spending on procurement. Just seven years ago. Now it accounts for almost three-quarters of government spending. Global weapons manufacturers, most of who pay little or no tax are the big winners. And now the government is muzzling contract information, information about how it is spending its taxpayers' money. The excuse? "National security".
It used to be the other way around but now defence spending dwarfs all other government spending. It has already surpassed last year's numbers with ten weeks still to go, and represents a mind-numbing 71 per cent of all government contracts by value.
Confirming the blow-out in military spending, $43.7 billion of the $61.6 billion in contracts through AusTender in 2018 are for the Department of Defence.
Michaelwest.com.au highlighted the dramatic escalation in defence spending early last month in a series of reports which found a rise in contracts with no tender contracts ($80 billion worth of "amended contracts" over recent years) and also identified billions of dollars escaping Australia's tax net due to deals struck directly with global arms manufacturers offshore (rather than with their Australian subsidiaries.
Government spending soars amid blow-out in no-tender contracts
The blow-out in Defence has gained attention in mainstream media over the past week as the Government has sought to block the publication of details about a $1.3 billion defence contract. Labor then expressed concerns about the dearth of parliamentary checks and balances.
"Last month, key sections of an Australian National Audit Office report were blocked from publication on national security grounds, keeping from the public details of the Defence Department's contract with French-owned company Thales Australia for the purchase of 1100 Hawkei combat vehicles," said a story in the AFR.
Attorney-General Christian Porter issued a certificate barring publication and ten pages of the report were redacted in a move the newspaper described as "unprecedented".
Further, Guardian Australia found the government was paying twice as much as it had to to buy the combat vehicles.
The report said Thales was "aggrieved" by findings that "hundreds of millions of dollars could have been saved for taxpayers had Australia chosen a US manufacturer".
Defence Minister Christopher Pyne responded that he and his predecessor Marise Payne had asked Christian Porter to block the information "to ensure the national security of the country".
Blocking information about the billions of dollars of taxpayers' money being spent with global arms dealers would appear to be a tactic designed to save the government from embarrassment rather than a move to help the national interest.
Defence spending is clearly out of control. The following table by Greg Bean shows the dollar value of Defence contracts versus spending by other government departments. Note the jump from 2015 to 2016.
Spending on defence went through the roof under the prime ministership of Tony Abbott. Not only is this government prepared to trash established procurement procedures, this is a spending spree of historic, unprecedented magnitude and transparency should therefore be increased rather than repressed.
The following table shows that seven years ago, defence spending represented just 22 per cent of all government spending on procurement. This year it stands at 71 per cent.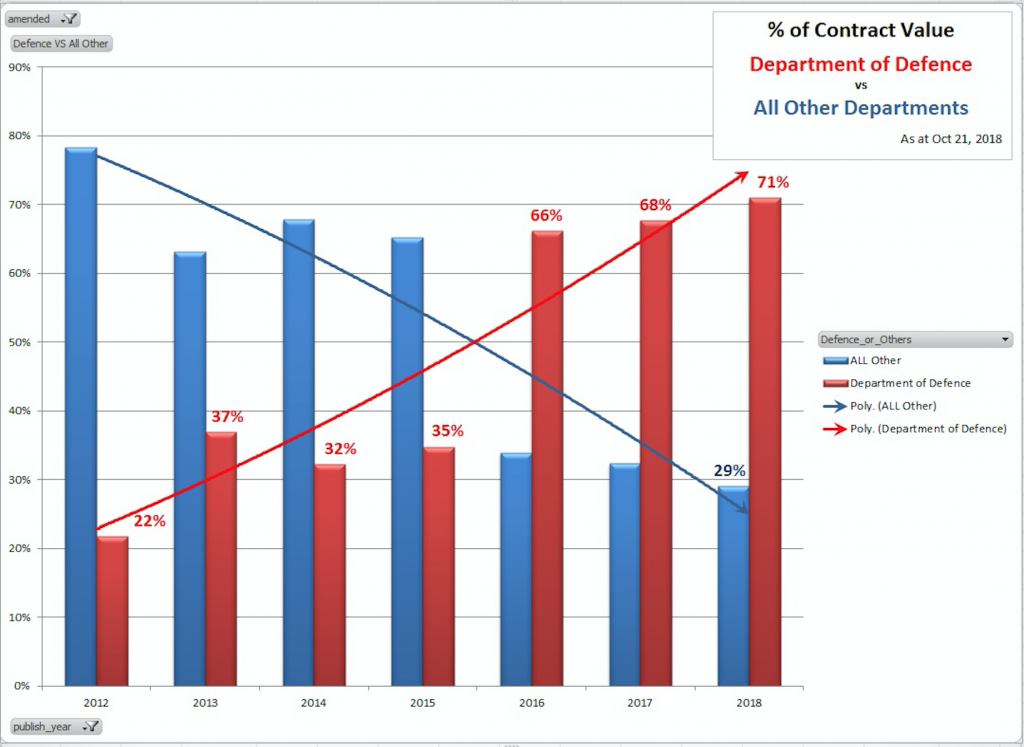 Further, all government spending with multinationals ought to be contracted with their local subsidiaries in this country rather than directly offshore so that tax can be paid on multinational profits.
Also, as well as being transparent, all procurement should be tendered. The rise in untendered contracts makes a mockery of good government in that it eliminates competition from the procurement process and inevitably leads to a blow-out in costs.
As for media reports concerning Thales, mentioned above, and the suggestion that money might have been saved if the deal had been struck with a US entity, a defence deal can be struck anywhere but the Department of Defence can still ensure the financial arrangements are made with the Australian subsidiary (all the weapons manufacturers have corporate entities here) so that tax is paid here on profits from arms sales.
Defence giants: the "Valley of Death" is really a Mountain of Money
Public support is vital so this website can continue to fund investigations and publish stories which speak truth to power. Please subscribe for the free newsletter, share stories on social media and, if you can afford it, tip in $5 a month.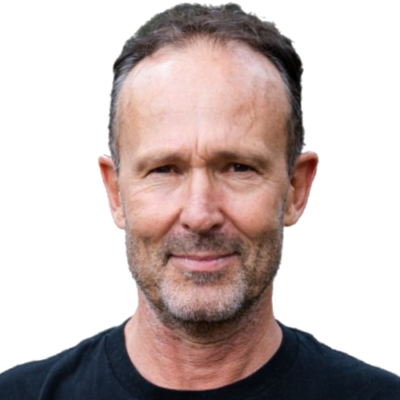 Michael West established Michael West Media in 2016 to focus on journalism of high public interest, particularly the rising power of corporations over democracy. West was formerly a journalist and editor with Fairfax newspapers, a columnist for News Corp and even, once, a stockbroker.