Rupert Murdoch, Dick Cheney, former CIA director James Woolsey, former US Treasury head Larry Summers, former US Energy Secretary Bill Richardson, hedge fund boss Michael Steinhardt and Jacob Rothschild have something in common. They are all on the board of oil and gas explorer, Genie Energy. Gas industry whistleblower Simone Marsh explores Rupert Murdoch's fossil fuel interests.
Psychological warfare, or psywar, is the use of propaganda against an enemy, supported by such military, economic or political measures as may be required. Such propaganda is generally intended to demoralise the enemy, to break his will to fight or resist, and sometimes render him favourably disposed to one's position. 
Psychological warfare, winning the "hearts and minds" of the civil population, has been integral to the climate war.
And Rupert Murdoch's News Corporation has been integral to the propaganda war; so much so that its Australian business has come under serious pressure this year amid anger over the coverage of the bushfires by major titles The Australian, the Herald Sun, Daily Telegraph, the Courier Mail and Foxtel's Sky News.
Overnight, Rupert Murdoch's son James publicly rebuked Murdoch's Fox News over its climate denialism. Last week, a senior executive, Emily Townsend, took the extraordinary step of going public to criticise her own media organisation for its "dangerous" coverage of climate change.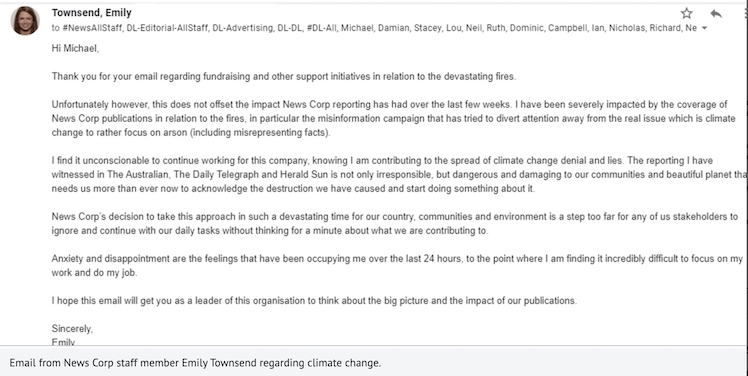 The cracks are appearing in Australia's most powerful media empire. The number of Murdoch workers defecting over the past year has rung alarm bells over News Corp's editorial bias — among them Malcolm Farr, Jon Kudelka, Dennis Atkins, Rick Morton, David Speers, Anthony Klan, Scott Murdoch, Stephen Fitzpatrick, Ben Butler, James Jeffrey and the latest, Emily Townsend.
Behind the propaganda
The Murdoch press has always been avidly in favour of fossil fuels and notorious for spreading doubt about the science of global warming. It is worth looking, therefore, at the formal links between Rupert Murdoch and the oil and gas sector.
For a start, News Corp companies in Australia have extensive commercial arrangements with multinational oil and gas corporations. They take big advertising dollars, although how big remains a secret. Their newspapers stage "roundtables" or corporate conferences at which journalists and executives mingle with fossil fuel executives. Yet, rival media Nine Entertainment and its Australian Financial Review masthead does the same.
Where News is different is in Murdoch's direct financial interest in oil and gas exploration in the Middle East, investments which also compromise New Corp's coverage of Middle East politics and Israeli expansionism.
Murdoch has aligned himself with fossil fuel interests globally via the American Australian Association (AAA), and Genie Oil and Gas. Genie oil and gas is a division of Genie Energy and has been involved plans to frack in Israel. Its big project now, however, is exploring for oil in the Golan Heights, which is disputed territory once controlled by Syria. 
In November 2010, Genie Energy, as a division of IDT Corporation, announced Rupert Murdoch and Lord Jacob Rothschild had each purchased equity stakes in Genie Oil and Gas, and would join Dick Cheney on Genie Energy's Strategic Advisory Board. The purchases were reportedly "equivalent to a cumulative 5.5% stake in Genie Oil and Gas Inc., which consists of IDT's interests in American Shale Oil, LLC.. and Israel Energy Initiatives, Ltd… for a total of $11.0 million dollars.
The CEO of Genie Oil and Gas is quoted as stating:
"Genie's success will ultimately depend, in part, on access to the expertise of the oil and gas industry and to the financial markets. Jacob Rothschild and Rupert Murdoch are extremely…connected to leaders in these sectors."
The comment suggests Murdoch's oil and gas connections were well established by this point in time.
In February 2013, it was reported that Genie Oil and Gas had been granted exclusive rights to drill for oil and gas, over an area of approximately 400 square kilometres, in the southern part of the occupied Golan Heights — "in a move that may stir up tension" with Syria. The Israeli capture of Golan Heights from Syria is not recognized under international law. Reports noted recent natural gas finds off the Israeli coast had made the country's gas reserves one of the largest in the world, predicting Israel would become a significant energy exporter.
In October 2019, PM Scott Morrison announced that Australian peacekeeping forces would be deployed to Golan Heights as part of the United Nations Disengagement Observer Force.
Prior to taking office, Dick Cheney was CEO of Halliburton — maker of hydraulic fracturing fluids for the gas industry. At Halliburton, Cheney assisted George W. Bush (whilst Governor of Texas in 2000) in his push to become the 43rd President of the United States. Cheney is regarded as instrumental to Bush's justification for the second Iraq War in 2003, alleging Iraq possessed 'weapons of mass destruction'. 
British gas CSG-LNG entry in Australia in 2010, via BG Group subsidiary QGC, was assisted by Ian Fletcher, a former diplomat and director of UK Trade and Investment. In 2009, Fletcher, who was privy to Iraq war documents in 2003, was appointed Director-General of the Queensland Government department responsible for issuing gas permits. The timing of the appointment coincided with BG Group's EIS process. Fletcher had worked as principal private secretary to Sir Andrew Turnbull – UK Cabinet secretary and head of the Home Civil Service during the Blair Government and the Iraq war. 
Lord Jacob Rothschild, an investment banker, has been a member of the Council for the Duchy of Cornwall for the Prince of Wales. Duchy income pays for activities of the Prince of Wales and the Duchess of Cornwall, and official offices of the Duke and Duchess of Cambridge and Duke and Duchess of Sussex. Rothschild was appointed Knight Commander of the Royal Victorian Order (KCRVO) in the UK's 2020 New Years Honors List — for services to the Princes Council.
On January 9, the Duke and Duchess of Sussex announced they intended to become financially independent and adopt a revised media approach to "engage with grassroots media organisations and young, up-and-coming journalists".
There'd been four Royal visits to Queensland between 2011-2014, as BG Group rolled out its gas fields. This period stands as an anomaly in the history of visits by our monarchs.
Cheney is thought to be behind the infamous 'Halliburton loophole', enabling the US oil and gas industry to inject hazardous contaminants into drinking water — unchecked. Halliburton is active in the Australian unconventional gas industry. Halliburton Australia Pty Ltd is listed as a major contractor to QGC — providing satellite, dewatering, storage and maintenance services. Kellogg Brown and Root Pty Ltd provide QGC with engineering consultancy services. KBR, a subsidiary of Halliburton until 2007, is a private military, petroleum and gas, engineering, construction and government services company headquartered in Texas. 
Disturbingly, a significant number of ex-military personnel popped up in unconventional gas industry activity in Australia. Multinational gas corporations are prominent in war zones. Military ties to fossil fuel interests may explain the failure of Prime Minister Morrison to call in the military to protect the lives and homes of Australia's people during the catastrophic bushfire emergency, until January. 
Lachlan Murdoch is a co-chair of the AAA Business Council in addition to his role running News Corp in Australia. Corporate members have included News Corp, Reserve Bank of Australia, JP Morgan, Bechtel, Conoco Phillips, Dow Chemicals, Chevron, Peabody, RioTinto, BHP, PwC, KPMG and Deloitte. Bechtel constructed all three LNG plants on Curtis Island in Queensland. The chairman of Bechtel, Riley Bechtel, was named honoree of the AAA in 2012. Australian Andrew Liveris, former head of giant Dow Chemicals (producer of fracking chemicals), was awarded honoree in 2017. Rupert Murdoch received the 2018 Honoree. 
Lachlan and Sarah Murdoch were guests at US President Donald Trump's state dinner for PM Scott Morrison in September 2019. Morrison later flew in for ash-sky Christmas drinks at Lachlan and Sarah Murdoch's Sydney mansion as the Australian continent burned on 5 December. News Corp personnel  Matthew Fynes-Clinton, Andrew Carswell and Thomas Adolf — have moved into the PM's office to perform the roles of speech writer, press secretary and advisor respectively. Morrison's Principal Private Secretary, Yaron Finkelstein, was the former CEO of lobbying firm Crosby Textor (C|T). 
(We have uncovered the hidden links between the world's biggest coal giants, industry group, lobbyists and powerful media organisations, as they work to influence our political decision-making at the highest level: right up to the office of the Prime Minister, Scott Morrison. Watch video below):
Founded by Sir Lynton Crosby and Mark Textor, the firm has lobbied for the powerful oil and gas association APPEA (in Queensland, NSW and WA), and been involved in conservative election campaigns in Queensland (Newman), the UK (David Cameron & Theresa May) and NZ (John Key). Queensland Senator James McGrath previously worked with Crosby Textor in the UK. Senator McGrath was appointed Assistant Minister to Prime Minister Malcolm Turnbull in 2015. A former editor of The Australian, Clive Mathieson, was Turnbull's top media advisor.
In December, Scott Morrison announced changes to the federal environment department and the appointment of Andrew Metcalfe as its head. Metcalfe was Deputy Secretary of the Department of the Prime Minister and Cabinet (2002 to 2005) during the second Iraq war, with specific responsibilities for the coordination of policy advice to then Prime Minister John Howard on international affairs and national security.
 Metcalfe, born in Toowoomba and a graduate in law from the University of Queensland, was Australia's Consulate-General to Hong Kong from 1989-1993. Penelope Wensley, also born in Toowoomba, was Australia's consul general in Hong Kong from 1986 to 1988 – prior to Metcalfe. Wensley was appointed Governor of Queensland in 2008 — coinciding with the beginning of the CSG-LNG entry period. 
Hedley Thomas, National Chief Correspondent at the Murdoch's publication The Australian, headed QGC corporate communications at the time BG Group's EIS was written. Thomas was born in Texas. His partner Ruth Mathewson was a communications advisor with BG Group during the entry period (2008-2014). Mathewson was previously the News Editor of the South China Sunday Morning Post (from Dec 1993) and Deputy News Editor of the South China Morning Post (Apr 1995 – May 1998) — a privately owned Murdoch publication from 1987-1990, based in Hong Kong. 
Murdoch's Chinese-born ex wife Wendi Deng was Vice President of Murdoch's Star TV in Hong Kong during this period. Deng met Murdoch in 1997 whilst in this executive role, and the pair were married for 14 years (1999-2013). The period of their marriage covered the gas-LNG entry period in Australia. It is unknown whether Mathewson and Deng are connected from this period with Murdoch media in Hong Kong.
Biased gas coverage – a personal experience
I met with the deputy editor of The Courier-Mail, Michael Crutcher, in late 2010 — to inform him regarding the unlawful CSG-LNG approvals process I'd witnessed in government. Crutcher attempted to obtain FOI documents, without luck at that stage.
In early 2013, I met with Hedley Thomas at the Brisbane office of The Australian, with FOI documents (obtained by activist Drew Hutton) in hand. Thomas explained he couldn't write an article as he had been involved in writing the BG Group/QGC EIS. Further he explained that his partner still worked for the company, and the couple attended barbeques with the gas company boss, Catherine Tanna, on weekends. 
The Courier-Mail, under the editorial leadership of David Fagan and deputy editor Michael Crutcher, printed a series of articles in late February 2013. In the weeks that followed, Fagan and Crutcher were axed. Fagan's replacement was Christopher Dore — the current editor-in-chief of The Australian.
The removal of Fagan and Crutcher also coincided with the replacement of the heads at the State's corruption watchdog — and occurred after the watchdog had received complaints of unlawful CSG-LNG approvals. The watchdog has refused to release its assessment report.
One evening, following Christmas 2013, I received an unsolicited message from The Courier-Mail's Des Houghton. I'd set up a Twitter account @kangabella to counter industry propaganda, however I was not using my name or bio at that time. Houghton attempted expose my identity by directing a tweet to the account using my name. Gas industry trolls also tweeted my home address on another occasion – presumably to intimidate and silence. Houghton continued his unsolicited tweets in 2014, with full knowledge that I'd been a whistleblower and an informant to his colleagues – John McCarthy and others – at The Courier-Mail. Coincidentally, McCarthy's brother, Mark McCarthy, headed BG Group's corporate communications and global digital campaigns during the period 2011-2014. Mark McCarthy now owns a wine bar in Portugal. John McCarthy has blocked the @kangabella account.
By the time I was called to give evidence at a federal Senate inquiry in November 2014, Houghton and the industry lobby group APPEA had blocked the @kangabella account. The Courier-Mail ran a story claiming no evidence of corruption had been given at the inquiry, however on the day of the hearing I was required by the Senate committee to give evidence "in camera" — at the last minute. Documents obtained under FOI – including Ian Fletcher's 12 May 2010 email to Queensland's Treasurer on behalf of BG Group – were redacted from my written submission to the inquiry. Queensland LNP Senators James McGrath and Matthew Canavan were present at the committee hearing. The Courier-Mail's photographer had taken my photo before the public audience was asked to leave the room. The Courier-Mail had received an FOI copy of Fletcher's email, but failed to either publish it, or quote the words used to describe how BG Group could bypass environmental laws: "Constitutional innovation" and "Court of star chamber". The general public remained in the dark, and the gas industry rolled on across rural Australia.
Rupert Murdoch's US empire siphons $4.5b from Australian business virtually tax-free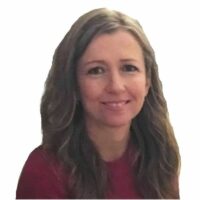 Simone Marsh was a senior environmental analyst with the Queensland Co-ordinator General. After filing her report on the environmental effects of the proposed LNG industry in June 2010, she walked out of her job and was not heard of again in the media until she testified as a whistleblower at the Queensland government parliamentary inquiry into Queensland government administration of Commonwealth government affairs in November 2014.