The Coalition's claimed "miracle" election win is looking decidedly hollow as more rorts surface in the media. Senator Bridget McKenzie took one for the team over the #sportsrorts and resigned her ministry. Jommy Tee uncovers yet another whopper — the Regional Growth Fund.
Question is: how systemic was the rorting and who besides the hapless McKenzie was involved? As this investigation shows, when it came to the eponymously-named  Regional Growth Fund (RGF) grants, certainly a cabinet sub-committee. Possibly the whole cabinet.
The RGF was announced as part of the 2017-18 budget with grants of $10 million or more for major transformational projects to "create jobs in regions, including those undergoing structural adjustment".
Unlike the other rorted grants programs, this one had a two-stage process. It involved a ministerial panel vetting the Stage 1 process and signing off on the applications that would proceed to the second and final stage of developing a full business case.
The guidelines of the program clearly stated:
"decisions on which Initial Applications progress to a Full Business Case will be made by a Ministerial Panel in consultation with the Australian Government's Investment, Infrastructure and Innovation Committee of Cabinet or Cabinet".
Applications for the RGF opened in March 2018 and closed late April 2018 — conveniently timed for a cash splash just before voters cast their votes for the 2019 election.
A staggering $272 million of grants were awarded — with 89% of them (16 grants worth a total $248 million) awarded just ahead of the election. Of that $248 million, Coalition seats snagged $234 million.
"Of that $248 million, Coalition seats snagged $234 million"
Marginal seats got a strong allocation with $134 million corralled by the marginal seats of Dawson; Pearce; Casey; Braddon; Capricornia; Herbert; Cowper; Page and Gilmore.
In the rare instance where grants were awarded to Labor-held seats, the same publicity modus operandi used in the #sportsrorts playbook was followed. The announcement was made by the local LNP candidate or LNP Senator — though the electorate was spared the novelty cheques this time. Sitting Labor members didn't get look in.
The RGF was cleverly designed from an electioneering point of view, enabling the local member/candidate to publicise their "role" in securing funding after a grant application had passed phase 1, and then milking publicity from the awarding of the grant, to grab that all-important sod-turning photo-op.
The best laid plans of mice and men can sometimes come unstuck so there was one comical hiccup. As part of their election commitments, Labor announced funding of $11 million for flood mitigation works in Katherine, NT. The gazumped Country Liberal Party candidate confirmed funding for the same amount just a few days later.
The ministerial panel knew what they were doing because a joint ministerial media release of 28 October 2018, announced the 16 projects to proceed to the next stage. As it turned out, 16 projects were announced in the lead-up to the election with a final two projects announced six months post-election.
The ministers named on the press rerelease were: Michael McCormack, Bridget McKenzie, Sussan Ley and Andrew Broad.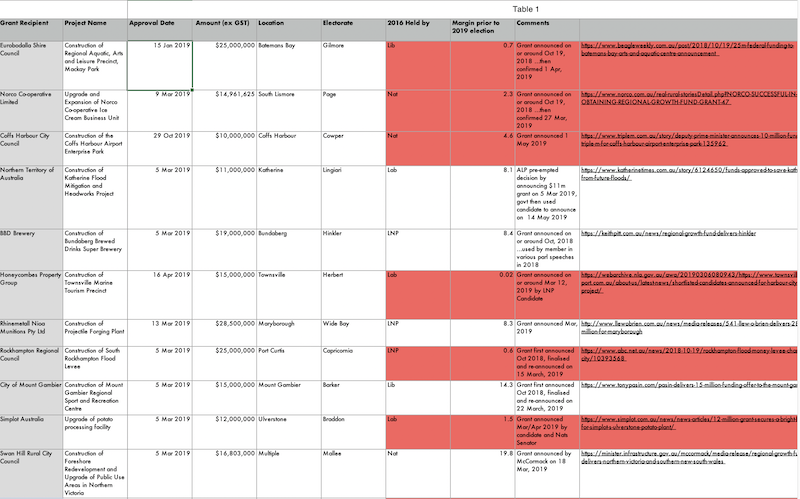 All manner of projects were funded ahead of the election: from a potato factory in Ulverstone ($12m grant) , an ice-cream factory in Lismore ($15m), a super brewery in Bundaberg ($19m) and a munitions factory project that involved Bob Katter's son-in-law in Maryborough ($28.5m).
And as Roy and HG used to say when too much sport is never enough: an aquatic centre in Batemans Bay ($25m); a country club in Mackay ($10m); and a Mount Gambier sports centre ($15m)  also got a look-in.
Tourism upgrades were also  popular: development of a marine precinct in Townsville ($15m), various local shire councils in the Yarra Ranges and Swan Hill getting grants ($$10m and $17m).
Occasionally, even necessary infrastructure was funded: flood mitigation in Rockhampton ($25m) and Katherine ($11m).
The majority of funding went to councils, but the big private sector winners were: Simplot Australia (potato factory); Honeycombes Property Group (Marine precinct development); Rhinemetall Nioa (a joint venture munitions factory involving Rob Nioa, Bob Katter's son-in-law); Bundaberg Brewed Drinks Brewery (brewery); and Norco (ice cream factory).
It certainly appears that when it comes to spending your money, the Coalition Government delivers the finest and most expensive suckling pig to their own electorates. The rest are lucky to score a few pork scratchings.
———————-
No response from Mitch Fifield as to why LNP electorates got bulk of media grants, incl 4 grants awarded in the Victorian seat of Mallee held by disgraced MP Andrew Broad #auspol https://t.co/5EqbeUiZC2

— 💧Michael West (@MichaelWestBiz) February 3, 2020
Public support is vital so this website can continue to fund investigations and publish stories which speak truth to power. Please subscribe for the free newsletter, share stories on social media and, if you can afford it, tip in $5 a month.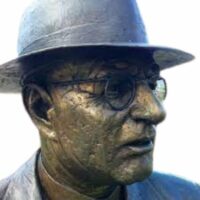 Jommy Tee is a long-time career public servant, having worked in the policy development field for 25+ years as well as an independent researcher interested in politics, current affairs, and Nordic noir.