Stuart Robert is one of the government's top money-men. The Liberal Party looks after him as he is a gun fund-raiser who bankrolls campaigns in marginal seats. He is also quite the Teflon Man, sailing from one scandal to the next: Rolex watches from the Chinese, outrageous home internet bills and unusually high office rents; water off a duck's back. Asher Moses reveals new documents which show ambiguous evidence to a Queensland corruption commission.
Assistant Treasurer Stuart Robert is a former Australian Army officer and internet entrepreneur, but it is his career in politics which has earned him a reputation as a Teflon man.
Having quit the front bench in 2016, after an internal investigation found he had shares in a trust linked to the mining company of a Liberal donor, Stuart Robert has proven a political Lazarus, resurrected to the ministry to take stewardship of the corporate regulator, the Australian Securities & Investments Commission, despite his other business interests being investigated by ASIC.
There was the Rolex watch scandal and lately the controversy over his high parliamentary expenses.
Perhaps the most interesting revelation however is Robert's sworn testimony to a Queensland corruption inquiry last year, an inquiry which was examining claims of misconduct in the Gold Coast local government elections.
New documents have come to light which cast doubt on the veracity of Robert's testimony to the inquiry about the nature of his fundraising vehicle, the Fadden Forum, a vehicle which he used to bankroll two of his longtime staff – Kristyn Boulton and Felicity Stevenson – to run as independents for Gold Coast council elections.
Robert is the LNP's best fundraiser in Queensland. He is a valuable money-man for the Liberal Party. One MP said the Fadden Forum was Stuart Robert's main source of power in the party. He is also a roommate of Prime Minister and fellow Pentacostalist Scott Morrison. Robert was a key supporter and numbers man for Morrison in the recent leadership spill.
Fundraising forums such as Fadden are often run by MPs in well-heeled seats such as that of Stuart Robert, according to Graeme Orr, Professor in the law of politics at UQ.
"Sometimes these are off-Broadway, with limited party oversight. If the MP's seat is safe, they don't need the money for their own campaign. But they can use it to wield influence within the party, by supporting factional mates to gain pre-selection or election,"  says Graeme Orr.
Enter property developer Sunland, which at the time of the 2016 Gold Coast Council elections was attempting to get council approval for its Mariner's Cove development, a project which lobbied to place twin 44-storey towers in a three-storey zone.
Knocking back the application for Mariner's Cove would be like rejecting the Sydney Opera House, lamented Sunland's founder Soheil Abedian.
Robert, who attended the launch of the controversial development, also wrote to Gold Coast City Council urging them to support it, even though it was outside his electorate. Sunland is a generous Liberal Party donor.
His political rivals accused Robert and the LNP of trying to secretly stack the Gold Coast council with pro-development candidates.
Robert said in his sworn testimony to the Queensland Crime and Corruption Commission (CCC), Operation Belcarra, last year that he organised for his fundraising vehicle Fadden Forum to donate $30,000 each to the campaigns of Councillor Boulton, who was elected, and Stevenson, who was not.
The chief lobbyist for Sunland, Simone Holzapfel, donated $114,000 to the Fadden Forum in 12 separate payments in 2013, at a time when she reportedly owed more than $430,000.
The furtive financing did not go entirely unnoticed however. Labor senator Jenny McAllister raised concerns in a Senate Estimates hearing that there may have been a "deliberate attempt to conceal the nature of the donor".
Holzapfel, whose firm Shac Communications helped Boulton and Stevenson with their campaigns, has repeatedly insisted the donations were personal donations from herself. There is no evidence to suggest otherwise.
Robert has spoken in Parliament several times in support of Sunland, including one speech where more than half the words were written by Holzapfel, who had previously worked for former prime minister Tony Abbott.
In the months after Robert delivered his speech, Sunland's boss donated thousands of dollars to the Queensland LNP. In a public forum, where Robert was questioned about his support for the development in light of the large  donations from Sunland's lobbyist, he said the question was irrelevant because the federal government didn't have any say in planning.
Robert, whose seat of Fadden is on the Gold Coast, said he organised the donations to Councillor Boulton and Stevenson, which accounted for the majority of the pair's campaign funding, to prevent Labor "getting a foothold" in his area, "which would make my job a lot harder".
"The Fadden Forum is the Liberal National Party," Robert said in his testimony. "All funds are banked in the Liberal National Party. I have no control over them whatsoever."
He said in his testimony the Fadden Forum existed to raise funds for the broader Liberal National Party and this was made clear to all donors.
Professor Orr said laws governing MP resources forbid incurring office expenses while soliciting financial support for MPs or their party
"That's made well clear to those that seek to donate; that it's not only for my re-election but also for the re-election of those in the wider Liberal National Party fold."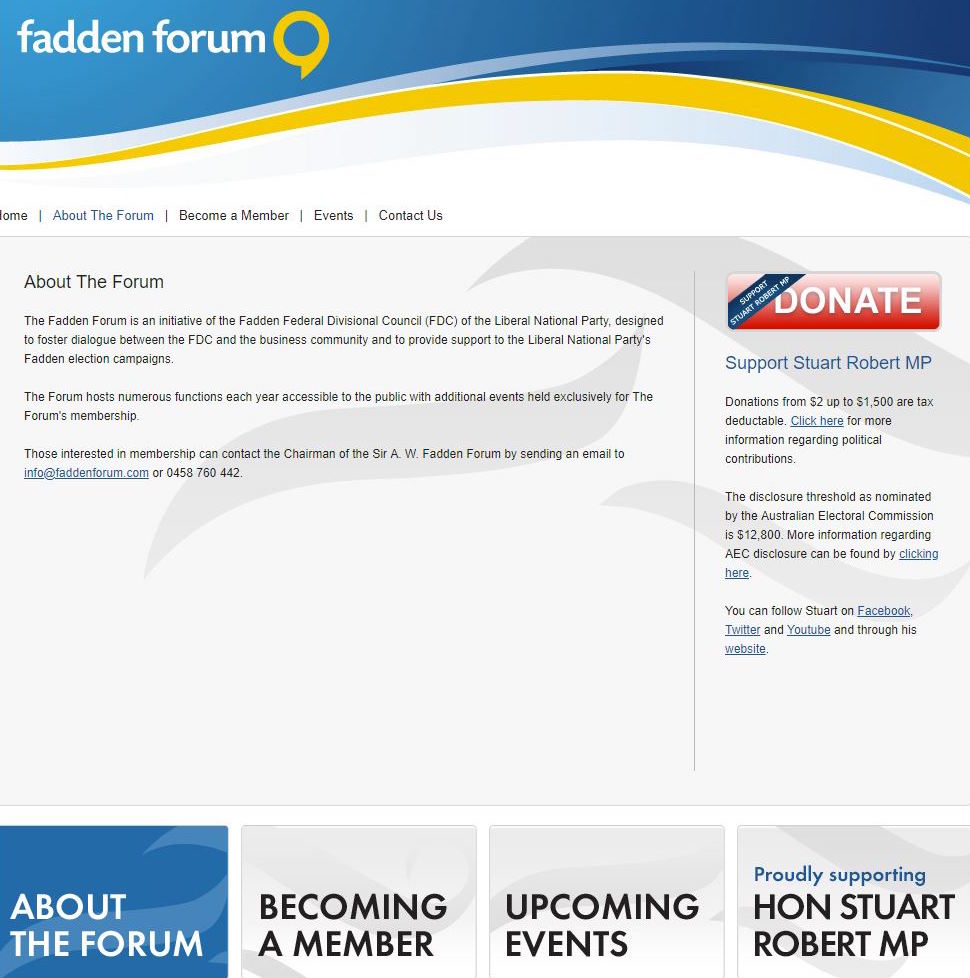 This is where things get interesting. The Fadden Forum website was taken offline before Robert gave evidence to the CCC. However, archived versions of the website show it was online at least as late as April 2016, with a large red "Donate – Support Stuart Robert MP" button on the front page as well as an About page with multiple references to "Support Stuart Robert MP" and text stating it was for LNP's "Fadden election campaigns".
An analysis of the archived snapshots of the Fadden Forum website shows that it appears to have been tweaked between November 2014 and August 2015 to add a "Proudly Supporting Hon Stuart Robert MP" button on the front page which is in addition to the big red donation button.
The Fadden Forum website does not mention that funds would be used to support other candidates; and it leaves the distinct impression the donations are for Robert's campaign only.
Robert told the CCC the way the Fadden Forum raised funds from donors was via a membership fee ("generally $1000 a month"), and that the membership application made it plain the fundraising was for the broader LNP.
He said Boulton and Stevenson, who did not disclose their Liberal links until after the poll, were not involved in the fundraising or handling of membership applications despite their long tenure in his small office.
However, it can now be revealed that a "2009-10" Fadden Forum membership form offered three tiers of membership – Individual Member ($300), Corporate Membership ($1500) and Business Sponsor ($7500) – with cheques to be made out to the "Fadden Campaign Account" – and payments forwarded to what was at the time Robert's electorate office address: 5 Cottonwood Place, Oxenford, QLD (the Fadden Forum website's registration details still include this address as well as Robert's parliamentary email address).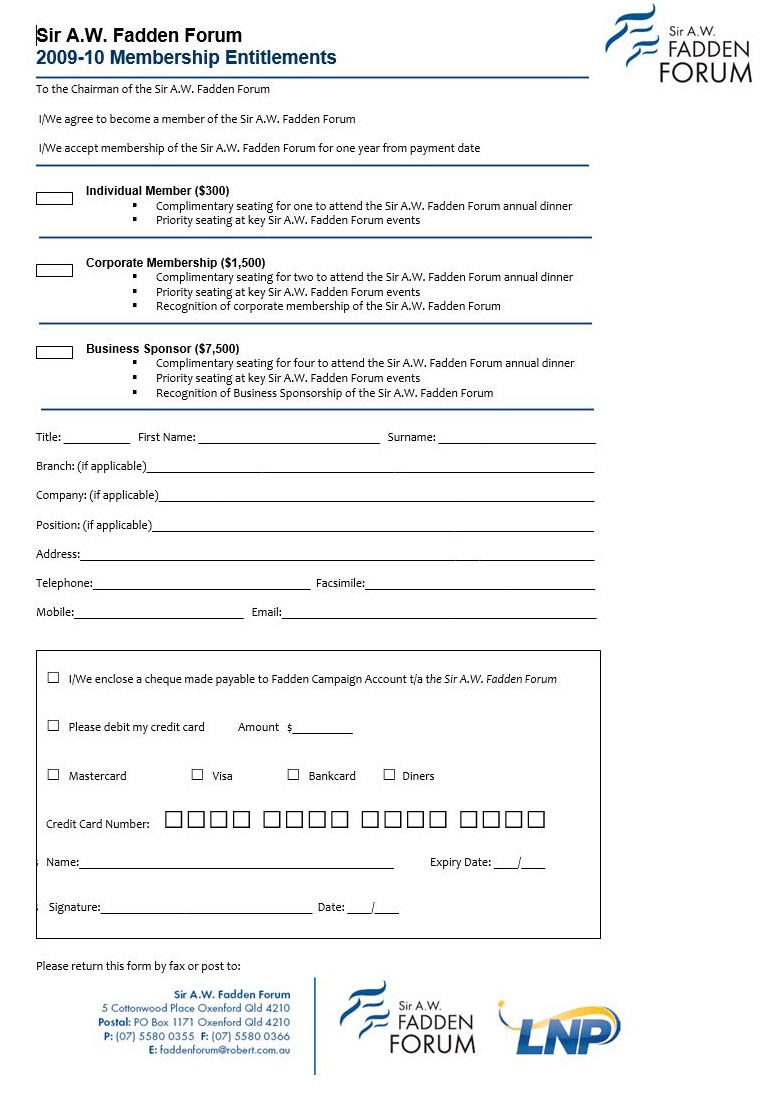 Professor Orr said laws governing MP resources forbid incurring office expenses while soliciting financial support for MPs or their party. He said MPs are held personally accountable to see that public resources are used properly and may be required to repay improper spending plus a 25 per cent loading/penalty.
Nowhere in the many archived versions of the website researched for this story, or the membership form, does the Fadden Forum make clear that the donations are to be used more broadly for LNP purposes.
"We've renamed it The Forum now … because we do so much more fundraising outside of the electorate," Robert told the CCC. "The Fadden Forum is a reasonably large fundraising house and it fundraises right across the country."
In ticket pre-sale offer for a $550-a-head Fadden Forum fundraising dinner, which was mailed out to Jubilee Primary School, "Fadden Forum Advertising Sponsors" logos were featured including Sportsbet and Virgin Australia.
Robert told the CCC he did not speak to Cr Boulton and Stevenson during the campaigns but social media postings reveal he was involved with launching Cr Boulton's campaign. Robert said he earlier told the pair he was going to seek funding for their campaigns from the Fadden Forum and that they would have known what the Fadden Forum's business was.
Robert directly contradicted testimony from Boulton who claimed she didn't know her successful election campaign was funded by the LNP. According to Robert's testimony, Boulton knew the Fadden Forum PO Box address off the top of her head.
While the CCC's jurisdiction is limited to state matters it has strong powers and takes the quality of evidence at its hearings very seriously. One person who gave evidence at the same inquiry, Operation Belcarra, was charged with perjury.
"Individuals who knowingly give false testimony at a Crime and Corruption Commission (CCC) hearing in relation to a matter that is material to the hearing can potentially face a charge of perjury, an offence outlined in section 123 of the Queensland Criminal Code," a CCC spokesman said.
Expense claims don't add up
Robert announced earlier this month that he was immediately paying back almost $38,000 in internet charges he had billed the taxpayer, which appears to have ended an investigation into the internet fees by Special Minister of State Alex Hawke, who would not comment on whether the cause of the excess internet charges were examined.
Robert spent $239,493.27 on "printing and communications" expenses between July 2017 – June 2018; of that, $71,318.15 was classified "e-material". E-material includes things like website costs, digital advertising and content production, like this flashy Facebook video of Robert promoting a seniors expo, complete with drone footage, graphics and cutaways.
Even when he was a backbencher in the October to December 2017 quarter, Robert's printing and communications expenses were $107,848.99, more than any other MP including the prime minister. These printing costs are also unusually high for someone in a safe seat.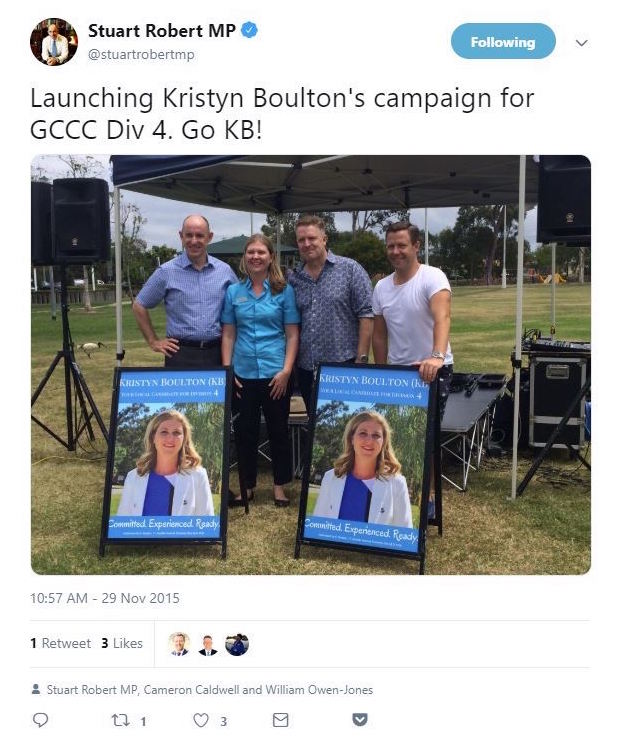 One current Labor MP who spoke on condition of anonymity said the high e-material expense appears to be due to Robert hiring photographers and video producers for his social media profiles, with a continuous stream of content such as the aforementioned drone video, an interview with former foreign minister Julie Bishop and a video of tiger cubs at Dreamworld.
"He clearly spends a bomb on Facebook advertising – his reach is bizarrely high," the Labor MP said.
It is unclear why the overall printing expenses are so high, however, recent investigations have shown Liberal politicians giving large printing contracts to firms owned by major donors.. One of those caught in the crosshairs is Hawke, who was nonetheless tasked with investigating Robert's internet bills.
Office rental mystery
Then there is the mystery of Robert's unusually high rental payments. Robert expensed $59,590.75 for office facilities in the April to June quarter this year, a steep rise on the previous four quarters which each had office facilities expenses well under $30,000.
According to planning documents, Robert's office is 467 square metres. Another unit leased in the same complex was advertised for just under $285 per square metre plus GST & outgoings, which makes the market rate for Robert's office an estimated $12,000 a month plus outgoings.
Robert also spent almost $17,000 of taxpayer money on "personalised letterhead stationary" during the final weeks of the financial year, which the ABC reported was more than five times the typical spend for an MP.
The Department of Finance, which oversees expenses, refused to comment on whether it would be investigating Robert's expenses or if it had approved the large increase in office facilities cost.
Corporate regulator investigation
ASIC told a parliamentary committee in September last year it was investigating Robert's business interests after revelations Robert had only offloaded shares in his IT services business, GMT, in 2010, three years after being elected to Parliament.
The company won more than $37 million in government contracts between 2007 and December 2011 from more than 45 government agencies, Fairfax Media reported.
Robert transferred his business interests prior to the 2010 election into the names of his elderly parents; his father told Fairfax Media this was done without his knowledge. Robert International Ltd owned shares in GMT until the end of 2011, despite claims from Robert he had "ceased involvement" with GMT before the 2010 election.
ASIC made initial inquiries but did not proceed to a formal investigation, telling a parliamentary inquiry in October last year there was not "sufficient evidence" Robert made his parents directors without their knowledge due to questions over the "competence" of Robert's parents' recollections owing to "health issues".
"The lodgements occurred in 2010, so there's a statute issue in terms of limitations around that," said ASIC's senior executive leader for assessment and intelligence, Warren Day. "Stuart Robert removed himself from a whole range of directorships at those times. Another person was appointed."
Robert, who confused debt and deficit in a live TV interview in September, now has oversight of ASIC as part of his treasury portfolio.
Concern over other business links
Robert quit the Turnbull ministry in 2016 after it emerged that he attended a signing ceremony in China for a deal between a Chinese business and Nimrod Resources, a company to which he and the Liberal Party were financially linked. Robert had claimed he travelled in a personal capacity, which contradicted advice from the Department of Foreign Affairs and Trade that Chinese officials believed they were meeting Robert in an official capacity.
The executive chairman of Nimrod Resources, Paul Marks, who had donated hundreds of thousands of dollars to the Liberal Party, was reportedly present at a 2013 function held by Robert with a Chinese billionaire Li Ruipeng, who handed out $250,000 in mainly Rolex watches to MPs in attendance including Robert, Tony Abbott and Ian Macfarlane (he also gave a $23,000 Cartier watch to a Queensland state government minister).
The watches, which Robert claimed he thought were fake, were subsequently returned.
Earlier this month, The West Australian reported that Robert was only removed as a director of alternative health business Cryo Australia following queries from the newspaper, after Robert had told parliament he had already sold his shares. ASIC said last week it would be making inquiries into the matter.
Former Federal Parliamentary speaker, Peter Slipper, who faced legal action over his expense claims, said he believed Robert was being protected from the legal process.
Don't forget I was found not guilty in court! It seems that Stuart Robert has been protected from the legat process and not have to face a court -equivalence of treatment? #auspol #ashbygate https://t.co/5DYo66Cpkg

— Peter Slipper (@PNSlipper) October 12, 2018
Robert's wife Chantelle is a pastor at the Metro Church on the Gold Coast and the church's website advertises Stuart and Chantelle as hosts of a $5600 per person trip to Israel scheduled for next year.
The church is also affiliated with the training organisation Metro International Leadership College. Robert claims on the pecuniary interests register to have no other substantial sources of income.
In his first speech to Parliament following his election in 2007, Robert spoke of his desire to "ensure that this place governed for all Australia and not just for sectional interests".
There is no suggestion that any of the people named in this article broke the law or committed any wrongdoing. Robert, Morrison and Hawke declined to comment in response to a series of detailed questions.
A recent update to his Pecuniary Interests Register shows Stuart Robert has begun the process of putting all his investments into a blind trust.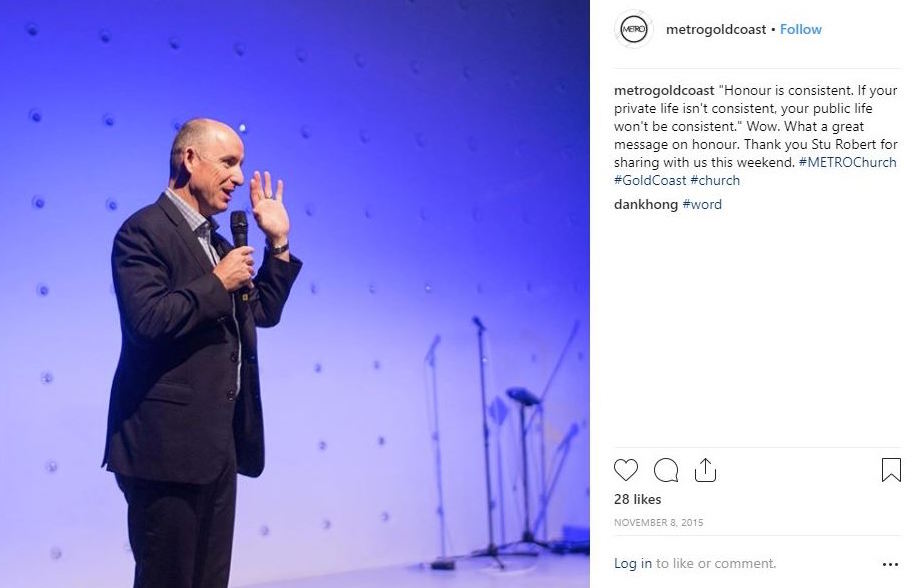 ——-
Public support is vital so this website can continue to fund investigations and publish stories which speak truth to power. Please subscribe for the free newsletter, share stories on social media and, if you can afford it, tip in $5 a month.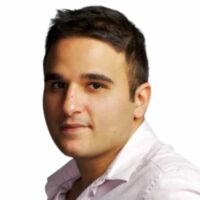 Asher Moses is a former SMH/The Age technology editor. He twice won the Walkley Young Australian Online Journalist of the Year award in 2008 and 2011 and was a finalist for Best Digital Journalism in the 2012 Walkley Awards.