Federal and state funds for bushfire recovery have been heavily skewed in favour of state Coalition seats with NSW State Labor picking up just 1% of $177 million handed out. Elizabeth Minter investigates how a fast-tracked fund with no name directed grants to the timber industry, coalition donor Visy and community infrastructure that was not in accordance with project guidelines. 
The federal Labor electorate of Macquarie was devastated economically by the 2019-2020 bushfires. Macquarie comprises predominantly the state electorates of the Blue Mountains, held by Labor MP Trish Doyle, on a huge 64.9% two party preferred vote, and the state electorate of Hawkesbury, held by Liberal MP Robyn Preston.
At least 80% of the Blue Mountains world heritage area and more than 50% of its Gondwana world heritage rainforests were burned. An estimated 2,600 jobs and $560 million in turnover was lost. And according to the National Bushfire Recovery Agency, the Blue Mountains economic loss was twice that of Hawkesbury's – some $66 million compared to $33 million.
In the recent round of $177 million funding from the federal and NSW Coalition governments for bushfire recovery, Hawkesbury communities were awarded grants totalling $4 million. The Blue Mountains received nothing.
Macquarie MP Susan Templeman said: "While Macquarie suffered terribly, economically, it is disgraceful for the NSW government to play politics with bushfire recovery money in this way."
This Thursday (January 28) applications close for community grants under the widely advertised $250 million Bushfire Local Economic Recovery Fund, with funding provided by the federal and state Coalition governments. The process opened on October 27.
What was never advertised was the $177 million stream of bushfire funding. The first the general public and NSW Labor and the Greens knew of this funding by the federal and state Coalition governments was when federal Agriculture Minister David Littleproud and NSW Deputy Premier John Barilaro announced on November 2, 2020, that 71 projects in NSW had been 'fast-tracked'.
According to the joint media release from Minister Littleproud and John Barilaro, projects fast-tracked were:
Known priority, community and industry recovery projects such as the 71 projects identified by the NSW Government and agreed to by the Commonwealth Government, following local and industry consultation.
Just exactly what comprised this local and industry consultation?
Roughly $10 million in grants went to industry, primarily the NSW Farmers Association, the Dairy Research Foundation, the NSW Wine Industry Association and research projects at the University of Sydney. None of these projects could be associated with a specific state electorate according to analysis of the projects by MWM.
As for local consultation? According to Blue Mountains Labor MP Trish Doyle, not a single NSW Labor electorate was asked to put forward projects to be considered for grant funding. She says she wasn't contacted by anyone asking if her electorate had any vital rebuilding projects despite knowing of more than a handful of 'shovel-ready projects' desperate for funding. The first she knew of the $177 million stream of funding was reading about it in the media.
Nor were the Greens contacted about putting forward any potential projects, according to its state MP for Ballina Tamara Smith. The tourist meccas of Ballina and Byron were also hit extremely hard by the bushfires. Smith holds Ballina, which incorporates Byron, with a comfortable 55.4% of the two-party preferred vote. The first Smith knew about the funding was when she read about successful grants in the media.
There was money for the Labor (marginal) seat of Lismore, which Janelle Saffin won from the Nationals in an upset at the 2019 NSW election. Some $2 million went to two timber industry projects in Kyogle. Again, Saffin says she was not contacted regarding putting forward any shovel-ready projects, despite knowing numerous excellent candidates.
Of the $177 million funding, just this $2 million (1.1%) went to state Labor seats; no money went to the Greens.
Meanwhile, manna dropped from heaven for Coalition-held state electorates, with funding even given to projects that didn't have business plans, despite a condition of the fast-track grants, according to Barilaro, that they be "shovel ready".
It seems the local consultation took the form of informal discussions, with the NSW Coalition government asking councils and various organisations if they had, for example, any unfunded grant applications. Possibly state Coalition MPs were asked if any groups in their electorates wanted funding for projects.
Take, for example, the $2.7 million fast-tracked grant for a roundabout at Shores Drive in Yamba in the NSW state electorate of Clarence, held by Nationals MP Mr Chris Gulaptis.
The local newspaper, the Clarence Valley Independent, reported that when it asked to see a copy of the council's bushfire recovery application for the roundabout, the general manager of Clarence Valley Council, Ashley Lindsay, said "There wasn't one."
We were asked to provide shovel-ready projects [that] we already had; I guess our application would have been the application we made for the funding for the three roundabouts [in Yamba] on Yamba Rd.
Mr Lindsay said that when the NSW government asked Clarence Valley Council to nominate a project, "we didn't know what it was for".
"We were asked by the state government, do you have any shovel-ready projects that can help with stimulus of the local economy, [and] that was the one we put forward."
Mr Lindsay told the Independent the $2.7 million grant was "probably" pork barrelling.
Just under $37 million (or 20% of the pot of money) was awarded to the state electorate of Clarence held by the Nationals. At the 2019 state election, the Shooters, Fishers and Farmers party's Steve Cansdell recorded a huge 16.8% swing. The Nationals Chris Gulaptis suffered a 3.9% swing against him.
The state electorate of Wagga Wagga was awarded grants totalling more than $43 million (22% of the total funding awarded), including $12.5 million to upgrade the Tumut Aerodrome. This also included two grants of $10 million each to Visy in Tumut.
MP for Wagga Wagga, the Independent Dr Joe McGirr, first won the seat in the 2018 byelection following the resignation of the disgraced Darryl Maguire. In the 2019 NSW election McGirr built on his lead and recorded a massive 28.4% swing to defeat the Nationals.
Fast-tracked projects
Fast-tracking projects meant there was no need for any of the projects to have a business plan. Take the $5.3 million for a 33-kilometre Coastal Trail linking the headlands and beaches of Batemans Bay's southern shores that was given to Eurobodalla Shire Council, in the state electorate of Bega, held by the Liberals Transport Minister Andrew Constance.
In a letter  to a local residents group, the general manager of Eurobodalla Shire Council confirmed a bushfire grant application had not been submitted:
While Council did not officially submit an application for funding for this project [Batemans Bay Coastal Headland walk] under the Bushfire Local Economic Recovery fund, the Government was aware of this project.
A May 2019 feasibility study prepared by consultants for the shire council noted that the coastal trail project had no route, no costings, no business plan and no evidence of consultation with the community. The trail was only notionally endorsed by shire councillors one month after the funding announcement.
Without a route, could the trail really be described as "shovel ready"?
On November 27, John Barilaro extended by 12 months the date by which all Bushfire Local Economic Recovery projects had to be completed – from June 2022 to June 2023.
Coalition MPs in the know?
It appears that plenty of Coalition state MPs were in the know about this side stream of $177 million in funding.
Days, even weeks, before the official announcement on November 2, 2020, of the fast-tracked projects, a number of Coalition MPs announced to their electorates that projects had won funding.
Nationals MP Stephen Bromhead
On October 15, 18 days before the official announcement, Nationals MP Stephen Bromhead gave his electorate a heads-up that they would soon be sharing in some of the spoils of the bushfire recovery money, stating in a media release:
Bushfire impacted businesses and communities in Myall Lakes will soon receive support for local infrastructure and initiatives to drive economic recovery, thanks to the $250 million Bushfire Local Economic Recovery Fund, co-funded by the state and federal Governments.
Bromhead represents Myall Lakes, which covers Taree. Some $8.25 million was awarded in fast-tracked grants project to expand and refurbish Taree's Saxby Stadium.
Liberals Angus Taylor and Wendy Tuckerman
Ten days before the official announcement, federal Liberal Party minister Angus Taylor and his NSW Liberal state colleague Wendy Tuckerman announced on October 23 that their electorate of Goulburn had won a $2 million grant to extend the walking track alongside the Wollondilly River.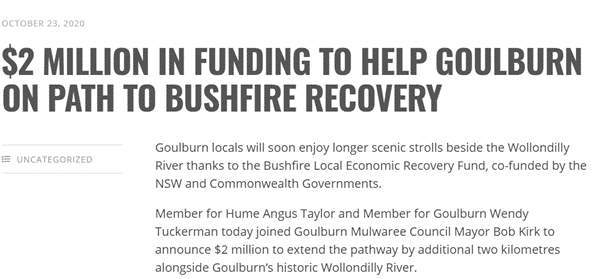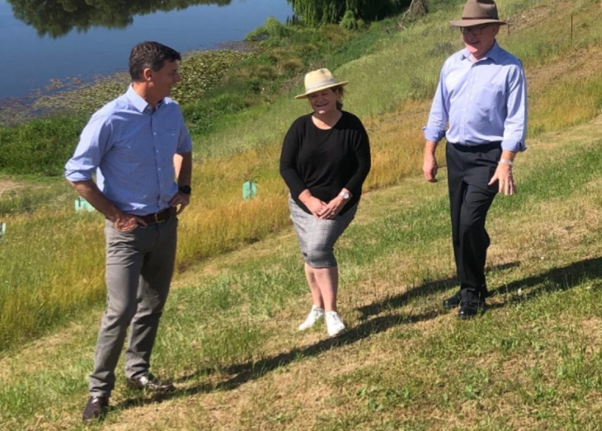 Nationals MP Adam Marshall
Seven days before the official announcement, NSW Nationals MP for Northern Tablelands Adam Marshall told his electorate that two projects had won funding.
More than $3.8 million to upgrade recreation and commercial infrastructure at the Dumaresq Dam. The local paper the Armidale Express also reported the grant win that same day – October 26.
$5 million for a rebuilding and refurbishment at the Livestock selling centres in Armidale and Guyra.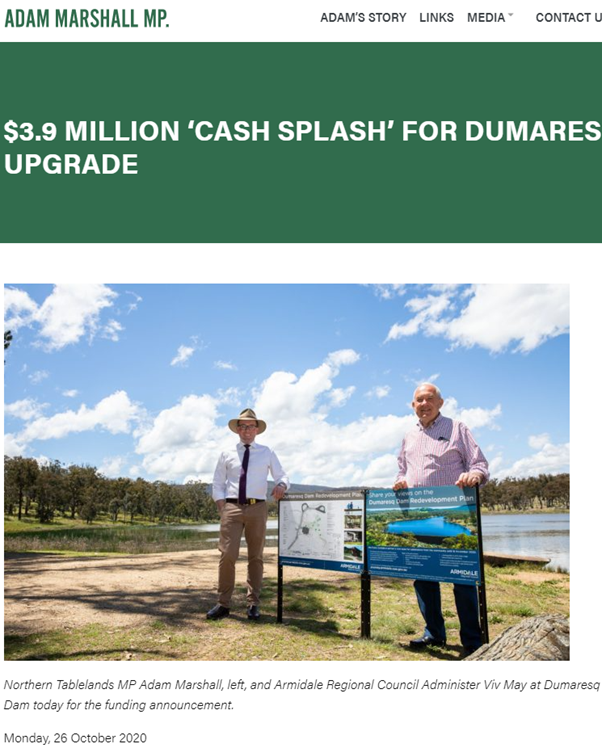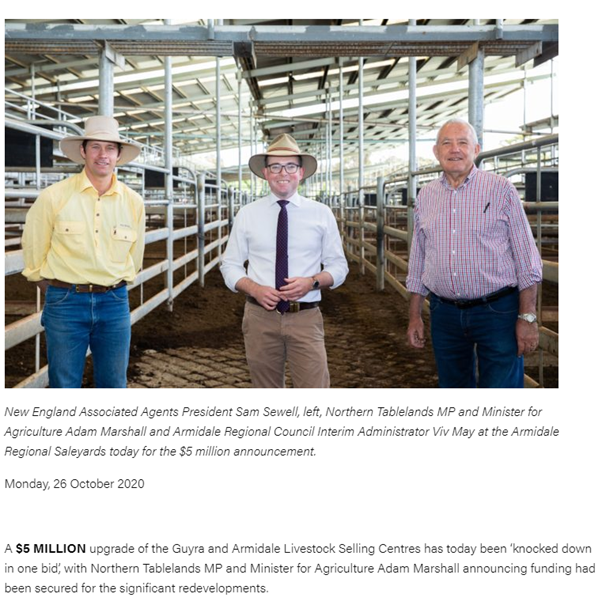 Nationals MP Melinda Pavey
Six days before the official announcement, NSW Nationals MP Melinda Pavey announced a grant of more than $11 million for a Skydiving Adventure Park in the Macleay Valley in her electorate of Oxley.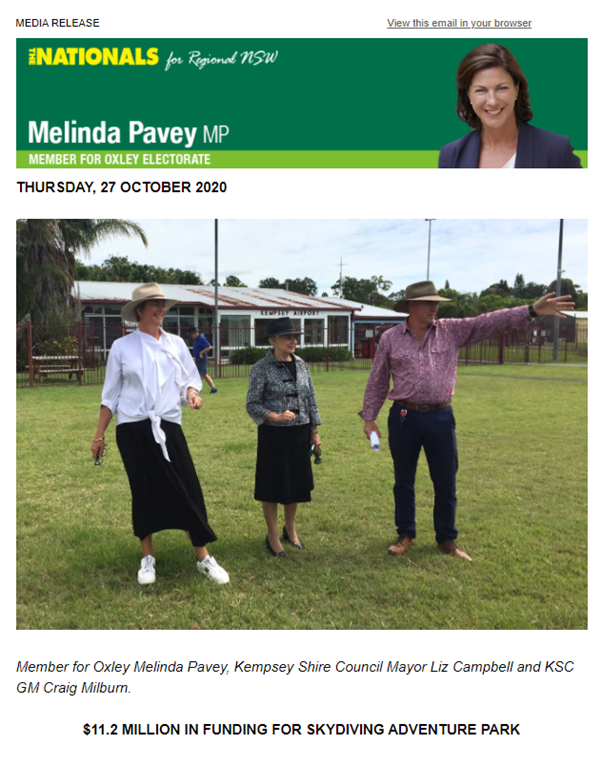 Nationals MP Paul Toole
That same day (October 27), Nationals MP Paul Toole, the NSW Lands and Racing Minister, and member for Bathurst announced a $1 million BLER grant for a Farmers Creek project in Lithgow.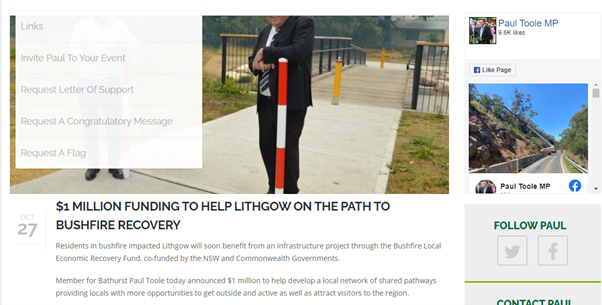 Nationals MP Kevin Anderson
Kevin Anderson, the NSW Minister for Better Regulation and Nationals MP for Tamworth, announced a $1.1 million grant to fund the refurbishment of Walcha's swimming pool.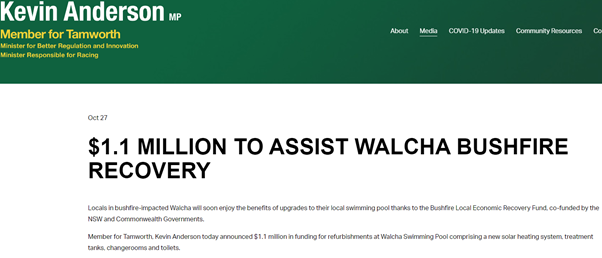 A full list of the 71 fast-tracked projects is available here.
Other analysis by MWM shows that more than $38 million of the $177 million in fast-tracked grants (22%) went to the NSW timber industry. Manufacturing giant Visy was awarded a $10 million grant for timber projects.
It seems the public, the media and the state and national Audit Offices should be keeping a close eye on how the widely publicised $250 million Bushfire Local Economic Recovery funds are doled out.
---
Editor's Note: No doubt many of the projects which received money from this funding are valuable community projects. The failure of the program is that the funding was skewed politically, with Labor and Greens state electorates receiving virtually nothing.
This article originally stated that two $10 million grants went to Visy. It has been amended to say that one $10 million grant went to Visy after the government clarified information on its project approval list.
This article originally stated that $25 million of the $177 million in fast-tracked grants (14%) went to the NSW timber industry.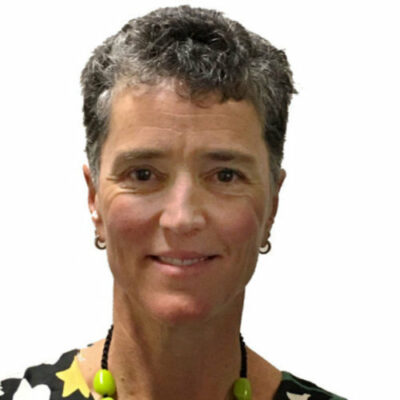 A 30-year veteran of the mainstream media, Liz was the editor of Michael West Media until June 2021. Liz began her career in journalism in 1990 and worked at The Age newspaper for two 10-year stints. She also worked at The Guardian newspaper in London for more than seven years. A former professional tennis player who represented Australia in the 1984 Los Angeles Olympics, Liz has a Bachelor of Arts and a Bachelor of Letters (Hons).