Andrew Forrest and Mukesh Ambani, the richest men in Australia and India respectively, have just gone public with renewable energy deals on a scale previously unthinkable. As the Coalition ramps up its fossil fuel subsidies, Tim Buckley unpacks the staggering foray by Fortescue Future Industries into green hydrogen and Reliance Industries into solar.
The world is facing an urgent global climate crisis yet political leadership and action is constantly impeded by private vested interests sowing delay and disinformation.
Fossil fuel industry unicorn terms like carbon capture, use and storage (CCUS), carbon-neutral fossil fuels, clean coal, renewable gas and blue hydrogen are deliberately bandied about to confuse the public that somehow burning more coal, methane gas, enhanced oil recovery and fossil fuel-derived hydrogen is a solution to reducing emissions.
In the absence of government leadership, will billionaires act to deliver a global solution at the scale and speed needed?
It sounds too good to be true but the actions of two of the richest men in Australia and India over the last two days suggest otherwise, particularly when combined with the tsunami of asset reallocation being seen in global capital markets.
It appears that Reliance Industries' Mukesh Ambani and Fortescue Metals Group's Andrew Forrest have drunk the same cool-aid as BlackRock's founder Larry Fink.
When the richest man in India elaborated on his firm's net-zero emissions by 2035 pledge in June this year, the parallels with Andrew Forest's net-zero emissions by 2030 (scope 1 & 2) and by 2040 (for scope 3) for Fortescue immediate came to mind.
Accelerating capital flight
While the usual scepticism is entirely required when considering these pledges, in my experience with the investment world, actions speak far louder than words.
In a landmark moment in April 2021, the global financial industry made a pledge to invest in alignment with a 1.5°C trajectory (with interim 2030 targets) as part of a new net zero emissions by 2050 alliance. By September 2021 the Glasgow Financial Alliance for Net-Zero had collective assets under management of a staggering US$90 trillion (five times the size of U.S. annual GDP by comparison).
It is risky to bet against this weight of money accelerating capital flight into zero emission solutions, and away from stranded assets from fossil fuels. Too risky for the world's largest financier of fossil fuels it seems, with JPMorgan Chase announcing on 9 October it had joined the Net-Zero Banking Alliance, the banking element of the Glasgow Financial Alliance.
This followed the Bank of China's pledge to immediately cease overseas financing of new coal just one week before, building on President Xi Jinping's announcement to end international development of coal two days earlier. The Bank's new policy became one of 72 new or improved formal coal exit policies announced by institutions around the globe in 2021 to-date.
Giga-deals a game-changer
The net zero emissions by 2035 pledge by Reliance Industries, controlled by Mukesh Ambani, the richest man in India, could be profound given the phenomenal success of the group in commercialising new breakthrough technologies and building Indian industry giants at a truly fast pace.
Reliance Industries pulled off a staggering US$44bn equity raising in the middle of COVID-19 in order to be financially secure. And the financial market assessment is in: Reliance Industries share price is up fivefold this last decade, more than doubling the Indian stock market index in this period.
Yesterday, Reliance Industries announced the agreed US$771m acquisition of REC Solar, a global scale solar module manufacturing pioneer founded in Norway. This will immediately give Reliance Industries the management capacity necessary to underpin one of its four proposed gigafactories already under construction at its Dhirubhai Ambani Green Energy Giga Complex on 5,000 acres in Jamnagar, Gujarat, with a near term target of 9 gigawatts (GW) of annual module manufacturing capacity globally.
Separately, Reliance Industries announced an agreement to acquire a potentially controlling 40% stake in Sterling and Wilson Solar, one of the world's leading EPC (engineering, procurement, construction) players. Founded in India, Sterling and Wilson listed on the Indian stock exchange in 2019 but immediately ran into crippling credibility issues due to the growing financial distress of its promoter, Shapoorji Pallonji & Co group.
When these investments are combined with the August 2021 move to invest US$50m in leading energy storage technology company Ambri Inc of Massachusetts U.S., it is clear that Reliance Industries is in the early stages of reinforcing its business strategy of being a massive disruptor-at-scale in key new industries of the future.
Forrest for the trees
Meanwhile in Australia, Andrew Forrest's Fortescue Future Industries (FFI) has announced numerous (as yet non-binding) memorandums of understanding (MoUs) from around the globe as part of its world-leading investment of US$400-600m in 2021/22 alone in research, development and deployment of breakthrough hydrogen technologies spanning green ammonia for shipping, hydrogen fuel buses, and green iron to accelerate decarbonisation of the global steel industry. Last week Fortescue Chief Executive Officer, Elizabeth Gaines announced a scope 3 net zero emissions by 2040 pledge.
Over the weekend, FFI announced plans in conjunction with Queensland's Premier Annastacia Palaszczuk to build the world's largest (to-date) green hydrogen electrolyzer manufacturing plant, with a proposed 2 GW of annual capacity at Gladstone, leveraging the state's impressive action to deliver on its 50% renewables by 2030 target. This is a tenfold expansion on the world's largest operating manufacturing plant, echoing similar capacity expansions in Norway, France and the UK, and most likely China given the country's plan for 100GW of green hydrogen capacity by 2030.
This was followed up today with a second announcement that FFI, in partnership with Incitec Pivot, would build a 50,000 tonnes per annum green ammonia electrolysis facility onsite at Incitec's Gibson Island ammonia nitrate facility in Brisbane, Queensland.
Andrew Forrest has previously indicated that green energy is likely to be a multi-trillion dollar annual industry in the medium term, so the investment opportunities are nothing short of staggering.
Both Reliance and Fortescue are realising the huge investment, employment, import replacement and export opportunities in zero emissions industries of the future, both for India and Australia.
They look to be leading the way, fully supported by global financial institutions increasingly seeking to deploy trillions of patient capital in low volatility non-commodity price exposed zero emissions energy sources of the future.
A billionaires' self-interest in the pursuit of unprecedented multi-trillion dollar investment opportunities may just be the key to unlocking and commercialising new technologies at the transformational economies of scale needed to solve the climate crisis.
We definitely can't wait for politicians to do so.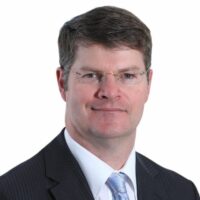 Director of Energy Finance Studies, Australasia, Tim Buckley has 25 years of financial markets experience, specializing in equity valuation, including as a top-rated analyst and as co-founder and managing director of Arkx Investment Management.