With China wielding its big stick over Australia, our monopsonistic relationship could tip it into recession, warns Michael Sainsbury.
Australia's economy is facing a potentially existential threat as its relationship deteriorates with China, our biggest trading partner and largest export market.
The threat comes in three forms. The US alliance under Donald Trump's administration – all the way with Donald J it now seems – has been a contributor to the deterioration; the escalating US/China trade war is beaching all ships; while the global economic tide is ebbing dangerously low.
It has become fashionable to take a contrarian view and downplay the importance of China to Australia's economy, so let's focus on the cold hard billions of dollars and the percentage of our trade and exports, ergo reliance, on China.
Australian two-way trade with China in 2017-2018 was 24.4% ($194.6 billion) of total trade. In contrast, Japan was our second largest trading partner, accounting for 9.7% ($77.6 billion). China was Australia's largest export destination — with about 27% of all exports, valued at $123.3 billion.
If Australia were a business, it would be marked down for its high risk-profile through its inordinate reliance on one customer — known in economics as monopsony.
In terms of reliance on China, Australia places 11th on the league table, ahead of such "stand-out" economies as North Korea, Mongolia, Turkmenistan, Solomon Islands, Eritrea, Angola, Oman, Myanmar, Mauritania and the Republic of Congo, according to the CIA World Handbook.
The only other significant nation that comes close to Australia's 27% export figure is South Korea (25%). New Zealand is at (19%), Singapore (12%) and Indonesia (11%). Trading figures fall away after this.
If China disappeared tomorrow, Australia would be plunged into an economic crisis of Argentinian proportions. Recent research by the Reserve Bank of Australia estimated that a 5% slowdown in Chinese GDP growth would hit Australian GDP growth by 1% net.
That may sound small but it would halve the present growth rate. And this research did not take into account the trade war and deteriorating political environment that has already triggered retaliatory trade measures. These include China's punishment for Australia banning Huawei Technologies from its 5G mobile networks, introducing foreign political donations and influence laws clearly aimed at China, as well as calling out China's strategic aggression and diabolical human rights abuses.
Chinese frustration with Australia boils over, taking 5G Chinese ban to WTO
Australia's exports to China by dollar value in 2017-18 are concentrated in three key industries – minerals and energy, international education and tourism – with the spending effectively at the mercy of Beijing. In 2018, China bought iron ores and concentrates worth $5 billion, coal worth $14 billion and natural gas for $13 billion. The international education market was worth $35 billion in the 2018 financial year, with Chinese students making up about 30% of the overseas cohort.
All these sectors employ hundreds of thousands of people directly as well as in dependent and semi-dependent sectors such as logistics, retail, administration and marketing.
As things at the political level have continued to fray, China has amped up the pressure on selected imports, led by some low-hanging fruit such as coal and barley, which are easily replaced by product from other markets. Australia's $35 billion a year international education sector is starting to see a fall in Chinese student numbers for the first time, a decline helped along by dark online warnings over the past 18 months from China's education ministry about safety Down Under. These ring particularly true for parents who have only been allowed one precious child.
People familiar with the feeder course enrolments – run by a number of private groups as well as the universities themselves – say numbers are down by double digits, with some institutions seeing a drop of about a fifth in expected enrolments. Feeder course enrolments are considered the best lead indicator for university enrolment numbers two years' hence. The bad press Australia has been receiving in state-run media in recent years has played a part and the intensification of this in the past six months will exacerbate the situation.
Universities, which for so long lazily focused efforts on the populous Chinese market, creating their own monopsonies, are scrambling to diversify via multi-year projects that require a rebuilding of brand and trust. People do not spend as much as $50,000 for a year's education lightl. In many cases it represents the combined life savings of an extended Chinese family.
China's surging tourist numbers, which have seen the country overhaul all others in recent years in terms of the value they bring to Australia, are beginning to plateau. Earlier this year, shockwaves ran through sector when there was a dip for the first time in numbers for the quarter, shattering the "stronger for longer forever" feeling in the industry.
The relationship between Australia and China politically is at lows not seen since the Tiananmen Square massacre. A government that has long used trade as a political and strategic tactic will screw down hard. Witness Norway, which was placed in the trade deep freeze by China for close to a decade after the Nobel Peace Committee, based in Oslo, handed the 2009 prize to imprisoned pro-democracy campaigner and author Liu Xiaobo. He would later die in prison before finishing an eight-year sentence.
Other nations, including South Korea recently, have been "taught lessons" by a government that cannot see the fairness or logic in being politically attacked after underpinning an economy – read "Australian" –  for the past two decades. And no area's economic health outside North Asia has been as reliant on China as Australia.
The Australian Government's sharper turn against China has come in something of a rush. Upon taking office, Scott Morrison promised a better relationship with China than his predecessor Malcolm Turnbull, under whom relations with Beijing entered a period of deep chill not seen since Kevin Rudd's Chinese annus horribilis of 2009.
Turnbull began with a conciliatory, balanced, well crafted address in August last year in the presence of the Chinese Ambassador at the University of New South Wales, and state-run media offered praise, so Beijing was pleased.
Morrison meanwhile did nothing about a so-called reset, and Australian cabinet ministers remained – and remain – personae non gratae, being denied bilateral meetings even when in Beijing, as Trade Minister Simon Birmingham was recently.
It is worth noting that his website contains a transcript of all the things he wanted to raise with his opposite number but nothing about the fact that a proposed meeting at CCP HQ at Zhongnanhai in Beijing was refused in the same way Morrison's request for a sit down with Xi Jinping –he has yet to have one – at the G20 meeting was met with a flat bu shi (no).
During his first months in office, Morrison left Xi alone and palled up with Japan's Shizo Abe and Donald Trump, Beijing's top two hate figures. So instead of building on Turnbull's work, Morrison has done quite the opposite. While the government, through the measured sensibility of chief diplomat Marise Payne, has admirably stood up to China on a number of issues, Morrison has stuck to his usual knack of  delivering messages in plain speak. Nuanced the current PM is not, and China clearly does not like either his style or his friends.
Morrison has compounded the view in Beijing that he is an American patsy (military support in Iran, China's number two oil supplier, being the point of no return). Then there was his clumsy "rediscovery" of the Pacific, work again begun quietly by Turnbull. Morrison called out China, arguably without needing to pick the wrong battle.  The Pacific is an important region for Australia and one where an attempt at cooperation with China should have been thoroughly explored first.
He also kicked an own goal, managing to put most of the Pacific's sinking and climate-change-concerned nations off side with his borderline denialism.  As Morrison would say: how easy is it to give a little to get a lot?
It was clear there was no chance of Morrison reversing Turnbull's decisions on such things as foreign campaign financing and foreign influence peddling laws – both overdue in any case – as Beijing may have naively hoped.
The reality is there has been little change from Turnbull but Morrison's matey-matey style and his bedazzlement by Trump has thrown the reality in China's face in both the Australian and Chinese sense of the word.
Why the arrest of Huawei's Meng Wanzhou has the world on edge
Then there is the unavoidable nightmare that Hong Kong has become, with even words of caution treated as "unacceptable interference" in their domestic affairs. The hypocrisy of this stance, given China's well-documented influence peddling in Australia and elsewhere tells you all you need to know about the Communist Party's attitude to equivalence.
Meanwhile, Beijing continues to turn the screws on Western business in general. China now has a clear program of sending companies packing once it has (usually illegally) relieved them of their intellectual property. It is not interested in any foreign company competing with its home-grown companies any more. A favourite tactic is blocking access to regulators, ministry staff and the like, making it necessary for foreign business to get permits for market access and engage in mergers and acquisition activity.
It is a whole lot of sand in the oil of the wheels of Australia-China commerce. On the ground, the overall environment for foreign business in China continues to deteriorate as documented by the annual surveys by the European and US Chambers of Commerce in China. In the US, Trump is trying to "order" US business to leave Beijing but plenty are leaving of their own accord and Trump's comments are certain to embolden Beijing in amping up its Made in China 2025 program. These days, it is unlikely to distinguish between US and Australian business. Both countries are on the nose.
Diplomats, too, say the prolonged hiatus in any top-level bilateral meetings, now drifting towards a third year, means any updating of, or improving, the China Australia Free trade agreement (ChAFTA) as foreshadowed in its charter, is also on ice. ChAFTA was sold to the parliament and public on the basis of future benefits. The initial agreement was the minimal achievable, but it granted China everything it wanted in terms of investment and recognition of a market economy. The promise was that Australia's main goodies would come later. More fool us, but it's an object lesson in trusting China. Once you have handed over what they want (for further proof see Hong Kong and the South China Sea) the free trade agreement (there is no such thing) remains hype.
The question is: what can China actually do to hit Australia's big ticket export sectors? Goldman Sachs economist Andrew Boak and his team have kindly run some scenarios and it ain't pretty. Using the worst-case scenario, mining thermal coal is the problem child if China were to cut 100% of Australian imports. It's a plentiful commodity that China can easily buy elsewhere and, with renewables grabbing market share, still-abundant coal is a buyers' market.
Coking or metallurgical coal used to make steel is scarcer at the quality provided by Australia, so it could only be cut by 25%, while iron ore imports could be trimmed as Brazil gets back to full production after last year's mine disaster. Other commodities, from copper to nickel and zinc, all face potential sales cuts from China in the order of 10-50%.
These commodities alone accounted for about 75% of Australia's total export earnings from China in 2018 and such cuts would cut our GDP growth by 1.3% next year. Add that to the 1% in the present slowing economy and we could be right on the precipice of a recession. That is before factoring in a 50% cut in Chinese student numbers, impossible to replace in the short term and problematic in the medium, and tourism that peaked at 1.42 million people last year, outstripping the Kiwis for the first time. Student numbers are not a tap that can be turned off and on at will, so any drop-off becomes a multi-year problem for a sector now addicted to foreign student fees. The Government has signalled it will announce a new task force consisting of university leaders and security officials to monitor Chinese influence in tertiary institutions. This could see a negative reaction from Beijing that will further cut student numbers.
Finally, there is tourism, now employing one in 13 Australians. There was a surprise tick-back in June's short term arrivals from China and that is a tap the Chinese Government can turn on and off at will. For instance, in recent weeks. mainland travel to Hong Kong and Taiwan has been banned.
With a market consensus forecast for Australian growth of a 2.5% rise on an economy value of $1.92 trillion, a 1.3% reduction would be a $25 billion hit to growth — equivalent to total coal and gas exports combined.
But the crux of the problem is this: the Australian Government has for too long bought the myth that it can separate its strategic alliance with the US from its economic dependence upon China. The Chinese have dropped some pretty heavy hints about this over the years but they have been ignored by successive Coalition leaders.
All of this comes in the context of a still-softening Chinese economy where growth, though nominally high through its headline numbers of 6.2% last quarter compared to the previous year, is now hitting year lows. This was widely expected, including by Beijing, yet it is beginning to drag down the all-important commodities prices that dictate Australia's terms of trade. A correction is now under way and a crash is certainly possible if the US and China keep ramping up tariffs.
It is now clear that the slump in China's economy is being exacerbated by a US-China trade war that shows few signs of either abating or being able to be halted in at least the medium term. A global recession in the next 12 months is now widely seen as a real threat and that is the view of optimists.
Australia's Treasurer Josh Frydenberg, who promised us Labor would give us a recession, was likely on the money but one would guess he knew it would likely come no matter who governs in Canberra. Just this week he has been desperately trying to give big business advice as to how to manage their balance sheets (rather than focusing on things the government can control) — this from a government that has inked an increasingly disastrous $50 billion-plus submarine contract with France.
And there's Australia, hovering around 12th place this decade in the league of biggest military spenders. Per capita, we're 8th. https://t.co/uRriLFsPVR

— Michael Pascoe (@MichaelPascoe01) August 28, 2019
Or looking at it the other way: try to think of any other upside here except a lower dollar making our exports more attractive to a wider market than China.
East Timor's dangerous mix of gas, revenge politics and Chinese money
Public support is vital so this website can continue to fund investigations and publish stories which speak truth to power. Please subscribe for the free newsletter, share stories on social media and, if you can afford it, tip in $5 a month.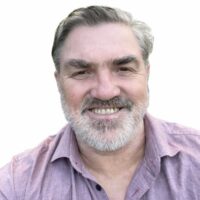 Michael Sainsbury is a former China correspondent who has lived and worked across North, Southeast and South Asia for 11 years. Now based in regional Australia, he has more than 25 years' experience writing about business, politics and human rights in Australia and the Indo-Pacific. He has worked for News Corp, Fairfax, Nikkei and a range of independent media outlets and has won multiple awards in Australia and Asia for his reporting. He is a fierce believer in the importance of independent media.