How did an Australian-made transponder, a key part of drone technology, end up in the conflict between Armenia and Azerbaijan where human rights abuses are prolific? Michelle Fahy investigates the murky trail of the drone bit and the cagey response of the Defence establishment from DFAT to DoD to Minister Marise Payne. 
An Australian-made transponder has been found in a downed Azerbaijani military drone in the most recent eruption of Azerbaijan's long-running war with Armenia over the disputed territory of Nagorno-Karabakh.
The transponder was manufactured by Queensland company Microair Avionics. Microair has refused to disclose the identity of the buyer despite knowing this information via the unique serial code. 
Attacks by both sides of the conflict are likely to have violated the laws of war, with reports in international media and by Human Rights Watch describing civilians targeted by indiscriminate bombing. With its well-publicised use of armed drones, however, Azerbaijan dominated the air war.
The UN arms trade treaty requires Australia to ensure it does not authorise the export of weapons, or components of weapons, to countries where they are likely to be used to commit serious human right violations. The treaty also "encourages" the reassessment of an earlier authorisation if new information becomes available.
Transponders transmit the position and altitude of aircraft and assist in identifying them on air traffic control radar. In drones, transponders provide collision avoidance and situational awareness capabilities, helping the drone maintain a safe distance from other drones or aircraft.
On 1 October, a photo was posted on Twitter (below) indicating two drones present at a single attack by Azerbaijan – one drone taking footage as another one flew below it. In this situation, a transponder would help ensure the drones did not collide.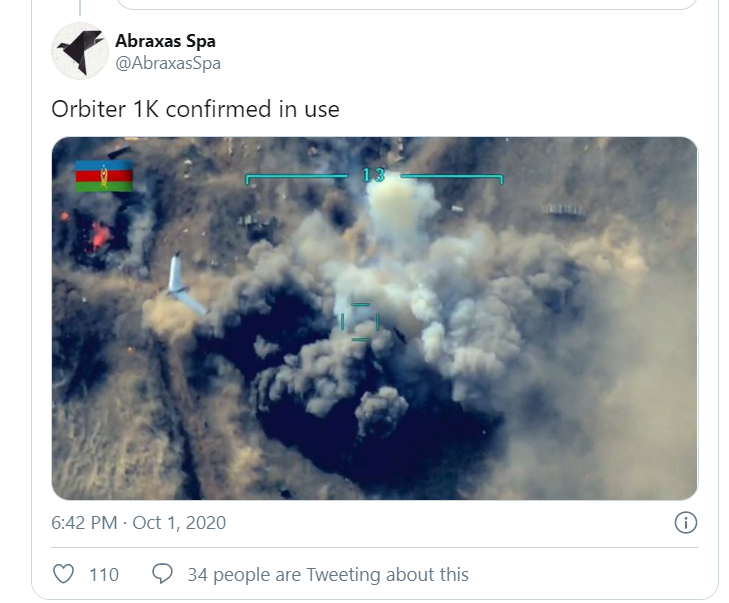 There is little transparency around the manufacture and use of military drones, with calls increasing globally for consistent international standards and disclosure.
Armenian-Australian organisation posted photo of transponder
The peak body representing the Armenian-Australian community, the Armenian National Committee of Australia (ANC-AU), posted on Facebook on 6 November 2020 a photograph (below) of the Microair Avionics transponder showing its serial number.
The Facebook post included a letter the group sent to Microair Avionics which said ANC-AU had received information indicating that Microair Avionics transponders were being used in Azad drones, which are made in Azerbaijan. The photographed transponder was said to have been extracted from one of the downed Azad drones.
ANC-AU called on Microair Avionics to confirm it would immediately "cease the sale or supply (directly or indirectly) to Azerbaijan – or any other country involved in the supply of drones to Azerbaijan – of these transponders…" This call would therefore include Israel, along with Turkey, as both countries have supplied drones to Azerbaijan.
Michael West Media contacted the ANC-AU seeking more information, but its executive director, Mr Haig Kayserian, would not comment publicly beyond what was posted on the Facebook page.
Armenian Radio has also covered the story, including a photo of a downed Azad drone showing a similar-looking transponder in place. The photo came from the Armenian Defence Ministry in its Twitter feed, here (shown below). Michael West Media contacted Armenian Radio but it was unable to confirm whether the transponder shown inside the drone was a Microair Avionics transponder.
Links between Microair Avionics and Israeli weapons-maker
Michael West Media is not suggesting that Microair Avionics is in any way involved with, or responsible for, the carnage in the Caucasus conflict.
In its response to ANC-AU's letter, also posted on the ANC-AU Facebook page, Microair Avionics said the photographed transponder was manufactured in 2010. The company did not say to whom it sold the transponder, or when. It said it has not sold these transponders to Azerbaijan or Turkey. It did not mention Israel.
Israel is reportedly now the second largest supplier of weaponry, after Russia, to Azerbaijan.
The Microair Avionics website previously listed Israeli company Rafael Advanced Defence Systems as one of the company's military industry 'partners', of which it has many. Rafael owns Aeronautics Limited, another Israeli company, which manufactures military drones, including the Orbiter loitering munitions, also called suicide or 'kamikaze' drones. Aeronautics has been in a joint venture arrangement with the Azerbaijan Defence Ministry – Azad Systems – since 2011.
In 2017 Aeronautics was embroiled in controversy for allegedly testing live drones against the Armenian army during a demonstration of its drones for Azerbaijan. Aeronautics was banned from selling the drones while the investigation took place. The ban was lifted in 2019 and Aeronautics recommenced exports to Azerbaijan.
Other military industry companies shown on the Microair website included: Advanced Ceramics Research, acquired in 2009 by BAE Systems; Bluebird Aero, another Israeli company, which produces commercial and military drones; Selex, part of an Italian military industry multinational now called Leonardo; Prioria, US drone-making company supplying the US military, now bankrupt.
Microair's relationship with Rafael, and/or possibly Aeronautics, provides one feasible route by which Microair Avionics transponders may have ended up in these drones. There could be others.
Michael West Media put a number of questions to the chairman of Microair Avionics, David Withers. Mr Withers said: "The part was not bought from us by Rafael Defence." Microair has ignored repeated requests to name the company to which it did sell the transponder. Mr Withers has also refused to say whether the transponder was sold to a weapons-maker or to which country it was sold.
In its letter to ANC-AU, Microair Avionics mentioned the possibility that the transponder may have been obtained on the secondhand market. In a later email to Michael West Media, Mr Withers mentioned that Microair had sold transponders to distributors. However, a company document posted online states of the T2000-UAS transponder in question that, "This product is only sold directly to the UAV OEMs [original equipment manufacturers]."
Mr Withers did not respond to a follow-up question from Michael West Media requesting specific clarification as to whether he was saying the transponder shown in the photo had been sold to a distributor.
Critical component of drones
According to Kellie Tranter, a lawyer and human rights activist, the Australian Government's defence exports regime:
…includes goods that may not be exported from Australia unless a licence or permission has been granted. It would appear that the Microair Avionics transponders fall under Schedule 2 clause 9A 012 of the Defence Strategic Goods List as UAV and related equipment and components used for both civilian and military use (dual-use).

If the Government wants to assert otherwise it should say either how it is regulated or if it is not, why not. We are talking about a critical component of civilian and military drones supplied by a key player in the global drone transponder market that trumpets its connection with foreign defence contractors.
Ms Tranter also referenced a 2008 Business Overview report, in which Microair had said:
"Microair in mid 2007 deliberately formed strategic partnerships with several of the world's leading companies involved in the development and manufacture of complementary military and civil proven unmanned aerial systems and sensors."
According to Ms Tranter: "[Australia's] arms approval and export process doesn't publish, follow up or trace exports… Under the system there's no certainty that the goods or technologies exported reach or stay with the approved end user… The authorities simply deal with the application and if they approve it there is no follow up."
Australia highly secretive about arms-related exports
The Department of Foreign Affairs and Trade (DFAT) is responsible for Australia's compliance with its international obligations. DFAT has not responded to repeated approaches from Michael West Media asking whether the Australian government considers unmanned aerial vehicles or UAVs (drones) to be covered by the arms trade treaty.
Foreign Minister Marise Payne's office has not responded to that question either, nor to additional questions regarding the discovery of the Microair transponder in the Azad drone.
The Defence Department also has not responded to Michael West Media's repeated questions about the export of Microair transponders and whether it granted a permit for the export.
Questionable exports approved before
In 2020, it was discovered via a Freedom of Information (FoI) request that in the 2018-19 year, Australia had exported arms to four nations accused of human rights abuses. Australian weapons-related exports went to Saudi Arabia and the United Arab Emirates, despite both countries being widely condemned for indiscriminate deadly bombing attacks on civilians in Yemen, amounting to war crimes.
The other two export destinations were Sri Lanka and the Congo. The Australian government redacted all details from the export permits released under FoI.
Guardian Australia reported on the Saudi/UAE weapons exports, noting that:
The Australian defence department maintains that it provides export permits only if it is satisfied the weapons will not be used in breach of international law. "Any military goods proposed for export by Australian companies are subject to a rigorous assessment process that takes into account Australia's international obligations, including the Arms Trade Treaty, and the impact the export could have on foreign policy, human rights, national security and regional security," a spokeswoman said.
When contacted by Michael West Media about the discovery of the transponder in the Azad drone, former Australian Federal MP and international lawyer Melissa Parke said:
"It is indefensible for a country that prides itself on being a good global citizen to ignore the potential for Australian weapons to be exported to countries with questionable human rights records where there is the risk they will be used to commit violations against innocent civilians and, further, to refuse to be transparent and accountable for such exports."
Complete secrecy continues regarding Australia's export of weapons and related components. The Australian government is refusing once again to provide basic information.
The president of the Medical Association for Prevention of War, Dr Sue Wareham, said:
"The apparent discovery of a weapons component made in Australia being used in the conflict between Armenia and Azerbaijan is of great concern.

It is imperative that the Australian government urgently reviews the sale of the relevant item, how it came to be used in this conflict, and whether any end user certificate was violated – and act immediately to stop future sales. As in conflicts elsewhere, civilians are likely to be the primary victims of this war."
In relation to the Microair Avionics transponder, questions remain unanswered:
To which company did Microair Avionics sell the transponder?

If it was a military industry contractor, does this mean Microair Avionics required a permit for sale of these transponders under the defence exports control regime?

If permits have been granted, were end-user restrictions placed on those exports? That is, was the purchaser instructed it was not permitted to on-sell or transfer the transponders, or any drones that contained the transponders, to any other entity?

If end-user restrictions were in place, and given Microair Avionics says it did not sell the transponders to Azerbaijan or Turkey, is Defence now investigating this report to determine whether, and if so how, the transponders came to be used in Azerbaijani-made drones?
The Defence Department and Microair Avionics have both refused to say whether the export of Microair Avionics UAV transponders to Microair's military industry 'partners' requires a permit under the defence exports regime.
Michelle Fahy acknowledges early reporting by Green Left Weekly, which prompted this investigation.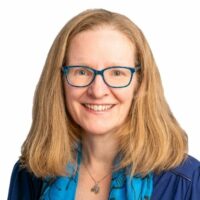 Michelle Fahy is an independent journalist who has been investigating militarism and the arms trade since 2009.