An influential global wealth survey has highlighted the world's greatest loser in economic outcomes this year — Australia. Although the report is in $US, and reflects the impact of falling house prices and a falling $A – and although Australians remain among the richest people in the world – it also confirms that Australia's economy is being poorly managed. Alan Austin reports.
Credit Suisse is a Swiss finance corporation with a prestigious research division and a solid reputation. It publishes a lengthy Global Wealth Report each year and an even longer Global Wealth Databook.
In his introduction to the 2019 Wealth Report, released Monday, Urs Rohner, Chairman of Credit Suisse's Board of Directors, only mentions one economy adversely:
The United States added 675,000 newcomers [to the millionaires club], more than half of the global total. Japan and China each contributed more than 150,000, but Australia lost 124,000 millionaires following a fall in average wealth.
Average wealth per adult
The data embedded in both the report and the databook are damning of Australia's extraordinary loss of wealth. Regarding average wealth per adult, the report states:
"The main loser was Australia (down $US28,670), with other significant losses in Norway (down $US7,520), Turkey (down $US5,230) and Belgium (down $US4,330)." Clearly the other losses are chicken feed compared with Australia's $US28,670 — which is a thumping $A41,750.
The report emphasises Australia's shame with a prominent chart showing the winners and losers. This graph is theirs, not ours. The comment in red italics is ours.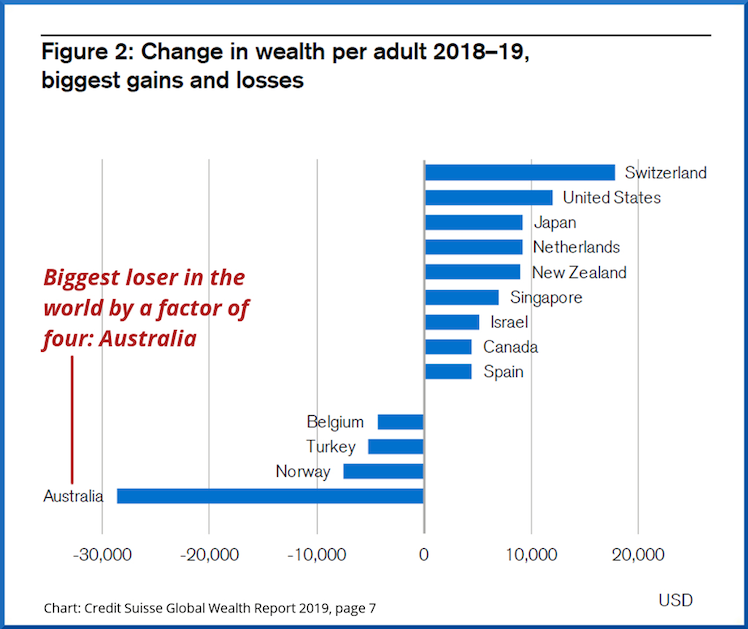 Australia is one of a tiny minority of countries with wealth per adult lower in 2019 than back in 2012.
Sweden, Germany, the UK and Finland have all enjoyed an increase in average wealth above 12% over that period. New Zealand, Poland, Ireland and Indonesia have seen wealth rise by more than 20%. Mexico and Taiwan are up more than 30%, while the average American is 49% richer.
Best outcomes of all for their citizens include Hong Kong, with a rise of 65%, Iceland, China and India with rises above 74% and Bolivia showing the world how it's done, with an 86% increase in wealth.
Australia is the world's stand-out failure with wealth per adult down over those seven years by 7.8%.
True Lies: Mathias Cormann caught by his own department for economic fairy tales
Household wealth
On household wealth for the economy overall, Credit Suisse makes the same sad and sorry finding:
The United States continued its remarkable unbroken spell since the financial crisis with a gain of USD 3.8 trillion, while second place China gained USD 1.9 trillion. On the downside, Australia was the biggest loser, shedding USD 443 billion due to a decline in house prices combined with currency depreciation against the US dollar.That is A$645 billion lost, a decline of 5.8% over the year.
This is a powerful validation of the small minority of economic commentators in the independent online media who have chronicled the demise of Australia's economy following each successive Coalition budget. It is also a smack across the back of the head to all the so-called economics "journalists" at News Corp, Fairfax and the ABC who continue to spruik the Coalition's non-existent economic credentials.
It bolsters recent analyses showing Australia now has the worst, or close to the worst, trajectories in the developed world on retail trade, infrastructure investment, new houses, productivity, expansion of government debt, value of the currency, wages growth and care for welfare recipients.
Australia's decline in detail
Gross domestic product per adult decreased from $77,007 in 2018 to just $75,992 this year. That is only a 1.3% decrease on last year, but 18.5% below the 2013 level of $93,244 when this Government took office. The percentage of wealth owned by top one percent remains high at 22.2%, marginally lower than last year's 22.4%, but well up on the 20.4% in 2013.
Similarly, the percentage of wealth owned by top ten percent is a hefty 52.4%, down fractionally on last year's 52.7%, but higher than 50.3% in 2013. The percentage of wealth owned by bottom 50 percent remains virtually unchanged from last year at 9.2%, but down from 10.4% when the Coalition took charge.
The number of millionaires, as the bank's director noted earlier, has decreased from 1,304,000 last year to 1,180,000 this year, a decline of 124,000 or 9.5%.
The big picture
Global wealth worldwide grew during the past year as the international boom in trade, jobs, investment, corporate profits and government revenue continued. The global rate of growth slowed somewhat, however, with the new record high wealth per adult reaching $70,850. That is just 1.2% above last year's record. One definite positive is that the trend toward increasing inequality appears to be easing, with the share of the top 1% of wealth holders below the 2016 peak.
What is going on Downunder?
How is this appalling demise in Australia possible when the whole world is enjoying its fifth year of strong global tailwinds and Australia is in its 28th year of continuous growth? Just ten years ago its economy was lauded worldwide as the one stand-out success through the global financial crisis.
How can Australia export record volumes of commodities at eye-popping prices yet lose wealth at this unprecedented rate? Australia has recorded fresh all-time high monthly export values in 14 of the last 19 months. That must be close to world's best. The answer, as this journal and just a few others have demonstrated in recent years, is that vast quantities of wealth are being shunted straight offshore with little or no return to the federal budget, or to the people of Australia.
There is no mineral resources rent tax, no other scheme to retain wealth in Australia, tax avoidance and evasion are rife, the Tax Office's audit and enforcement divisions are severely understaffed and the Government keeps giving handouts to its foreign corporate mates.
These all stifle economic growth, prevent investment in infrastructure for the future and impoverish workers today. That impoverishment has now been quantified: by $A41,750 per adult over the last year. That is a major reason the housing market is struggling and the other indicators are deteriorating.
It has never been like this before. It looks unlikely to change under the current Government.
———————
Homes Alone: despite record rates, Australia lags world as housing crisis grips
Public support is vital so this website can continue to fund investigations and publish stories which speak truth to power. Please subscribe for the free newsletter, share stories on social media and, if you can afford it, tip in $5 a month.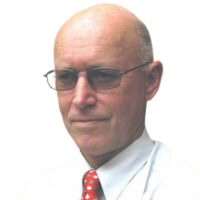 Alan Austin is a freelance journalist with interests in news media, religious affairs and economic and social issues.