Parliamentary disclosure is a joke. The Register of Members' Interests is routinely gamed and ignored by politicians. This is where MPs are supposed to declare their financial interests. Yet even when they do so, in accordance with the rules, key financial conflicts can be concealed. For instance, where an MP puts his lawyer as director of a company which is trustee for a trust and his niece as the beneficiary of that trust, does he or she even have to disclose the existence of a trust at all? In the case of controversial minister Angus Taylor, there have been blatant breaches. Taylor is by no means alone. Jommy Tee reports on Taylor's other Cayman Islands company, AML.
It was a warm morning on December 17 2019 for the meeting convened by Walkers Liquidations at the Cayman Corporate Centre in George Town, Grand Cayman. It usually is. The order of business: to sign off on the voluntary liquidator's final report and accounts of Agricultural Managers Limited (AML) — a company with past associations to Australia's beleaguered energy minister, Angus Taylor.
AML, a company with mysterious ownership, is the lesser known of two Cayman registered companies associated with Angus Taylor — the more widely known being Eastern Australian Irrigation (EAI) the windfall beneficiary of the Australian government's $80m water buyback in July 2017.
The notification of AML's winding up was reported in the Cayman Islands Gazette (Vol 24, 2019) and gave the briefest of insights into the reclusive company with past associations to Taylor and Australian water buybacks.
The liquidator's of AML – Walkers Liquidations Limited – is part of Walkers, the international legal firm and member of the "offshore magic circle", an exclusive group of legal firms operating in Caribbean tax havens.
Walkers Liquidations advised the Cayman Government that the December meeting would account for the disposal of AML's assets and authorise the liquidator to retain the books and records of the company for a period of three years before they may be destroyed.
The notification also revealed that there was only a single, unidentified, shareholder of AML.
Angus Taylor self-identified to the Australian media in 2010 as being director of AML The identity(ies) of the other former AML director(s) and the sole shareholder remain a highly-guarded secret thanks to the Cayman's privacy provisions. Thus, we have no way of knowing if he was still a director of AML when it was wound up.
Taylor has been evasive regarding his links with AML since the #Watergate scandal broke and has never publicly provided a full account of his time at AML Neither his directorship of AML, its subsidiaries, nor EAA are listed on his parliamentary biography. His only response to questions on AML have referred to his previously issued statements declaring no involvement with "EAA and its associated companies" since he entered parliament. Taylor, currently involved in a forged document and illegal spraying of protected grasslands controversies has been caught out on a number of occasions failing to update his parliamentary register of interests. JRAT International, Virgin and Qantas freebies, Derwent Executive and Centaurus Partners come to mind.
To understand AML's connection to Angus Taylor, we need look at the history of Australian water buybacks in the Lower Balonne region of Queensland over the past decade. This includes AML's relationship with EAI and its Australian subsidiary, Eastern Australia Agriculture (EAA). Taylor up until 2013 was at various times director of both EAI and EAA.
Taylor, despite threatening lawsuits, reluctantly admitted that he had been involved with EAI and had co-founded the company. It would have been hard for Taylor not to admit the EAI link given Taylor himself had previously declared it on his official parliamentary biography.
"I'm a big believer in freedom of the press," Angus Taylor just told Fran Kelly on the ABC (And so are my lawyers!) pic.twitter.com/mxo4kq2VOo

— 💧Michael West (@MichaelWestBiz) June 6, 2019
Taylor is on the record as stating that his involvement with the companies ceased prior to him entering parliament and neither did he benefit from the water buybacks, nor was he aware of the $80m water buyback until after it had happened. Responding to questions from the Guardian last year on AML, a spokesman for Taylor referred to his previous statements where Taylor said:
"he never had a direct or indirect financial interest in EAA or any associated company".
Both EAI and AML were registered in the Cayman Islands on the same day — December 6, 2007.
ASIC records confirm that in late 2009, Taylor established two companies in Australia that were offshoots of AML. Those companies – Agricultural Managers (Australia) Pty Ltd (AMA) and Australian Agricultural Securitisation Pty Ltd (AAS) – during their lives only had one director and one secretary, Angus Taylor.
AML owned the sole $1 share in AMA, who in turn owned the sole $1 share in AAS.
As the sole company director of the subsidiaries, Taylor would have been aware at the time of the ultimate owners and any other directors of the Caymans-based AML.
The AML group, through either the parent, or its subsidiaries, at various times managed and operated the Kia Ora and Clyde properties on behalf of EAI and EAA. Taylor himself was oft quoted as being the spokesperson for either EAA and AML, almost interchangeably so.
Watergate Redux from Jommy Tee on Vimeo.
Of course, the big play at the time was the potential acquisition of Cubbie Station and access to its massive water rights. The properties bought by EAA were located just down the road from Cubbie.
AML and its subsidiaries were to be the financing vehicle to attempt to seal the audacious deal.  Had the deal gone through it was proposed, AML – using a complex structure – would have been the ultimate owner of Cubbie, Along the way, the subsidiaries – with Taylor as the sole director – would have been the recipient of management and service fees.
While Taylor was wearing multiple hats at EAI, EAA, AMA and AAS he was also working as a management consultant at boutique consulting firm, Port Jackson Partners (PJP).
PJP during this period were operating out of Sydney at Level 32, 50 Bridge Street. This address was also listed as the registered company address for EAA in 2009, and the registered company address for both AMA and AAS.
PJP were contacted in writing to ascertain if they had any knowledge that their company's address was also listed as the registered office for a range of other companies associated with Taylor. To date, PJP have not responded.
In the end, the Cubbie deal came to nought and AML's Australian subsidiaries were deregistered in October 2012.
However, the parent company, AML, continued as a Caymans' registered entity until late last year.
From this potted history, EAI and AML had past mutual interests in immersing themselves in the Australian water market. We also know that Taylor, in the past, had links with both.
What remains an ongoing mystery is this. Was there any formal corporate connection between EAI and AML – either through directorships or ownership – that saw AML as a beneficiary of the water buyback deal?
The sole shareholder of the now defunct AML is unlikely to be ever known by the public — a secret safely consigned to Davy Jones' locker on the bottom of the ocean floor.
Editor's Note: The point of having parliamentary disclosure, indeed the point of having a Pecuniary Interests Register whose purpose is parliamentary disclosure, is for MPs to disclose their financial interests. Not only do MPs fail routinely to disclosure their interests but the register itself is routinely gamed even when there is disclosure.
————————–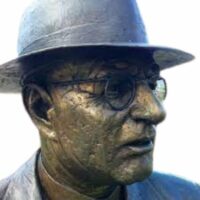 Jommy Tee is a long-time career public servant, having worked in the policy development field for 25+ years as well as an independent researcher interested in politics, current affairs, and Nordic noir.