Australian Defence Force | Military | Revolving Doors
A former commander of two Collins Class submarines, Andy Keough has made an influential transition from uniform into corporate life. After 22 years in the Royal Australian Navy, Keough took up a business development role in submarines for global arms giant Thales, next moving on to Australian Submarine Corporation (ASC). In 2015 Keough joined the SA Government's powerful Defence SA as Chief Executive before being headhunted in 2017 as MD for Saab Technologies. Internationally, Saab ranks 30th in SIPRI's Top 100 Arms-Producing and Military Services Companies. Saab's operations in Australia are expanding: in March 2022 it was awarded $22.6m in funding from the Australian Government's 'Modern Manufacturing Initiative' which will see the construction of a new national headquarters near Adelaide. In February 2020, it signed a partnership agreement with Defence to supply the combat management system across all RAN major surface ships. Keough's influence extends onto important boards, including the South Australian education board, the SA Training and Skills Commission, and a defence-related board with Adelaide University, among others.
Corporate
Managing Director, Saab Technologies Australia Pty Ltd (13.11.17–present)
Government
Member, Queensland Minister's Advisory Council on Defence Industry and Jobs (term: 10.1.20–28.2.21)
Provides policy and strategic advice to Queensland Government on defence industry development and investment attraction (paid role)
Member, South Australian Certificate of Education board (20.9.18–present)
SA statutory authority responsible for accreditation of subjects, recognition of learning, and assessment of student learning for the South Australian Certificate of Education (SACE)
Member, Training and Skills Commission board, Department for Industry and Skills, South Australia (1.7.18–present)
Advises SA Government on skills and workforce development priorities
Chair, SA Governor's Aboriginal Employment Defence Industry Cluster (28.3.17–present)
SA Governor's Aboriginal Employment Industry Clusters Program started in 2010 to increase the number of Aboriginal and Torres Strait Islander people in identified industries and facilitate systemic change
Member, Industry Advisory Committee, Prime Minister's Veterans' Employment Program (2016–present)
Other
Co-chair, Defence, Cyber and Space Industry advisory board, University of Adelaide (19.11.18–present)*
Chair, Defence Council, Australian Industry Group (AiG) (Oct 2018–present)
Advocating for the business interests of military industry
* Confirmed by University of Adelaide
Military
Royal Australian Navy (1985–2007), including:
Fleet Submarine Operations Officer at Fleet HQ (2006-2007)
Commanding Officer of two Collins class submarines: HMAS Sheean (2004-2005) and HMAS Waller (1999-2000)
Exchange Officer with US Navy, Commander US Submarine Force Pacific, Pearl Harbour, Hawaii (2001-2004)
Government
Chief Executive, Defence SA (Sep 2015–Nov 2017)
Corporate
ASC Pty Ltd (2009–Aug 2015), including:
Business Development Manager (submarines), Thales (2007–2008)
Other
Adjunct professor, University of South Australia (1.12.16–30.11.19)*
Member, Defence Teaming Centre board (20.10.11–Aug 2015)*
Submarine Institute of Australia (Secretary, Oct 2007–Oct 2013; and President 13.11.14–16.11.16)*
* confirmed by the organisation
1.8.17: Defence SA chief Andy Keough has quit after about two years in the job – lured away into the private sector by defence technology giant Saab. [SA] Defence Industries Minister Martin Hamilton-Smith on Tuesday told a budget estimates committee… "Mr Keough has been made an offer he can't refuse." When Mr Keough took up the $410,000-a-year job in 2015 [at Defence SA], he said his focus was creating as many defence jobs in SA as possible.
2.8.17: "Saab's Australian operations are very important to the company's global development. Andy Keough's experiences makes him the perfect choice as the new managing director. He has the drive, ambition and commercial instincts to build on Saab's success in Australia."
29.6.18 Keough discusses the new Subs In Schools pilot program (recruitment partnership between REA, Defence Department, ASC, Saab, Thales, and other military industry corporations):
"The challenge for us is bringing in the young new talent, the best and brightest that we can get out of the universities and integrate them into our business… We're seeing that we're going to need to work further downstream, with the younger kids, to get them interested and excited about the defence industry… We are starting to see the green shoots [from the] investment that was done. It is a long life cycle from that investment to when the dividends come and when they flow through to industry but we're seeing some very positive signs…
"We can't afford just to wait for the pipeline to spit those smart kids out at the end of it. You've actually got to start stimulating demand right down into the primary schools, getting them interested in STEM… to actually engage with young kids to excite them about technology… and then coming into the… high school years, around Year 10, is when we then introduce the Subs In Schools program, so it then gives them some more hands-on learning."
This profile was compiled with the assistance of student research intern Natasha May
 Let us know of any dead links. Thanks. [email protected]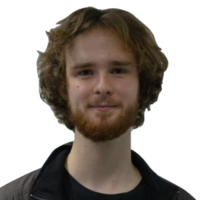 James is studying a bachelor of Communication (Journalism) at the University of Technology Sydney. He is a producer at 2SER radio and contributor at UTS's Central News.