If Prime Minister Scott Morrison went to the election in May to beat potentially bad economic news, it was an extremely well-judged decision. Alan Austin reports.
THE LATEST data dumps confirm the current administration is not only the worst economic manager in Australia's post war history, if not all its history, but one of the two or three worst in the developed world. If Prime Minister Scott Morrison went to the election in May to beat potentially bad economic news, it was an extremely well-judged decision.
Virtually all critical indicators of economic health have deteriorated substantially since the 2013 election. That decline appears to have accelerated since the 2016 election. Few, if any, of these outcomes have been reported accurately by mainstream economics reporters.
Economic growth ranking plummets
Yesterday's release of the quarterly national accounts confirms Australia is sliding further down the global economic growth rankings. Through most of the Labor years, Australia's growth in gross domestic product (GDP) ranked in the top seven in the 36-member Organisation for Economic Cooperation and Development (OECD). In 2009, it was actually the highest. In Labor's last year, 2013, the first quarter number was 2.15 per cent, ranking sixth.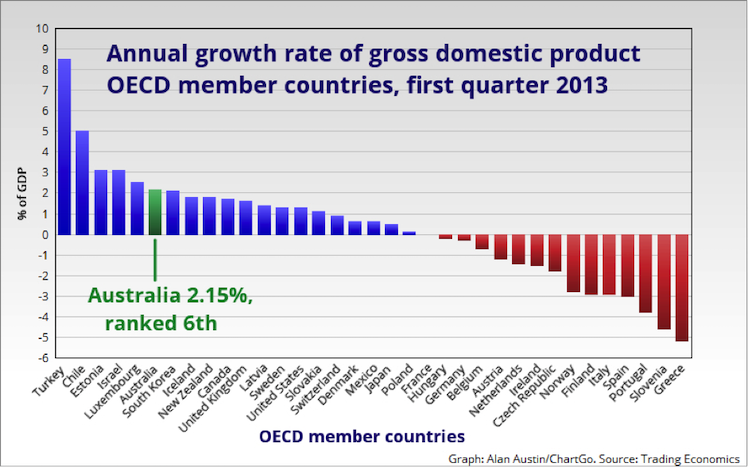 In stark contrast to that, Australia's annual GDP growth over the year to March 2019 is down to 1.8 per cent, the lowest level since 2009, at the depths of the worst recession in eighty years. Australia now ranks 17th in the OECD.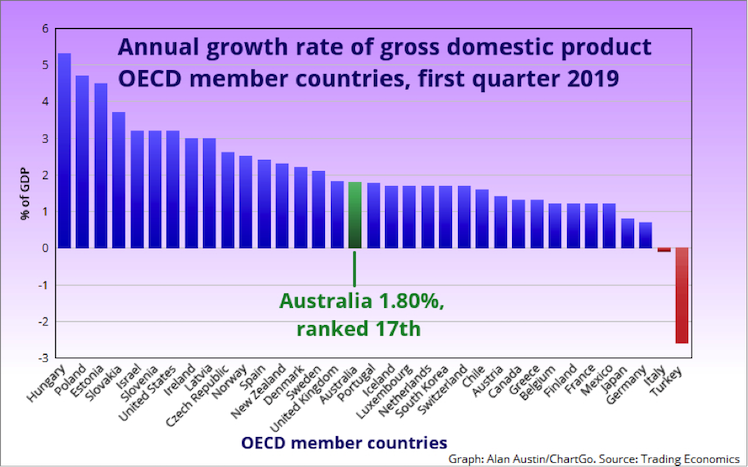 Interest rates indictment
Monday's cut to interest rates by the Reserve Bank underscores the deterioration of the economy since 2013. Throughout the global financial crisis from 2008 to 2013, Australia and Mexico were the two developed countries to keep interest rates in the sweet spot between 2.8 and 4.8 per cent. Most of Europe plus the USA and Canada endured interest rates below 1.5 per cent. Obviously this is disastrous for those relying on income from interest. Rates rose above ten per cent elsewhere, including Iceland, Argentina, Brazil and Vietnam. This is terrible for borrowers who must pay that interest.
It is also a major blow for the government as this is, to quote The Guardian's detailed analysis, "a pretty sad indictment of how the economy has been handled".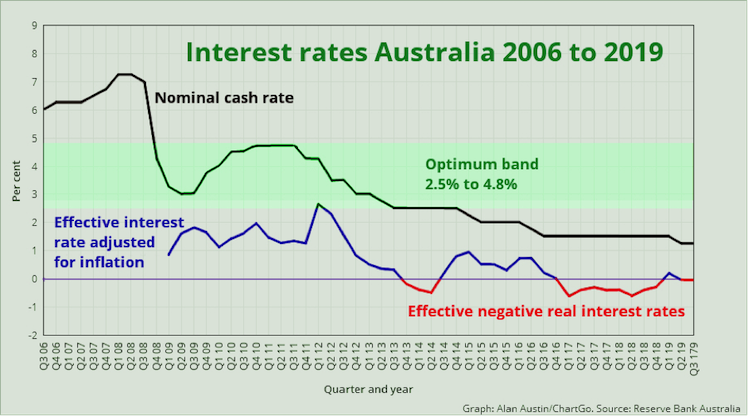 From Monday, Australia has now joined the failing economies with the nominal cash rate below 1.5 per cent and negative real interest rates. Meanwhile, about fifty countries have now returned to the optimum range including OECD members Iceland, Chile and the USA.
Housing at an all-time low
Housing access and affordability has declined disastrously across Australia since the change of government in 2013, and collapsed further since the 2016 election.
According to the Housing Industry Association, sales of Australian new homes plunged 11.8 per cent in April 2019 over the dismal March number to just 4,036 houses sold. The April fall was the greatest since 2005, and the lowest number recorded since the series began in 1999. The previous all-time low was 4,769 in August last year.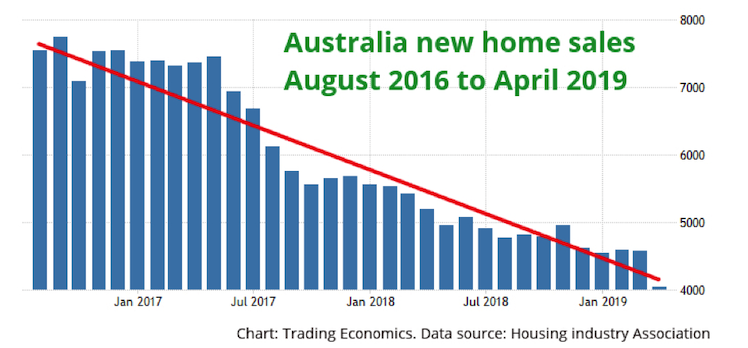 Gross debt second worst in the OECD
We now have debt levels for nearly all OECD countries to the end of 2018, so can update Australia's standing.
Australia had the OECD's third lowest level of federal government debt to GDP at the time of the 2007 election. Only Estonia and Chile were lower. Australia's Labor Government then contended with the devastating global financial crisis (GFC) by spending extensively on infrastructure and other stimulus, most of it with borrowed money. So it would have been reasonable to expect Australia's debt position to have worsened relative to the rest of the developed world.
In fact, it didn't. All developed countries except Norway borrowed heavily and by the end of the GFC in 2013 Australia still had the third lowest debt to GDP.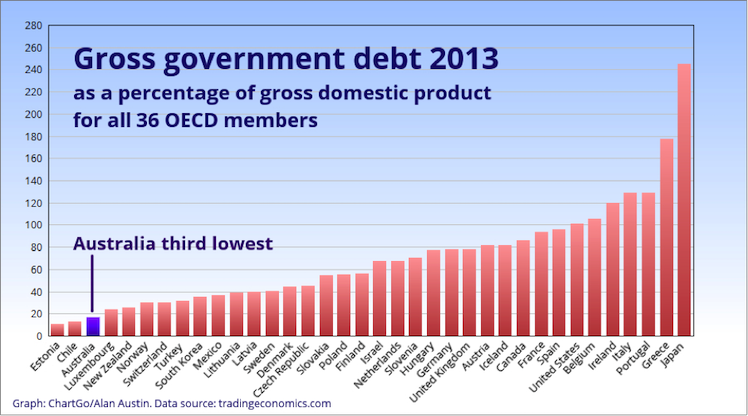 Through the strong global boom which followed the GFC, most countries have managed to offload much of that debt. A clear majority of 22 of the OECD member countries reduced their debt to GDP by the end of last year, with only 14 having debt higher than in 2013.
Of these, only two have increased the debt since 2013 by more than ten per cent. Chile and Australia.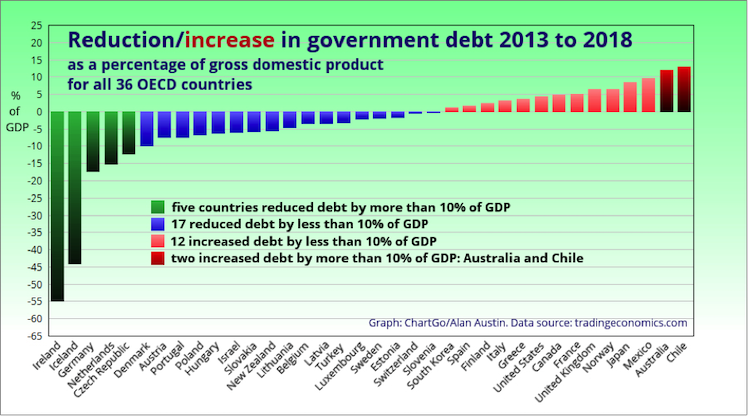 Unemployment lagging
Australia's jobless ranking tumbled from ninth in 2013 [World Bank figures], to 13th in 2016 and now to a lowly 18th on the latest numbers.
Only five OECD member countries had higher jobless rates in April this year than in April 2011 and April 2012. Two of these, South Korea and Norway, have their jobless rates below 4.0 per cent, so are faring exceedingly well.
But three countries have high unemployment and are still above where they were in 2011 and 2012, despite the phenomenal global boom in investment, jobs and profits. They are Austria, Turkey and Australia.
Retail sales slide worsens
Last Tuesday's retail sales numbers from the Australian Bureau of Statistics show the slump is getting worst, not better. Total retail turnover January to April 2019 was up just 3.06 per cent on the first four months of last year. With population up 1.8 per cent and inflation at 1.3 per cent, that is a real decrease in actual volumes sold.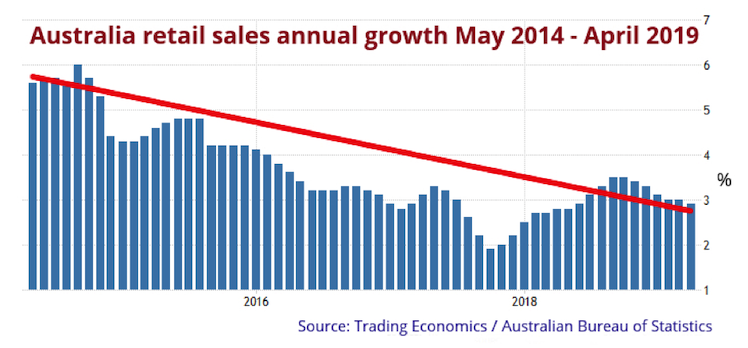 Sectors to have suffered most severely since our report on the retail retreat in February include electrical and electronic goods, down 1.0 per cent in actual dollars, furniture, houseware and textiles, down 3.3 per cent, recreational goods down 5.4 per cent, and books and print products down a staggering 7.4 per cent.
For two years, the retail collapse has been tracked accurately by the alternative media here and elsewhere, denied by the industry press and virtually ignored by the mainstream media.
Finally, on Tuesday this week, the ABC caught up with the story. Well after the election.
Such is Australia's fate.
——————–
Alan Austin is a freelance journalist with interests in news media, religious affairs and economic and social issues.
You can follow Alan on Twitter @alanaustin001 .
Public support is vital so this website can continue to fund investigations and publish stories which speak truth to power. Please subscribe for the free newsletter, share stories on social media and, if you can afford it, tip in $5 a month.