The Government and its Covid Commission are pushing a $6 billion gas pipeline while new energy regulator, Clare Savage, calls into question the future of the gas networks. Meanwhile Australians still pay more for gas than customers overseas pay for Australian gas. Michael West reports on the momentous upheaval in energy.
It is one short sentence but a sentence with remarkable implications for the nation:
"If not, the economic life of the assets could be limited."
The new chair of the Australian Energy Regulator, Clare Savage, is saying that if the gas transmission networks do not convert to hydrogen, these assets may be stranded; that's many billions of dollars in gas pipelines stranded.
"She is calling time on a multi-billion dollar industry," says energy analyst Bruce Robertson.
The candid assessment from Clare Savage is even more remarkable considering the Government, with the connivance of its Covid-19 Commission, is pushing plans to build a $6 billion gas pipeline from Western Australia to the East Coast.
Covert-19: Government stacks Covid Commission with oil and gas mates, cosy deals follow
This pipeline would entail a massive taxpayer subsidy for the multinational gas giants – this, at a time when Australia's top energy regulator Clare Savage is seriously questioning whether gas will really be, as the Government claims, the "transition fuel" the country needs before renewables dominate the grid.
Already, Australia's gas sector is a travesty. Consumers in Japan buy Australian gas for half the price paid here by Australian consumers. That's after shipping, LNG production and transmission costs. This bizarre predicament – engineered by the gas cartel of Origin, Santos, BHP, Shell and Exxon with the complaisance of successive governments – means that Australia, which is now the world's largest gas producer, is about to import gas from overseas.
Against this backdrop, the incoming chair at the Australian Energy Regulator (AER) began her first annual review with a clear message about power prices being too high, albeit renewable energy was beginning to bring electricity prices down.
Then the bombshell:
"The national gas industry could also undergo significant change as some jurisdictions move towards a zero carbon emissions policy. This could have significant consequences for the future of gas pipeline networks. In response, the AER recently supported the future recovery of Jemena's investment in trialling the production of hydrogen from renewable energy for injection into its Sydney network. If hydrogen trials such as Jemena's prove successful, the natural gas networks could be re-purposed to distribute hydrogen. If not, the economic life of the assets could be limited."
Jemena is a tax-avoiding Singapore multinational and, along with APA Group, has duopoly control of Australia's gas transmission pipelines. There is an enormous "if" and a huge "could" in Savage's risk appraisal above. Hydrogen is explosive. Many believe it cannot be piped across the gas transmission networks, but if it could, the costs and risks associated with "re-purposing" the networks would be prohibitive.
Gas deal: "a massive transfer of wealth from gas customers to China and Singapore"
If hydrogen does not work, and Savage's statements suggest the risks are significant, then the whole notion of a "gas fired recovery" in Australia, a proposition put by Energy Minister Angus Taylor and the Government's National Covid-19 Co-ordination Committee (NCCC), is fanciful.
"Just how can we have a "gas fired recovery" when we pay more than our customers for gas?" asks energy analyst Bruce Robertson. "The prices in Australia are unfortunately still above the ACCC's guide for how much we should be paying and also above the price paid in Japan.
"As at Thursday, the price in Sydney was $4.57/GJ and the price in Melbourne was $4.04/GJ whilst in Japan they pay $2.60/GJ for Australian gas on Spot markets."
Contract markets are opaque in Australia. The last official price from the ACCC was $10.50/GJ. This is out of date but it's still the best we can do in the shadowy world of gas prices. In Japan they are paying around $7.60/GJ.
Assault on environment by gas fracking multinationals escalates
Meanwhile, it may have been missed but the US gas industry is not in a slow-down or even in a recession, it is in a deep depression. The NCCC wants to use the USA as a model for Australia's recovery, touting $4/GJ gas, a figure that even the gas lobbyists at APPEA baulk. APPEA claims it is simply not achievable as it is well below the costs of production.
The facts of the US gas depression are that operating drill rigs are down 73% in the last 12 months, according to rig experts Baker Hughes and there have been more than 19 oil and gas bankruptcies this year restructuring $13 billion in debts. Total oil and gas bankruptcy debt since 2015 is $US135 billion.
The pioneer of the fracking industry, Chesapeake, went bankrupt only last week. At its peak, it had a market capitalisation of $US38 billion.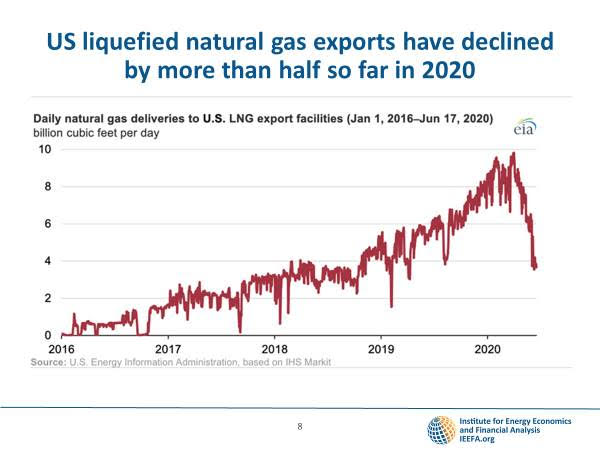 In Australia, the situation is not quite so dire with the exception of the East Coast coal seam gas (CSG) to LNG industry which is in all sorts of bother, despite that Santos is pushing ahead with plans to open up Narrabri fields for fracking in NSW.
Shell has written down the value of its failed CSG to LNG investment, QCLNG, yet again. It is looking to offload a 26.25% stake in QCLNG for a reported $2-3 billion. The plant at Gladstone alone cost over $US20 billion and they are selling a quarter interest for A$2.5 billion. These are immense losses, not the fault of gas consumers but rather the fault of poor decision making by the gas giants – who are making up their losses by overcharging in Australia.
"The oil majors are significantly withdrawing from Australia with Exxon Mobil selling its $3 billion Bass Strait assets and Chevron looking to sell its 16.6% stake in the NW Shelf LNG plant in WA," says Robertson.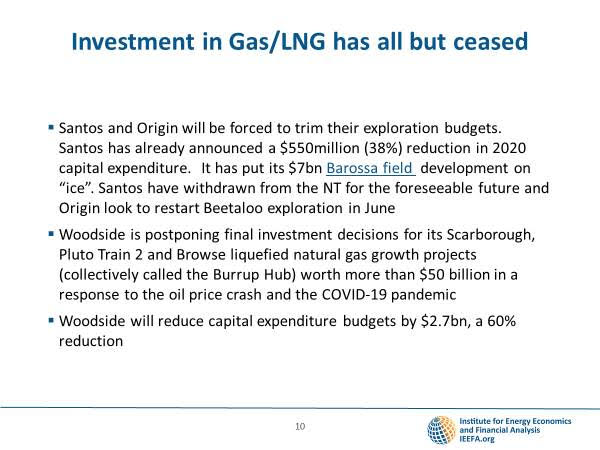 "There is also the issue of the divide in the gas industry. The Covid Commission is targeting $4/GJ gas using the US shale gas industry as a model (great model that one, it consists of huge losses for banks and shareholders, totally unsustainable financially) and yet APPEA and Santos are spruiking continued gouging of the East Coast consumer.
"The group's chief executive, Andrew McConville, said the right price for gas was the "price agreed to by participants in a competitive market".
Yet there is no competitive market. Indeed no market at all because markets have prices disclosed; who is buying, who is selling, and at what price.
"It costs more than $6 per gigajoule to produce gas from existing fields in eastern Australia and up to $8.25 per gigajoule in new projects, before transport, distribution and other commercial costs," said Conville.
"The notion that any industry can survive selling its product lower than its cost of production is clearly out of step … I'd love to be able to sell $4 gas and make a margin that made it worthwhile to do that but we can't because it doesn't exist today." Santos chief executive Kevin Gallagher said.
The bold comments by AER chief Clare Savage are more than ever welcome as the battle for taxpayer subsidies from gas corporations rises as their profits recede, indeed as their very survival is threatened.
It's a gas! Australian gas is a bargain … if you're Japanese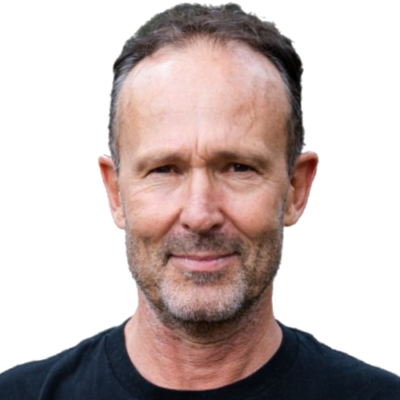 Michael West established michaelwest.com.au to focus on journalism of high public interest, particularly the rising power of corporations over democracy. Formerly a journalist and editor at Fairfax newspapers and a columnist at News Corp, West was appointed Adjunct Associate Professor at the University of Sydney's School of Social and Political Sciences.