Let's put Scott Morrison's $1.5 billion manufacturing plan in perspective, writes Peter Roberts. Just last month $1.9 billion was invested in clean energy, while far more is to be given away in futile tax cuts to the already-well off. 
How can $1.5 billion change the trajectory of a $2 trillion economy? It won't, because the sum is far too small for the size of the problem.
The scale of Australia's manufacturing malaise is far greater than the federal government's response.
Manufacturing is a rump of its former self, at only 5.6% of GDP, the lowest among developing nations.
Australia has just one factory capable of making silicon chips, for example, and this is small-scale and specialised in nature.
Computer chips are perhaps the essential of modern industry yet experience has taught us that to attract a significant investment in a large-scale computer chip plant would eat up $200 million in government assistance.
In medicines we manufacture no anesthetics and no rubber gloves – clock up another $100 million here.
Pandemic reveals Australia vulnerable from narrow, fragile manufacturing base
A billion dollars will be spent very soon or, more likely, spread far too thinly.
Unfortunately, Scott Morrison's manufacturing plan announced yesterday changes nothing.
Crucially, the Prime Minister has little to say about skills. Yet management skills are mediocre while workplace skills are in decline. This is perhaps the greatest human element missing from our hoped-for manufacturing revival.
The grab bag of initiatives are all laudable in themselves, including a $1.3 billion co-investment fund for large projects in priority sectors of resources technology and critical minerals processing, food and beverages, medical products, recycling and clean energy, defence and space.
Prime Minister Scott Morrison is essentially trashing decades of campaigning by the economic rationalist sections of the community who argued that we should not pick winners.
And let's put the $1.5 billion in perspective. Just last month $1.9 billion was announced for a 10-year plan to invest in technologies to lower emissions, while far more is to be given away in futile tax cuts to the already-well off.
Rich Thinking: Canberra Bubble wage delusions spawn a bizarre plan to flatten taxes
This all suggests a low priority for manufacturing.
Reprinted with permission from @AuManufacturing.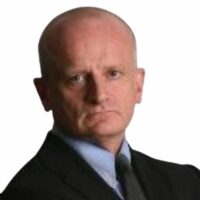 Peter Roberts is a manufacturing and media networking specialist. He was a senior columnist, writer, editor and editorial manager, founded a start-up online procurement service and served on the board of Australia's premier private-sector funder of research into innovation and competitiveness.